Progress report for FNC20-1249
Project Type:
Farmer/Rancher
Funds awarded in 2020:
$17,977.00
Projected End Date:
01/31/2022
Grant Recipient:
Middle Way Farm, LLC
Project Information
Description of operation:
Humble Hands Harvest (here after HHH) is a worker-owned cooperative farm operating on 22 acres of former conventional crop land in northeast Iowa since 2017. HHH raises grass-finished lamb and pastured pork, is establishing nut and fruit orchards, and cultivates two acres of organic vegetables for direct market sale.
HHH's two worker-owners are Emily Fagan and Hannah Breckbill, who come from non-farming backgrounds and have bachelor's degrees in physics and mathematics, respectively. In 2017, Emily did extensive labor analysis of their vegetable operation to generate an enterprise budget so that she could determine profitability of different crops. This data has been used for studies through Practical Farmers of Iowa and Iowa State Extension, as well as in our own farm's pricing and decision-making.
HHH regularly invites their community out to the farm to build a culture of connection to the land and food. They have hosted a Queer Farmer Convergence, climate resilience events, numerous field days, and monthly work-day potlucks. Their goal is to create a local center for land-based celebration and culture-building in their community.
Middle Way Farm (here after MWF) consists of 4 acres of leased land just north of Grinnell, Iowa, run by Jordan Scheibel since 2013 with the support of the Lacina family. About 2 acres is currently in annual vegetable production, with another half acre used for propagation greenhouse, high tunnel, and various perennial plantings and orchard. The farm direct markets produce primarily through CSA and farmers market. The farm uses organic growing methods, but is not currently certified organic. Jordan has been farming full time since December 2015.
Jordan brings a strong background in on-farm research as well as education and outreach. Jordan has participated in numerous on-farm trials since 2014 through the Practical Farmers of Iowa's (PFI) Cooperators program. He has also served on a number of PFI committees, has been a regular attendee of both the PFI annual conference (as well as a presenter twice, and presented again in 2021) and the Midwest Organic Conference since 2011. The farm hosts an annual open house field day in September (advertised through PFI's field day guide) and has hosted many on-farm workshops and tours over the years, in addition to numerous off-farm presentations. Prior to farming full-time, Jordan was the continuing education coordinator for the local community college district for 4 years, using his farm as a site for several classes he taught.
Summary:
Organic vegetable farmers in the Midwest are typically reliant on dry soil and tillage to prepare soil for planting. Increasingly wet, erratic springs are making initial soil preparation by rototiller more difficult. Both Humble Hands Harvest and Middle Way Farm have observed that beds raised by tillage prepared in advance of planting have allowed them to plant sooner in the spring and improved drainage during heavy rainfall. Pairing the practice of raised beds with a no-till approach combines the advantages of both systems. Raising the bed facilitates better drainage for quicker access after rain, while no-till creates a more stable, aggregated soil that is less prone to erosion during heavy rain. Both farms would like to explore the feasibility of transitioning their vegetable farms into raised no-till beds over time. The most important question we will explore is how much more labor and resources it takes to create, cultivate, and maintain no-till beds versus our current tractor-tillage systems. We also want to track production and soil quality characteristics between tilled versus no-till beds to see if there is a difference over time. Finally, we will record our qualitative observations of the work involved and problems encountered in each system.
Project Objectives:
Original Objectives
Develop no-till systems on each of our farms that enables us to build and maintain beds without a tractor.

Compare inputs and labor, quantitatively and qualitatively, between no-till and tillage systems.

Observe production, plant health, and soil health differences between no-till and tillage systems.

Share results with other vegetable farmers, our customers, and our community.
Year 2 Objectives:
MWF will maintain the three experimental 5 bed sections (no-till, tilled with compost, and tilled with no compost) using the same practices as 2020, but will begin replicating crops between treatments. For example, a bed of spinach will be planted in each experimental section, for a total of 3 beds of spinach. This will allow for direct comparisons of yield, crop quality, and labor time, which was not possible in 2020 when crops were not replicated between treatments. HHH will continue three crop comparisons from 2020: t

illed vs. no-tilled for carrots, kale, and zucchini, measuring yield and labor input between treatments and crops. HHH will discontinue using a paper mulch underneath  

Each farm will evaluate soil health differences between treatments through testing at the end of 2021 and compare with end of 2020 soil test results. Soil testing will include farmer led testing via Midwest Laboratories as well as soil analysis by staff at the Midwest Rodale Institute.  
Outreach activities in 2021 will include Practical Farmers of Iowa (PFI) field days on each farm (virtual or in-person depending on COVID situation), a planned No-Till virtual convergence this summer organized by PFI, and presentations at the PFI conference in January 2022. Both farms will continue to post about their no-till experiments on their social media accounts throughout the season. 
Cooperators
Research
Materials and methods: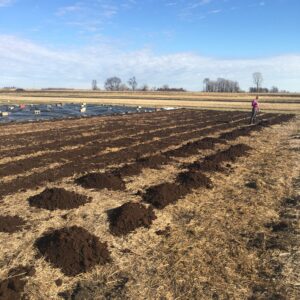 HHH's tilled control beds will be 24" wide (space between tractor tires) with 24" walking paths. To prepare beds, they will spread Sustane fertilizer before tillage. Once crops are finished in a given bed, they will be tilled and planted to winter-kill cover crops.
HHH's no-till bed system will have 28-inch wide beds with 20-inch walking paths. They will be built by shoveling soil from the walking paths onto the bed, raking the surface of the bed level, and spreading several inches of compost before planting. Once crops are finished in a given bed, crop residue and weeds will be cleared out by hand and the bed will be either winter-kill cover cropped or immediately re-formed with compost and re-planted.
HHH's control beds and no-till beds will be given the same treatments in the form of mulch and silage tarps. 
At MWF, no-till beds will be created by laying 1-2 inches of compost, broadforking, amending, shallowly tilling with a drill powered tilther to incorporate compost and amendments before direct seeding or paper pot transplanting. Silage tarps will be used before, between, and after crops. Beds will be re-composted and covered in silage tarps over the winter.
This no-till approach will be compared alongside two other treatments: 1) BCS rototilling with amendments but without broadforking or compost (MWF's current bed prep method) and 2) BCS rototilling with amendments and compost but no broadforking. This approach will help isolate the effect of compost application from the effect of reduced tillage on production. Each treatment block will be five beds wide, which matches the width of the silage tarps that will be used on all treatments. 
Both farms will use certified organic Cowsmo compost from Wisconsin that they have purchased before, which is made from dairy cow manure and untreated wood waste. 
Participation Summary
2
Farmers participating in research
Educational & Outreach Activities
1
Published press articles, newsletters
1
Webinars / talks / presentations
1
Other educational activities: Instagram and Facebook posts from Middle Way Farm and Humble Hands Harvest's accounts.
Participation Summary:
Education/outreach description: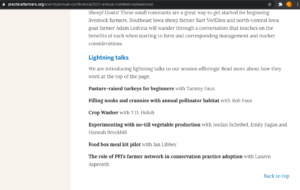 On January 22, Hannah of Humble Hands Harvest and Jordan of Middle Way Farm presented for 8 minutes total on "Experimenting with no-till vegetable production" as part of a Lightening Round during Practical Farmers of Iowa's Virtual Annual Conference. We mentioned that our project was funded through SARE, shared photos of our no-till plots, and described the challenges and successes of the season, as well as what we plan to change for next season. The screenshot below shows 49 participants in the Zoom link during Hannah's portion of the presentation.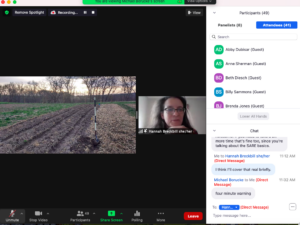 In addition to this presentation, Humble Hands and Middle Way also made several posts about our no-till projects on our social media, as you can see from Instagram screenshots below (all of which were simultaneously posted to Facebook), with a total engagement of 380 likes and 25 comments across 6 posts (3 by each farm) on Instagram, and 103 likes and 8 comments across 7 posts (3 by Middle Way Farm, 4 by Humble Hands Harvest) on Facebook. 
In addition, Humble Hands Harvest was also featured in a September 2020 Civil Eats article published online (screenshots below), and posted about that article on Facebook. 
Here is the Google Drive link to the presentation we did at the Practical Farmers of Iowa conference last month, which includes more photos and also some notes about our preliminary conclusions. 
Our future outreach plans includes 1) continuing social media posts, 2) participating in a no-till virtual convergence this summer hosted by Practical Farmers of Iowa, 3) hosting either virtual or in-person field days at each of our farms, and 4) presenting again at the Practical Farmers of Iowa annual conference in January 2021.