Progress report for FNC21-1272
Project Type:
Farmer/Rancher
Funds awarded in 2021:
$9,000.00
Projected End Date:
12/31/2023
Grant Recipient:
ZanBria Artisan Farms LLC
Project Information
Description of operation:
ZanBria Artisan Farms is a 20 acre conservation homestead. Three of these acres are allocated for niche market crops and the remaining 17 acres are managed for conservation objectives. There are several habitat quality initiatives for multiple species of wildlife; wood ducks, otter, beaver and small mammals as well as fungal food webs/mycology. Food plots are constructed for deer to draw them away from the permaculture beds. Brush piles are continually created throughout the property for small mammals and birds to shelter in. Prescribed grazing will be used to control invasive shrubs beginning 2024 and used to continue invasive species control. Threatened and endangered species reviews are conducted by the Natural Resource Conservation Service (NRCS) before practices are implemented.
Prior to receiving the Composting Design grant, the farm plan was carefully designed collaboratively with the county's conservation department, Department of Natural Resources (DNR), Army Corps of Engineers and the NRCS. Owner/Operator, Heather Gayton, also is the lead farmer for the Producer-Led Watershed Grant through Wisconsin's Department of Agriculture Trade and Consumer Protection (DATCP) to collect data, educate the public and support other farmers in implementing regenerative farming methods for production agriculture producers across the Central Sands region in order to improve the quality of the Big and Little Roche-Cri Watersheds.
Pollinators are also integral to the conservation work being done at ZanBria Artisan Farms. Conservation work includes the removal of invasive species which allows for pollinator habitat (especially basswood and native wildflowers) to be re-established. This regenerative farm began establishing conservation standards at this location in spring of 2020.
Summary:
This collaborative composting facility research initiative will implement an innovative design that protects water quality from run-off and leachate. This project will also improve soils by providing safe, organic matter to support cover crops, fruit and vegetable yields on-site. The current soil contains large amounts of clay which contributes to high run-off and flood concerns. By designing and collecting data from the composting facility, water and soil quality can improve for long-term environmental and economic benefits. This grant will provide a sustainable, covered and high-quality composting facility that can be visited during on-farm tours and community events to educate interested persons in environmentally sustainable and profitable agricultural practices. This educational component to the project will ensure that farmers, ranchers and the community have a model and resource to develop their understanding about best practices in aerobic microbial ecosystems.
Project Objectives:
Design and build an aerobic microbial ecosystem using conservation practice standards provided by the NRCS.
Collect water quality data before, during, and after the composting facility is built and in use. 
Complete a wetland delineation report around the effectiveness of microbial ecosystems near wetland buffers. 
Collect observation and soil testing data around nutrient density and erosion control using composted manure and organic matter. 
Research
Materials and methods:
The building featured in the attached .PDF file is 15' x 50' with five 10' wide bays for compost management. The facility is 15' deep with a slanted metal roof. A gutter system can be mounted to the bottom of the roof for rainfall collection. The average annual rainfall in Wisconsin is just over 32" and this facility has the potential to collect over 13,000 gallons of rainwater which can be measured, filtered and distributed to surrounding crops and native plants as irrigation in a controlled manner to prevent erosion and unwanted runoff. The leachate or "compost tea" will be collected through a slatted concrete base. The leachate can also be measured, analyzed and distributed in an environmentally sustainable way through targeted application. This is anticipated to prevent elevated nitrate or introduction of harmful bacteria to surrounding freshwater and wetlands.
The overall research project is intentionally designed to be on a small scale. This project is all about quality, not quantity to ensure the data collected is manageable and replicable. The anticipated outcome is improved soil and water quality with necessary steps taken at the design and implementation stages. This research can be applied at a larger scale for interested commercial operations that are looking to improve their facilities and/or make the transition to organic farming. The use of compost, leachate and collected rainwater has potential economic benefits that can make farming more profitable and self-sustainable while support environment sustainability. 
This research is intended to be shared at a local, state-wide and potentially global scale. Pictures, data and project highlights will be presented and accessible to anyone interested in learning more about this environmentally and agriculturally sustainable design. As this project intends to improve previous designs, it is designed for further improvements and research for future development.
Research results and discussion:
Baseline Data for Composting Project_ZanBria ArtisanFarms_2021-2023
There is room for substantial soil improvement overall, especially in regards to soil health at the "High Tunnel" and "Comp_Site2" data sites. No organic matter or activity altered these sites, whereas the "Hemp_Site", "Berries", "Field 1" and "Comp_Site1" had excavation, planting or disruption of some degree.
Some of the materials for construction of the composting facility is composed of repurposed and donated materials. The Adams-Columbia Electric Cooperative donated several large used utility poles for the project. Howling Willows, a local high-quality pet food distributor, donated the pallets required for the aerobic sides of the facility.
Participation Summary
1
Farmers participating in research
Educational & Outreach Activities
1
Webinars / talks / presentations
1
Other educational activities: Conservation Days 2021
Participation Summary:
5
Ag professionals participated
Education/outreach description: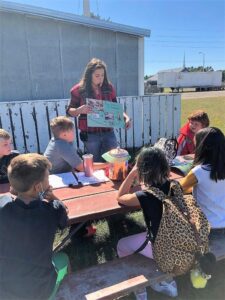 Approximately 80 students attended the Conservation Days event. Students enjoyed a lesson, an interactive activity and a simulation game teaching the basics of the composting ecosystem. Students learned the basics about compostable materials. 
Learning Outcomes
5
Farmers reported changes in knowledge, attitudes, skills and/or awareness as a result of their participation
Lessons Learned:
This composting project required substantial excavation and site preparation. Establishing native grasses and perennials to protect future riparian forest buffers was essential to ensure the long term conservation goals for this project. Even though the composting facility will be built several hundred yards away from the creek, the contour of the landscape could create excessive sheet and/or rill erosion without the establishment of vegetation. The delay in construction and data collection actually supported this additional consideration. At the time of this progress report (October 2021), the facility was not constructed yet. Excavation and establishment of vegetation (June 2021-November 2021) to prevent erosion was a critical step in the long term success of the project. 
As the lead farmer for a producer-led watershed grant that affects tens of thousands of acres on the Big and Little Roche-a-Cri Watersheds, erosion control is one of our primary goals. Designing for dominant vegetation that consists of existing, naturally regenerated and seeded native grasses/perennials was suited to the soil and hydrology of the composting facility site. I would highly recommend that farmers/ranchers looking to construct a site for composting plan for the excavation and establishment of dominant vegetation. Erosion could alter the landscape enough that could affect the distribution of sediments across the surface. Erosion also affects the way water moves across the surface which could lead to changes in floodplains and wetlands. These items should be considered when designing structures, establishing pastures or excavation of any kind. 
Project Outcomes
10
Farmers changed or adopted a practice
1
Grant received that built upon this project
30
New working collaborations
Success stories:
As the lead farmer of the "Farmers of the Roche-Cri" Producer-Led Watershed Group, I can say firsthand that this project has created a regenerative agriculture movement in Central Wisconsin. This project has been slow going, but I believe that slow, steady and intentional pacing will pay off in the long-term. ZanBria Artisan Farms hosted its first Grow and Tell event August 13, 2022. Watershed stakeholders came together to discuss critical water and soil quality topics around a family style meal, featuring produce grown on the farm. The Department of Natural Resources, Adams County Land and Water Conservation, Petenwell and Castle Rock Stewards (PACRS), and the 14-Mile Watershed Alliance as well as several producers across several counties were in attendance. 
Statewide farmers market producers, potato and commodity growers all raved about the event.
"A great evening with great people and delicious food." - Petenwell and Castle Rock Stewards
"What a wonderful night." - a fruit and vegetable farmer from Coloma, WI. 
"The evening was filled with great company and an amazing dinner that featured locally sourced produce, meat, desserts and wines." - Water Conservationist, Adams County Land and Water
ZanBria Artisan Farms Grow and Tell Flyer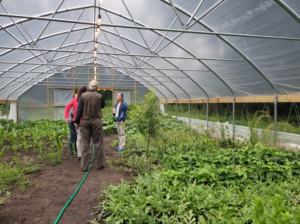 August 2022 I had the state archeologist do a site visit to assess the property for burial mounds and/or any sort of cultural significance in order to support the land acknowledgement for the Menominee and Ho-Chunk treaties that affected the Central Sands Region of Wisconsin. The LiDAR imaging, primary sources of the treaty in regards to lands forcefully ceased by the US Government and ultimately my land acknowledgement were all key artifacts in honoring the historical and cultural significance of the property. The final composting report by the end of this growing season will include this indigenous component in decomposing burnt, decomposing wood [the indigenous roots of Biochar] as a soil amendment.