Progress report for FNC21-1289
Project Type:
Farmer/Rancher
Funds awarded in 2021:
$9,000.00
Projected End Date:
01/31/2023
Grant Recipient:
Julia McGuire
Project Information
Description of operation:
I have up to ten bee hives on a flower farm that specializes in lavender production and produce comb and liquid honey. I carried out sustainable practices before this grant by raising my own queens, ensuring yearround forage, and overwintering in Iowa.
Summary:
In Dec. 2019, Iowa had 1,330 registered beekeepers (20 commercial) with 2,353 apiaries and 14,174 colonies. The proposed planner will support all beekeepers, especially new ones. It will also address the benefits that sustainable agriculture and my beekeeping practice stand for. It is ecologically sound as it sustains the flora on which beekeeping depends by using phenology, raises awareness of the interconnectedness of beekeeping and the flora around the hives, and possibly leads landowners to increase the amount of native pollinator plants to fill in forage gaps for the bees. The planner will make operations economically viable as the user makes note of phenological events that can maximize nectar flows, manage for swarms with explosive forage bursts, and possibly harvest specialty monocrop honeys at higher prices. It could also be a future source of income for the proposer. Lastly, the planner will be socially responsible. In my five years as a beekeeping instructor and ten as a club leader, I have not found Iowa-specific beekeeping reference materials. By crowdsourcing data, the statewide community would become stakeholder. The planner can especially assist beekeepers without a mentor as its practical nature could lead them into better management for a sustainable apiary.
Project Objectives:
Increase an individual's floral awareness with relation to dates by crowdsourcing in 2021
Share data by distributing planners to individuals and magazine editors in 2022, then measure planner effectiveness by asking users:

How many native plants could you identify or notice before using the planner?
How many native plants could you identify after using the planner for a season?
Will you add more native habitat to your apiary/talk to your landowner about same?
Was this planner an asset to your practice (bigger harvest, captured swarms)?
Would you share more?

Share answers with clubs
Research
Materials and methods:
Content: From experience, publications, crowdsourcing. Bell adds queen rearing information. Lane pulls dates on swarm calls. I combine her swarm information with mine and add crowdsourced data. Visually on the left side, the planner has a bee to-do list and phenology for a particular month. On the right is a calendar and area for notes. The value of this planner has been affirmed by 100% of the community leaders asked.
Crowdsourcing: Activated beekeepers get $10 incentive for photographs of the earliest bloom date of floral species and swarms. Photographers may increase their phenology skills, become invested in the planner, and establish the date and geographic ranges of each species. Photographers have their name printed in the planner's credits and receive a free planner, thus building investment in the project. Submittals are validated by geolocation and date stamps and sent by email only.
Promotion: Email and presentations explaining the project to existing beekeeper lists.
Editing, book design, printing: By beekeepers who understand community needs.
Distribution: USPS Media Mail. Option: a digital copy on my website for printing at home.
Measuring effectiveness: A tiered approach. First tier is a digital survey. I have created online surveys for years, people are accustomed to them, and results export for easy analysis. Second tier has two options. Option 1: the survey ends with the participant checking a box for me to call them for more feedback or leave a longform comment. Option 2: I set up virtual meetings with bee clubs for feedback.
Outreach: Virtual presentations. I introduce the project, crowdsourcing, how to use the planner, present results and get feedback. A review copy will be sent to the Iowa Honey Producers Association newsletter editor. The planner will also be presented as a model for other states by sending a copy to trade magazines.
Participation Summary
Educational & Outreach Activities
1
Curricula, factsheets or educational tools
4
Published press articles, newsletters
Participation Summary:
2
Ag professionals participated
Education/outreach description:
Pre-publication information. I presented the research stage of the project to 3 bee clubs  and 2 classes of beekeeping students via zoom and was mentioned at 1 regional club event, had one state apiary inspector review a draft of the planner, and had 40 people submit data for the planner. The planner was mentioned in newsletters -- twice for a statewide club and twice for a regional club.2021 12 BeelineIHPA   Buzz summer 2021 In addition to the 2021 issues included here, both clubs have information in their current newsletters (Jan 2022, no digital file available to date). I published numerous social media posts about gathering data to my followers on Facebook, Instagram, Twitter, and LinkedIn.
Post-publication information. To date, I have distributed or given commitments to distribute 300 planners through 6 club leaders and instructors of 5 classes (priority round 1) and 50 to individuals (round 2). Recipients of the planner understand that I will send a survey by email in Oct. about their use of the planner with respect to native plants and colony management. Two trade magazines, the American Bee Journal (ABJ) and Bee Culture have committted to publishing a review (ABJ is expected in April, as book reviews are quarterly, unknown date for Bee Culture), and I am currently swapping my planner for another with an interested leader/instructor in Missouri. I have published numerous social media posts about the published product: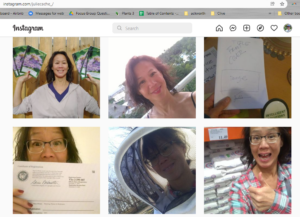 The next step of this project is to conduct a user survey.
Information Products