Final report for FNC21-1293
Project Type:
Farmer/Rancher
Funds awarded in 2021:
$17,996.00
Projected End Date:
01/31/2023
Project Information
Description of operation:
MARSH is operating two farm lots. One is focused on permaculture systems and the other uses more conventional row crop techniques. Both produce vegetables made available to the community through a sliding scale cooperative grocery store. The permaculture plot was established three years before the grant and uses only organic farming-based production strategies. The other plot was established with funds from this grant, using sheet mulching techniques to establish growing beds on what was formerly a grassy lot and only organic methods for weed and pest control. The manager of this project has been an organic fruit and vegetable farmer for 30 years.
Summary:
Low income families and people of color have been systemically excluded from land-ownership and food production while suffering the worst consequences of food insecurity, nutritional constraints, and lack of agency. Beth Neff, director/farmer of the MARSH Food Cooperative, and Mitchell Pearson, St. Louis farmer, seek to address these inequities through an integrated "ecosystem" of consumers and farmer worker-owners. By developing urban neighborhood food production capacity, we hope to improve access to high quality, locally grown organic vegetables while providing fair wage labor opportunities, promoting sustainable land use, building social capital, modeling democratic cooperative enterprise, generating innovation, and improving quality of life.
Our project will expand MARSH's existing urban farm by developing a large neighborhood lot into a market garden that will be farmed by paid worker-owners and will supply food through our cooperative grocery at sliding scale prices to members of the co-op and the community. Participating farmers will make group crop, production, and marketing decisions and may also develop value-added products through our licensed commercial kitchen space. By pooling resources to increase economic access and providing agricultural professionalization opportunities in an urban setting, we believe cooperative farming can be a viable strategy for food justice and sustainability.
Project Objectives:
Our primary objective is to create a worker-owned urban farming cooperative that grows food for a consumer co-op and the broader community. The first step will be to engage the neighborhood in the project through meetings that share the vision for community food production, food equity, fair employment, and democratic governance. The second step will be to organize labor teams, select leadership, define the tasks, and identify necessary resources for their accomplishment. Next, teams will be charged with transforming a grassy lot into a viable food production environment, planting, maintaining, harvesting, preparing, and marketing the resulting produce cooperatively.  
Cooperators
Research
Materials and methods:
The local neighborhood association has made a vacant double lot available to MARSH for use as a cooperative market garden. In order to carry out the project, we will engage members of the immediate community who are interested in earning a fair wage to produce fresh produce for their neighbors, convert a grassy lot into a productive vegetable plot, and explore the benefits and limitations of a worker-owned cooperative model for urban food production. Our methodology stems from a combination of permaculture-informed agricultural strategies and collaborative learning theory which emphasizes the evidence-based value of embodied practices, shared investment, social commitment, and personal agency. As a group, project participants will sheet mulch 18, thirty-foot rows with cardboard and soil/compost mix and lay landscaping fabric and woodchips between the rows. The group will determine crops and spacing through existing knowledge, reading, discussion, internet research, and shared experience, along with guidance from project coordinators and the MARSH gardening library. Responsibility for planting and maintenance will be shared by the group and/or delegated to teams which will shift throughout the season so all participants have an opportunity to engage in every aspect of the garden. As crops become available for harvest, the group will determine the best strategies for preparing and marketing the produce, and perform the tasks necessary for maintaining freshness and quality of the product while ensuring that it is physically and economically accessible.
Throughout the season, interested worker-owners will have the option to participate in field days at other urban farms. In addition, guest farmers will be invited monthly to share knowledge, answer questions, and work side-by-side. Finally, co-op consumers will be able to visit the garden at any time, see where the produce available through the co-op is coming from, talk with the growers, and engage as volunteers.
Research results and discussion:
Participants
Ten paid worker owners
About 20 total volunteers
Participants reported
Increased knowledge of food production
Increased knowledge of produce management
Increased knowledge of plant varieties
Increased knowledge of personal nutrition
Decreased food insecurity
Increased interest in and understanding of food systems
Improved food preparation skills
A sense of improved health and esteem related to offering that advantage to others
Interest in future participation.
Sliding Scale Fresh Produce
Outdoor Market - May - Oct.
Average 18 customers per week. 9 customers paid above "our cost." 6 customers paid below "our cost." 3 customers paid nothing. 
MARSH Grocery Cooperative
Average 72 transactions per week. Of transactions involving garden-grown produce, $79.92 was paid above "our cost." $246.74 was recorded as "discount/comp," meaning no payment was made.
Participation Summary
2
Farmers participating in research
Educational & Outreach Activities
12
Published press articles, newsletters
2
Webinars / talks / presentations
Participation Summary:
2
Ag professionals participated
Education/outreach description:
The project supported by this grant has attracted a lot of attention in the community. We established the new grant-supported plot with a series of workdays that attracted high attendance and helped us locate possible candidates for the job openings we were offering. Much of the attention has also focused on the connection between the farm plots and the use of the food to supply our new sliding scale cooperative grocery store. Several events that focused on the grocery opening brought persons interested in the farm lots and multiple tours, both scheduled and spur-of-the-moment, resulted. We have also been contacted by several ag professionals for conversations regarding local ag support, produce marketing, grant processes, technical assistance, etc. and have developed relationships with other farmers seeking markets, and new and innovative approaches to both urban agriculture practices and labor equity. Our organization also has a weekly newsletter that we send out to over 300 recipients.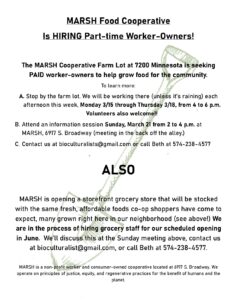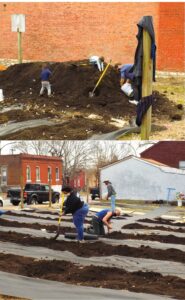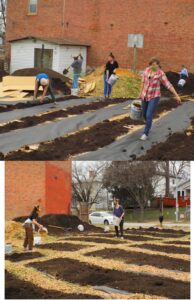 Learning Outcomes
12
Farmers reported changes in knowledge, attitudes, skills and/or awareness as a result of their participation
Lessons Learned:
A total of ten workers-cooperative team members (not including volunteers) collaborated on and off throughout the growing season to produce, process, prepare, and sell food through our sliding scale market and grocery. We solicited input from each worker about their interest and experiences with food prior to farming and then again at the end of the growing season. These discussions were held informally in order to mitigate any sense of themselves as "study subjects" though all were aware that we were preparing grant reporting.
Though we had over 30 applicants for the limited hours we had available, we specifically selected those who expressed personal experience of food insecurity, curiosity about but somewhat limited knowledge of plant-based nutrition, and identification as a member of a traditionally marginalized demographic. At the end of the season, all participants reported:
Increased knowledge of food production
Increased knowledge of produce management
Increased knowledge of plant varieties
Increased knowledge of personal nutrition
Decreased food insecurity
Increased interest in and understanding of food systems
Improved food preparation skills
A sense of improved health and esteem related to offering that advantage to others
Interest in future participation.
Though the cooperative structure of the effort was a learning experience for all, everyone expressed an appreciation for the effort and an understanding that such forms are "works in progress."
The organizers of this project also achieved some critical learning objectives. These can be summarized as the following:
Cooperative management and leadership requires a significant investment of time and energy. In addition to learning the basics of the tasks that need to be performed in order to grow food, our model also required a steep learning curve in terms of collaboration, communication, and decision-making. The first year provided a foundation for the evolution of these processes. We highly recommend preliminary research about the history, goals, and experiences of cooperative organizing to anyone who seeks to know more and also continue to find the process worthwhile and meaningful.
The need for food far outweighs the community's interest in supporting those needs. The sliding scale has been only partially successful in that many people received free or low cost vegetables, but the cost of production was not offset by consumers paying at the higher levels of the scale. We will continue to explore how this arrangement can become sustainable. Similar projects might want to seek financial support specifically for a sliding scale model in advance.
It was a challenge to have new gardeners working on a new plot. Our group greatly preferred, and was significantly more rewarded by, work and production at the older garden. With the multiple pressures of climate change – insects, weeds, heat, either dryness or excessive moisture – the newly established plot suffered from a lack of compost-building over time, barely suppressed grass, poorer soil structure, and also distance from washing and processing facilities (though only a few blocks.) Compost and mulch added at the end of the season and a slightly different selection of cultivars should improve the second year.
Project Outcomes
2
Farmers changed or adopted a practice
2
Grants received that built upon this project
4
New working collaborations
Success stories:
Project Outcomes
Ten members of the community with personal experience of food insecurity initiated a learning process for how to grow, process, prepare, and share food with their community.
A newly-formed workers cooperative collaborated to form a democratically-governed production team and shared their experience with their neighbors and the wider community.
The neighborhood became aware of urban farming activities in their community and participated in a weekly outdoor market and access to fresh produce at a new storefront grocery.
The wider community became aware of an integrated food system in the Carondelet neighborhood. Various forms of outreach provided information about the project and the availability of fresh, locally grown produce on a sliding scale.
A new farm lot was developed in the neighborhood, creating high interest in the potential to develop other vacant lots into gardens.
Food production potential was increased in the neighborhood.
Investment was made in what will, over time, become a productive food lot.
A significant quantity of fresh produce was grown and offered to a low income community on a sliding scale.
A model for worker-cooperative management in urban agriculture was established and resulted in contact from a national workers cooperative organization and an emerging community of cooperative research and development in the St. Louis area.
Nutritional outcomes were improved for participants – both workers and consumers – in the project.
MARSH was approached by two other gardening projects in the neighborhood requesting partnerships in developing future worker-owned gardens. We accepted both proposals.
Information Products