Final report for FNC21-1311
Project Type:
Farmer/Rancher
Funds awarded in 2021:
$26,824.00
Projected End Date:
01/31/2023
Grant Recipient:
Doubting Thomas Farms
Project Information
Description of operation:
We farm 1200 acres certified organic. This is a family operation with daughter-in-law Melany Thomas farming her first year. She took on growing buckwheat, growing barley and peas, and also selling direct to end user.
Summary:
Developing a regional grain alliance opens markets for farmers, giving more financial control back to local producers while offering other options beyond the dominant corn and soy system. The expanded options helps develop business plans that are more ecologically diverse and economically resilient (as grains can be sold year-round). The grantees are specifically interested in more cover crops and using less costly, more eco-friendly inputs to preserve water and soil. Grains typically travel the farmer-cleaner-middleman-buyer-packer-market route. We plan to shorten the chain and provide stability by offering direct sales while developing long-term business relationships.
Community members will have an option to use regional grains and are able to trace the origins of their loaf of bread all the way back to the ground. Currently, there's not a centralized direct source of food-grade grains in our area. A local grain collaborative could promote healthful varieties like pumpernickel and buckwheat (part of many New American diets). Grain and mixtures/flour could help CSAs too by creating the possibility of incorporating grains/mixes into their usual assortment of produce. CSA/owners could receive some profit and form important partnerships with grain farmers, while also benefiting from grain sales when produce availability wanes.
Project Objectives:
Increase sales of regional grains to retail/wholesale accounts.
Develop marketing plan and public relations for grains.
Develop packaging/labels/logos of both retail and wholesale sales.
Create business relationships with retail/co-op outlets and emerging businesses (dog treat, granola companies).
Provide educational outreach to other regional farmers.
Provide opportunities for farmers to attend field days to learn more sustainable ways to grow small grains and market grains.
Encourage farmers to take classes and gain knowledge about soil health and importance of crop-rotation.
Provide field day/Zoom field day/special invite to be inclusive of New American farmers and beginning farmers.
Cooperators
Research
Materials and methods:
For the scope of this grant, we plan to use several platforms to track our sales, profits, number of businesses and retail stores, as well as total sales. We can compare that to the traditional practice of simply selling grain to the buyer. We can determine which products are top sellers and pinpoint the best seasons for buying (example: wintertime baking, etc.). We also can compare sales at different venues, for instance, a farmers market, selling through food hubs like Sprout vs. sales at retail stores. We can also track effectiveness of promotions, for instance, comparing the reach and engagement of an ad or boosted post on Facebook vs. in-store promotions. These assessments will give a clear and quantifiable picture of what works and how that translates into our bottom line. We can also track income by crop/farmer. (See above for example of charts we would use.) We also can track where customers are from and whether they become repeat customers to figure the conversion factor.
We can get a good overview of community engagement and challenges by tracking social media comments and analytics and monitoring web traffic. Social media and the web also would help us identify competition and popular price points. We can also use social media to track demographics, age, and other data that indicates a high interest in buying small grains. 
Research results and discussion:
We looked hard at the income and loss and profit. The result was that we were able to gain a lot by going from a conventional farming model to a cleaned, tested, packaged and shipped grain model. We gained 3 to 6 times the amount of money we would get per bushel if we just sold "bin run" grain that is loaded and carted off by semi. It drives home how many middle people handle your grains all the way to the end user.  BUT it means work on your side and responding quickly to customer requests/orders which is not for everybody.
We also looked at the financial results from the connections made to reduce costs. We were able to group buy supplies like super sacks (to fill totes holding 2000 pounds each) and reduce that from $600 a farm down to $100 per farm=$1500 total savings. We also leveraged buying power for pallets needed for shipping. Wood pallets were in short supply (wood prices skyrocketed). So by working as a cohesive group we were able to work with a food manufacturer and went from $30 a pallet down to $5.00 per pallet saving hundreds of dollars for each farm just in the first year! As sales increase the savings do also.
We are working closer than ever with plant breeders to develop varieties and potential crosses (old varieties of grains mixed with new non-gmo varieties making a mix of flavor and growing ability). This means more direct participation in what is being developed. Previously there was zero input from farmers. The plant breeders and plant scientists find this gives much better job satisfaction and comment that they like the feedback. It is a faster track than releasing a variety with a flavor that the bakers don't like -- most plant breeders have been in this track. This also allows us first into the market with the ability to grow foundation seed. If we have foundation seed and follow the guidelines, we can also sell the seed to the other farmers and the group capturing  $1 to $5.00 a bushel.
Two of the beginning farmers had more pushback with loans since they were just beginning. We shared invoices, history and new contracts with bankers documenting potential. The loan officers had less difficulty in understanding the true financial picture of the farms. It also opened the door for better crop insurance by the pricing in the documents. We also pushed using the beginning farmer reduction in crop insurance of 10%  (can be $100 to $900.00 per farm savings) of the premium making sure the farmers could take advantage of the discount. This is sometimes not mentioned to new farmers. 
We have developed a revenue stream for screenings or grains that are smaller or not good for milling. So far sales in one year have added 5 other farmers from cricket farms, chicken farm, pig farms and homesteaders. We are able to be at zero waste and add revenue not captured before of $3 to $5000 in sales in one farm.
We have reduced shipping rates by keeping companies we can work with as a group. For out-of-state shipping we established a business relationship with several shippers which previously at the start of this project was at 1 to 2 time higher in prices per pallet to ship the grains. Prices for shipping dropped by establishing a business account, and have stayed competitive even during times like covid, despite being pushed by the high demand by large firms trying to push their products for shipping. There also was a rise in diesel fuel but we were able to keep this stable by bunching some orders together.
Communication between the farms is strong sharing any obstacles and working together to help each other creating more satisfaction and quality of life. Financial gains for the farms include selling at a better price, adding new grains not ever offered by the farms, and also creating new products utilizing several grains that benefit all the farms. (New products include 5- and 7-grain cereal. Number one seller at a local restaurant). Also we were able to cross sell our grains and utilize cover crops which could be milled. This is better for the soil, water quality, and better for farmer rotation. This previously was not done in the scope currently done by the farms. It also helps keep work flow more even for the farms. By not having just soybeans and corn all harvested in fall at the same time you have cover crops harvested in July spreading out the use of machinery, labor, and grain space.  The summer was impacted by severe drought so by getting higher prices we were able to better handle the lower yields.
I am sure we are just beginning with a roll out of how we can develop even more collaboration together and add on other farmers in the mix.  As a side story one of the bakers we started to work with needed pumpkin seeds. A  New American we contacted tried to grow the seeds and it looks like he will be a grower for the baker and able to ship with us (putting the seeds on top of our grain in a secure bag) and provide a niche and income for a beginning New American farmer. There are several projects developing like that because of the relationships forged through this SARE grant. The amount we forecasted to sell has doubled and we expect that to increase as we gain traction. It would not have been possible without the help of you! Thanks for being part of our story.
For the beginning farmers, helping them to blaze a trail is important. Relationships with chefs and bakers were forged, and being able to prove it to the bankers that it is not all soybeans and corn, that the beginning farmers have a place at the table too was so worth it.
Participation Summary
3
Farmers participating in research
Educational & Outreach Activities
4
Webinars / talks / presentations
Participation Summary:
5
Ag professionals participated
Education/outreach description:
We published the soil health day in NPSA as well as the local newspaper. We also connected with NRCS staff as well as Sustainable Farming Association.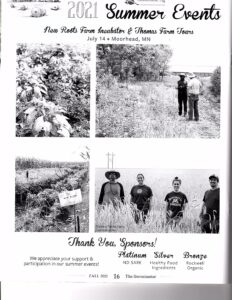 sare article in Germinator
Learning Outcomes
6
Farmers reported changes in knowledge, attitudes, skills and/or awareness as a result of their participation
Lessons Learned:
By direct marketing of the grains together, we have really learned to understand the language of many of the millers, retail sellers, and bakeries and cottage industries. It is understanding too how the end user wants the grain shipped (totes or retail?) or what the specifications are for each business we work with.  We've learned "bin run," or straight from the combine is not always what the end buyer wants. We invested in better screens for cleaning and continue to learn about the best approach for cleaning grains. Factors like grain size and how clean/dirty it is can really determine what screens, etc., we use. Important pieces of the puzzle are shipping logistics: How will we get a tote (2,000 pounds grain) from farm to business or how to transport several totes to the other businesses buying the grains. We also found we could coordinate to get a full load, thus reducing shipping costs.
Since the beginning of the grant, we've planted more cover crops than ever before. Previously, we had zero acres in cover crops. Through careful coaching, we have reached 500 acres of cover crops planted to date. The farmers also shared knowledge and were able to encourage several other grain farmers to plant cover crops, which is not a normal practice in our area. We also held meetings to help each other apply for federal NRCS programs for soil health. Several were successfully funded for NRCS and will get help through that program to offset costs of implementing cover crops. We were also able to market and grow some of the cover crops to harvest (usually plowed down for green manure) directly, which was so helpful to the farmer's  bottom line. Rye and winter wheat were sold direct to bakeries which the group had not ever implemented prior to this grant.  So not only did they grow cover crops, people were able to enjoy them in food.  We also grew crops, which were new to us, such as buckwheat. The buckwheat contract is usually not given to beginning farmers, but with the drought of 2021 an opportunity arose. The farmers grew the buckwheat and were able to make grade 1 and asked to grow again next year -- so we developed a niche.
We are now working closely with several plant breeders to find seed varieties that grow well and are marketable to bakeries. We were able to find an almost extinct wheat,  which we're growing and which tastes really good. We are now also helping to adopt the new Food Safety Modernization Act (FSMA) rules for grain, also for food safety, on each farm. This was a big leap forward for us, especially when we were able to sell to a school, which we hadn't done before. It takes more time to sell directly, especially to the end user, but it's worth the effort to sell many hundreds of pounds of grain at one time. We've learned that it's key to offer strong communication and shipment-tracking with end users. Customer service has to be the best you can offer, which sometimes mean dropping what you are doing to take the call or make sure shipments are out, even if you're harvesting.
Also, as there was little traction for farmers who wanted to sell directly to consumers,  and not many buyers in rural small towns, we learned  you can open an on-site market for people to browse your products, or start out by participating at larger metro area's local farmers' markets. Consumers can buy with a conscience from anywhere, at any time through online markets. BUT beware: The consumer is used to quick turn-around with the likes of big box stores, so make it clear when their shipments are expected to arrive; otherwise, the consumer begins to lose faith in the reliability of your brand.
We found out by being the direct line of supply chain, we can keep the cost of goods stable. With the drought this year, long delays in supply chains and also crop failures in Canada (most oats are imported), we found a bright spot in being able to sustain our grain collaborative. Several people were surprised that we grew the crops; we didn't just package or repackage grains. By selling direct vs. shaving away at profits by passing through a chain of 3 to 4 people, we were able to stabilize the farms with newly developed relationships. Shortening the supply chain uses far less resources, leaving less of a carbon footprint, and results in less food waste overall. Also the more hands it passes through, the higher the risk of contamination or damage. When cleaning grains, we were left with smaller weed seeds and smaller grains, which would be a waste item called scratch grains. But we were able to find a market for scratch grains, and even found ourselves selling out of them. Soon, there were four to six farms buying from us. 
This year's grain prices have fluctuated wildly, depending on supply and demand. We set a fair price and didn't have to worry as much about catching the high wave. We are working on developing more of a market survey for more continued fair pricing of all our grains.
One beginning farmer in our group was able to secure better financing by being able to show the banks/savings and loans some of the direct sales of grains she didn't have before. There are many advantages to shorter supply chains including better rates for shipping, and stronger business relationships that we were able to create. It is a very exciting time indeed for all of us.
So far we have:
Developed direct relationships with bakeries, sold grains to cottage pet food makers, created a value added breakfast bar to use our grains better, added buckwheat, winter wheat, rye into the mix. Developed a women in conservation group to work toward soil health, and improved connections with FSA and farmers and NRCS.
We are meeting with NDSU plant breeders to work together for plant breeding on not just quantity but quality of flavor. We are also working with Dan Barber's group in New York to see what flavors develop from grains grown in various regions (growing the same seeds in different locations and comparing the flavor). We also have been more active in a plant breeder club out of North Dakota as the group is working on buckwheat varieties.
We have also developed a small ethnic market for some grains. Corn dumplings, etc. are being developed by artisan  chefs. We will grow more rare seeds from Native Americans that will help develop foods specific to their culture and then also save the seeds from extinction.  
Project Outcomes
5
Farmers changed or adopted a practice
5
New working collaborations
Success stories:
"We opened a new door through this grant. Everything from small cottage pet food makers, to bakers in larger cities. I have never thought about selling direct before and learned a lot," said a beginning farmer. 
We were able to sell our cleaned grains but very importantly were able to sell our scratch grains to hobby chicken farmers, turkey farmers, hog and cricket growers. "We are at zero waste," was one comment from another farmer.
Recommendations:
This already has bubbled up to include more grain farmers in our area, mostly women. The resources such as seed, tools, and knowledge are quickly being shared and things are moving fast. We have formed a Women in Conservation group sharing best practices and sponsored a soil health day for all.