Final Report for FNE15-823
Funds awarded in 2015:
$2,600.00
Projected End Date:
12/31/2017
Project Information
Summary:
My project was to compare a 7-filter maple syrup filter press to a small centrifuge used for filtering vegetable oil as biodiesel as a means of filtering maple syrup. As syrup was drawn off the evaporator it was put into a pan that held thirty gallons. Half the syrup was filtered with the filter press and the other half was run through the centrifuge. Syrup samples were collected from each batch. The syrup had to be at room temperature to be graded by the Hanna hand held grading meter. The samples were graded days later. The filter press filtered syrup measured ten percent more light transmittance than the centrifuge samples. The centrifuge was slower with a maximum flow rate of fifteen gallons per hour and added foam to the syrup. However, the centrifuge does not use any filter aid and if the problems associated with the filter press plague you, the centrifuge is the best alternative. Results were made into a chart comparing each method. A table display was made with pictures of the process. The centrifuge was put on display at the four day 2016 International Maple Conference I attended in Burlington VT. Interest was very high for the introduction of a new technology.
While not part of this project, to give you an idea of the investment cost, if you were just starting out, a 7-inch filter press will run you $2,700. Then there are the annual expenses, a bag of filter aid for $30 and a box of filter papers for $60 dollars. Be careful in where you store your filter papers because they've been known to pickup off flavors that can transfer to your syrup.  As a comparison, a small centrifuge that can process 15 gallons per hour will cost $1,500. A spare bowl to make cleaning faster is $250. WVO Designs has a $6,000 centrifuge rated at fifty gallons per hour if you need something bigger.
Introduction:
I've been making syrup for over thirty years. What makes me unique aside from being in Rhode Island is that I use buckets, 1,500 five gallon plastic buckets. Nobody uses buckets any more. Everybody uses pipeline. My trees are in other peoples' front yards across five different towns. I sell primarily wholesale to grocery stores, other farm stands and tourist attractions. Glass bottles make up ninety percent of my sales. The syrup has to be crystal clear. When a problem arises with the filter press, such as a hole in the filter paper that allows the filter aid and dirt to flow through, you won't find out until after it's in the glass bottle. You can't see through plastic jugs and this is how most producers get around the problem. I discovered that centrifuges were used to clean other products and this led me to want to research the idea. Michael  Farrell, my technical advisor from the Cornell University maple research center in Lake Placid NY., agreed that an alternative method of filtering needs to be found since everybody that makes syrup has to filter their syrup. Bob Dubos of Chaplin CT. taps 1,500 taps on pipeline and finishes his syrup on the evaporator. He agreed to be a collaborator on my project.
Project Objectives:
The first objective was to determine if a centrifuge made to filter biodiesel could filter maple syrup.  The second objective, is it better than a filter press?
Cooperators
Research
Materials and methods:
The first step was to call the WVO Design Company (www.wvodesigns.com) and ask that they ship the "Extreme Raw Power with a Cleaning Power Booster" centrifuge. Not paid for by the SARE grant, it cost about $1500.  As a comparison, the 7" filter press costs about $2760 today (Vermont Leader). It arrived in three boxes with assembly required. It seemed that the electric wires for the plug and the wires to connect the motor to the inverter. The whole thing was a little intimidating so I had a mechanically inclined friend assemble it for me. Turns out it wasn't that hard and the instructions were very detailed. Typically, the maple syrup season starts around February 15th. In 2015, I tapped my first tree on March 20th.  Instead of rushing the project, we decided it was best to do the research in 2016.
To satisfy my own doubts as to whether this was going to work or not, I ran the centrifuge myself with mixed success in 2015.  Then, since I had more time,  I decided to make the video I proposed. The RI Farm Bureau director loves making farm videos. Al Bettencourt did a great job interviewing me and asking detailed questions that people who don't make syrup would understand. The video was about ten minutes long and available on the RI Farm Bureau website.  However, they decided to take the video down and did not provide me with a copy.  It seems I had made some statements about plastic vs clear glass containers that could be inferred that syrup in glass was better than in plastic.  The reason for needing a better way of filtering maple syrup is that I need to put high quality crystal clear maple syrup in my glass bottles. 90% of my sales are in glass bottles. I said that the best way of avoiding putting syrup in glass was to put it in plastic because you can't see through plastic. Since many other producers put their syrup only in plastic bottles, I was insinuating that my syrup was better than theirs.
The maple syrup season started out normal enough on February 15th 2016. I like to use a finishing pan to check the syrup before filtering. I finish thirty gallons at a time so that after filtering, it can go right into the barrel. Five gallons was separated from each batch to run through the centrifuge. I took six samples in total. I processed all my syrup over the course of three days, March 16,17,18,2016  First, I used five gallons of syrup to calibrate the flow rate going into the centrifuge at fifteen gallon per hour. This was done by adjusting the valve on the pan and counting the seconds of flow to make fifteen gallons per hour. I calibrated the syrup flow the year before on April 20,2015.
 Bob Dubos, of Chaplin CT, finishes his syrup on the evaporator. I only had one centrifuge and had to share it with Bob. I delivered it to Bob on March 1st , and trained Bob on the set up and procedure to run the machine. It's about the size of a microwave oven and can be carried by one person in an awkwardly manner. I picked up the centrifuge ten days later. Bob said he wasn't satisfied with the way it worked and had only taken two samples during his syrup season on March 2nd and March 8th. I retrieved the centrifuge on March 10,2016  to use myself.
See photos of the filter press method and the centrifuge method below in the Future Recommendation section.
Research results and discussion:
The question is: is a centrifuge better at filtering maple syrup than a filter press? The answer is not really. The centrifuge does filter maple syrup. It saves time and money since there no papers or filter aid. It's a lot easier, but slower than a filter press. The biggest advantage is that as you draw syrup off the evaporator you can pour it into the pan that feeds the centrifuge. So long as you're not drawing off more than fifteen gallons an hour the centrifuge can keep up. Down time to clean the centrifuge is about five minutes. Waiting for the bowl to stop spinning takes up most of that time. Loosen the center nut, replace the filter bowl with a second clean bowl, and tighten the nut and your back in business. Cleaning the filter press can take half an hour or so. You need hot water to rinse the plates with. You need gloves to handle the hot plates if you don't want to wait for the plates to cool down. There's a lot of waste to dispose of, dirty filter papers and filter aid. Then there's the time to reassemble the press with clean papers to be ready to go again. When I use the filter press I filter large volumes of syrup at a time so I store it to filter it all at once. Taking these things into account the speed of filtering with the centrifuge is comparable to the filter press.
The biggest drawback for using the centrifuge is it incorporates air bubbles into the syrup as foam. It takes days for the bubbles to rise to the top. When it does it takes up ten percent of the volume of the container your storing it in.
The biggest drawback for the filter press is that it doesn't always work. Even though a drop in pressure on the pressure gauge is supposed to indicate you have a hole in a filter paper it doesn't always work that way. There's no way to tell until you put the syrup in a glass bottle. Maybe that's why so much syrup is sold in plastic jugs.
Attached is a chart indicating the light transmittance and grade based on the Hanna hand held grading meter. The grade with the centrifuge is the same as the press until you get to the border line between grades. One sample indicates the centrifuge at a lower grade than the filter press for the same syrup. Based on this, the filter press wins out. There's also one sample where the filter press and the centrifuge tested the same indicating a hole in a filter press paper. In this instance the centrifuge wins out. The last sample was run through the centrifuge at five gallons per hour instead of fifteen to see if that would make a difference. It didn't.
Participation Summary
Education & Outreach Activities and Participation Summary
Participation Summary:
Education/outreach description:
I was available to present my findings myself at the 2016 International Maple Conference held in Burlington VT. I put together a display with pictures of what I did and a chart showing my results. I also had the centrifuge on display. I was there for four days eight hours a day. I should have made a video. There were over three hundred maple syrup producers there and the Canadians were very interested in new technology. They took lots of pictures and I gave them the name of the manufacturer. I also attended the Maple Syrup Producers Association of Connecticut meeting in Litchfield CT. Articles were written for Country Folks and the maple news as well as newsletters for various state associations.
Project Outcomes
Assessment of Project Approach and Areas of Further Study:
Future Recommendations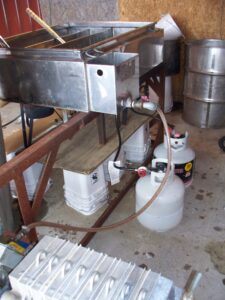 Filter Press setup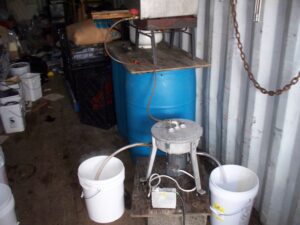 Centrifuge setup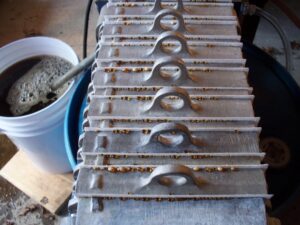 Filter Press with filtered syrup in bucket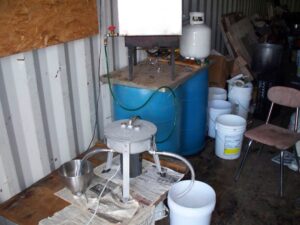 Centrifuge setup with elevated tank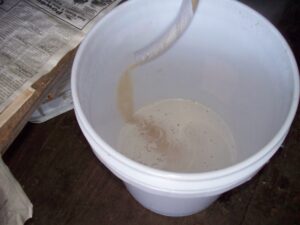 Foamy syrup from centrifuge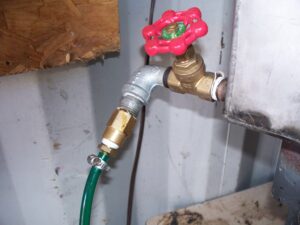 Reducer on centrifuge feeder pan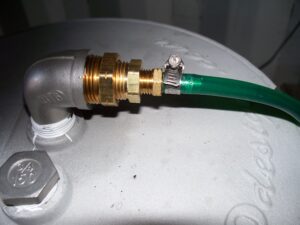 Centrifuge hose adapter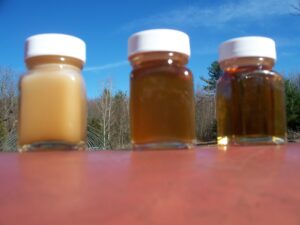 Syrup Samples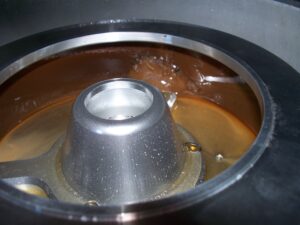 Niter in Centrifuge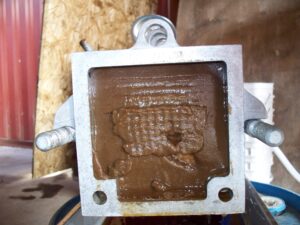 Dirty Filter Press
Filter paper on waffle plate of Filter Press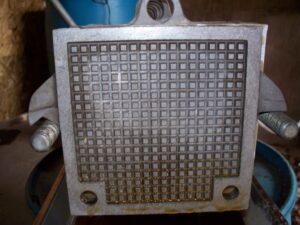 Waffle plate on Filter Press
I will keep using the centrifuge, but I will keep my filter press as well. Maybe for those people thinking of having two filter presses, they should have a centrifuge and a filter press. During discussions at the Burlington meeting, it was suggested that a vacum degaser could accelerate the bubbles from the syrup while it was still hot.