Progress report for FNE19-918
Funds awarded in 2019:
$13,807.00
Projected End Date:
09/30/2021
Grant Recipient:
Heritage Haus Farm
Project Leader:
Jennifer Bassman
Heritage Haus Farm • Empire Kunekune Pig Association / Kunekune Pork Produers Association
Project Information
Project Objectives:
Our main objective is to create a partnership that enables multiple farms to market and sell Kunekune pork in order to share risks and benefits between a group of farmers selling pork together. A cooperative business model seems like the logical fit for our goals. Currently, seven farmers located in New York and Maryland are prepared to make the operational changes involved, and several more have expressed interest in considering joining in the future. All committed farmers have been raising Kunekune Pigs for three and ten years. We have sold meat in individual cuts, wholesale to restaurants, and/or in wholes/halves via freezer trade. Since we have a group of farms that agreed to this first step, we will ask if this method of partnership can be developed and expanded as a model to others by creating a framework and providing thorough technical assistance in order to collaboratively produce high-quality Kunekune pork for the market.
We seek to create written procedures and way of collaboration that solidifies a Kunekune pork cooperative. We seek SARE funds to develop five main components of establishing our partnership: membership, product consistency, logistics, market demand and marketing, promotion, brand development, and sales.
Introduction:
The Kunekune pig is a rare, but growing landrace breed of pig with many exceptional characteristics. Since facing near extinction in the 1970s, New Zealand's native breed now has fairly healthy populations in countries across the globe, including the United States. As breeders are moving from saving the Kunekune pig to sustaining it, more and more people are looking to a model of preservation through utilization – the Kunekune pig as a pork animal. The Kunekune Pig in America is now finding a growing niche market for small farms, in sustainable farming systems, for permaculture, and with chefs, charcutiers, and caterers.
Kunes are prized for their ability to graze grass cleanly and thrive on little more than pasture all while creating succulent, red, well-marbled delicious tasting pork with copious amounts of excellent, pure white fat and unblemished leaf lard. (American Kunekune Pig Registry, www.americankunekunepigregistry.com/about)
As a pastured pig with almost no tendency to root, they contribute to a healthier pasture environment. They reduce runoff compared to bare lots or confinement. They spread manure by design — feeding the soil as they contribute to healthier pastures wherever they live. Highly amicable animals, they are easily compatible with other livestock, and can cooperatively manage pastures alongside ruminants such as sheep and goats.
600 breeders of Kunekune pigs in the US and that number increases every year. The vast majority of these farms are raising Kunekunes on a small scale (less than 50 animals). As the number of farms raising Kunekune pigs continues to grow, so does the need for a business model that can generate sustainable income from the animals. Many farms, including the applicants to this grant, are already seeing increased interest in a pork product like Kunekune meat - high-quality, sustainably raised with minimal impact to the environment and locally produced. However, we are also finding that, as individual farms, we are not able to meet this demand. We struggle with getting consistent processing dates to keep meat in stock regularly.  We are challenged to individually find enough time to market the products available to all potential markets. Given these circumstances, we feel that the development of a partnership through a cooperative business is the logical solution to expand markets and increase overall income for sustainable farm operations while solving some limitations individual farmers face in terms of scale, brand/marketing power and logistics.
If we are successful in our endeavor, we will be able to share our experience, knowledge and outcomes with Kunekune farmers in other regions as a model for sustaining our breed and our farm businesses for the foreseeable future.
Description of farm operation:
Jennifer Bassman is owner of Heritage Haus, a 15-acre farm located in Berkshire, NY specializing in producing heritage breed pork and lamb. She also runs an Online Store, offering locally produced meats, dairy, produce and dry goods for home delivery to the greater Ithaca area. She is president of the Empire Kunekune Pig Association and the Kunekune Pork Producers Association and a founding member of the Kunekune Pig Preservation Project.
Cooperators
(Educator and Researcher)

(Educator and Researcher)

(Educator and Researcher)

(Educator and Researcher)
Research
Materials and methods:
Our main objective for this project to create a partnership that enables multiple farms to market and sell Kunekune pork in order to  share risks and benefits between a group of farmers selling pork together. We started as a group 3 of experienced and Kunekune pig breeders and producers in Upstate NY who sought to develop a cooperative model for joint marketing so that that would expand sales channels to places where we could not reach individually, and increase our overall farm sales. As small farms often struggle with limited resources for labor, time for sales and marketing, and capacity for growth, we wanted to explore how we could work collaboratively to overcome these barriers and create a more sustainable system for small farms. If/when successful we would be able to share our experiences with other farmers interested in utilizing the cooperative model. 
In 2019, we added 5 other project member producers and investigated market channels, processors, pricing structures and organizational guidelines under which we could operate. We also explored opportunities to utilize emerging technologies, particularly Blockchain, to add market value to our product and provide valuable insights into breeding and raising Kunekune pigs. We conducted an on-farm seminar/hands-on workshop for 14 farmers in NY, MD and PA, a webinar titled "Kunekune 101: Ask Me Anything" for 18 farmers, sat on a panel about co-op formation at the Carolina Meat Conference with an audience of approximately 35 and created an educational table display about Kunekunes and Kunekune Pork for the Broome County Fair. We created a logo and word mark for our organization, filed for Trademark on both, and developed a working draft of 100% Certified Kunekune Pork Participation Guidelines.
March 2019
Project members met twice, on March 3 and March 22. Discussed scope of grant, brainstormed some ideas.
Began planning on-farm workshop, Kunekune 101, to be held at Bel Canto Farm.
Set goals for the co-op. 

Create a sustainable market for our product

Establish Kunekune pork as a niche product and part of the higher-end market. Tap into the local, pasture raised grass-fed market.

Conduct research that helps standardize the Kunekune as a meat breed and helps breeders make better choices with regard to feeding and breeding. 

Investigate the use of new technology like Blockchain which could provide immutable records that verify the quality, breed and origin of our pork adding value to our products

 

Share in the risks and benefits with other producers
April 2019
Project members met on April 24. 

Decided on name for Co-Op (Kunekune Pork Producers Association, KPPA), purchased urls for

kunekuneporkproducers.com

and

certifiedkunepork.com

Identified a Blockchain company Beefchain to contact about using Blockchain in our Co-op.
Decided that we would need a set of criteria for becoming "Certified" in our co-op.

Held on-farm workshop Kunekune 101 at Bel Canto Farm in Trumansburg. The workshop focused on herd health care, confirmation, and breeding. Dr. Mary Smith of Cornell University gave a lecture on Swine Health and demonstrated how to do a necropsy. 17 farmers attended from NY, PA and MD. Attendees were surveyed following the workshop for feedback and thoughts on topics for future events.
Had initial call with Rob Jennings of Beefchain, gathered information to bring to the group. 
Identified the Carolina Meat Conference as an event that would make sense for group members to attend.
May 2019 
Project members met on May 17. 

Reviewed survey results from the workshop
Reviewed initial information provided by Beefchain

Discussed what we would want to include in our criteria for being certified within the coop
Agreed we needed to create a logo and word mark to represent our organization. Identified an attorney at Miller Mayer, LLC who can assist with trademarking. 
Scheduled meeting with Miller Mayer
June 2019
Met with Miller Mayer, received board approval to proceed with filing for trademark for Kunekune Pork Producers association and 100% certified Kunekune Pork
Project members met on June 21. 

Finalized draft logo and word mark.
Discussed Beefchain - needed additional information on costs, but potential plan created to test tracking a batch of pigs.
Created an excel spreadsheet representing the data we would like to collect on our pigs over time. In the future, this data would be recorded in the blockchain system, but can be recorded manually for now.
Agreed to create a Kunekune pig/pork display at the Broome County fair in July
Discussed processing and logistics - Identified Regional Access as a potential distributor. 
July 2019
Project Members met on July 3 & 21.

Discussion about the AKPR (breed registry) announcing a similar pork certification brand. Brainstormed how we would distinguish our program by setting higher standards and working to utilize blockchain for verification.

Set up and managed an informational display on Kunekune pigs and pork at the Broome County Fair. Kunekunes were also exhibited by 4-H'ers at the fair.
We identified attendees for the Carolina Meat Conference and reached out to organizers about being presenters. Jenn Bassman was invited to sit on a panel about co-op formation. Jenn Bassman also received a scholarship to attend. 
Completed filing for trademarks on our logo and word mark.
August 2019
Project members met on August 16.

Members still struggling with pricing structure for co-op. Decided to reach out to other farmers scheduled to speak on the co-op panel to ask questions and gather feedback about our organization.
Set a date for a fall webinar Kunekunes: Ask Us Anything scheduled for September 27 
In light of one of our farmers being quarantined for rabies, discussed our vaccine practices on our farms.

Learned that IT developer for Beefchain left company, our contact at Beefchain is difficult to reach.
September 2019
Led a webinar, Kunekunes: Ask Us Anything on September 27. Approximately 18 guests in attendance. Conducted followup survey to get feedback and find out about interest in other topics.
Finalized criteria for participation in the certified Kunekune pork program.
Identified the New York Farm Viability Grant as a possible source of additional funding for blockchain research.
October 2019
The project members met on October 18

Discussed upcoming grant opportunities, membership models, logistic challenges
Discussed possibilities for next educational event
Recapped CMC event, and resources acquired at event. Agreed to add resources to website.

Barb Rossi and Jenn Bassman attended the Carolina Meat Conference. Jenn presented on a panel about co-op formation in the sustainable meat industry. Approximately 35 people attended. Connected with Slow Food USA, a genetic researcher interested in working with Kunekunes as well as restaurants and chefs. 
After weeks of no contact from Beefchain, we discovered that our primary contact was not with the company. The new CEO meets with us and gives us a very different message regarding pricing structure.
November 2019
Project members met on November 16

Discussed sales channels and challenges
members shared hesitancy to commit pigs to co-op without having guaranteed clients, but recognized difficulty of solidifying clients without guaranteed pigs
invited two new members to join the project, Karl Peabody of Peabody Farms and Amanda Hand of MKONO FARM

In light of the inconsistencies and turmoil within Beefchain, a new blockchain was identified, ripe.io, who was very interested in working with us and pursuing work via our grant. We submitted our NYFVI grant. 
December 2019
Project members met December 19

Scheduled winter webinar: How to choose a Processor, The ins and outs of Butchering for February 16
Discussed taking an organizational position about the changing breed standards from the registry.
Discussed consulting with Heather Sandford, founder of the Piggery, for insight into pricing and logistics. 
Discussed new processing options - Cornell is a possible option.

Submitted Grant for SARE Year 2, revisions to NYFVI 
Met with Andy Brudtkuhl of the National Pork Board who connected with us as a result of our work with ripe.io. NPB has some funds to do other work with blockchain and would be interested in doing more work with a heritage breed like Kunekunes. We will follow up in January-February 2020 after the budget has been approved.
2020
Much of our planned work in 2020 was sidelined due to the COVID - 19 pandemic.  The following explains how we pivoted and progress we made this year.
What's Changed
While our main goal of establishing a cooperative model for small-scale Kunekune breeders to sell their pork remains the same, the market landscape has changed dramatically since the original submission of our proposal in 2018. With the spread of the COVID-19 pandemic, and the subsequent devastation to the restaurant and service industry, the opportunities to sell high-end niche pork by wholes, halves or retail cuts have all but vanished for the foreseeable future. Small-scale farms are struggling to find processing dates at USDA facilities for small numbers of animals as these facilities manage increased demand from industrial processor bottlenecks.
Just like everyone else in this new environment, we have had to pivot our strategy in creating this coop. We need to address several issues, some related to the COVID-19 pandemic, and some that have developed simply as a matter of time and experience working through the development process.
Find a new viable market channel and product that will thrive now and in the future. And create a process for getting the products to market.
Find a way to address the needs of farmers that cannot get processing dates for their animals.
Simplify and streamline our original plans for product standardization through a certification program
Finalize our membership program, marketing benefits, financials for the cooperative structure
Progress in 2020
Product Identification. Aftermarket research and evaluation we have determined that the best way to utilize Kunekune pork in our cooperative is by creating and selling charcuterie products, starting with 8 oz salamis in a variety of flavors. This solves a number of problems identified above and provides the best opportunity for all participants in our supply chain to earn reasonable payments for their part in the production by:

Streamlining our quality assurance process as our finished product will come from one producer/charcuterie maker.
Allowing us to purchase finished animals from member farms who cannot find butcher dates and have them processed in larger batches at available facilities.
Giving us a product that :

Is shelf-stable
Is easily sold online direct to consumers, and affordably shipped nationwide
Commands a premium price per piece, but is still affordable to our target market
Creates a product that individual small-scale farmers are typically unable to produce on their own because of the quantities of animals needed and the amount of upfront cost required. As a cooperative, the member farmers will have the opportunity to purchase some finished product back at a discounted rate for resale in their own retail programs.

As a lard breed, allows us to utilize the Kunekune pig for its ideal purpose, making most efficient use of the whole animal.
Cooperative Infrastructure We have established the basic outline for membership into the cooperative and the ways in which members may participate in the coop. This membership structure creates multiple revenue opportunities for the cooperative including the retail sale of charcuterie meat, membership fees, consulting fees, and farm certification fees.
Branding We have developed a logo, a brand claim (100% Certified Kunekune Pork) and a website. Our logo and brand claim have been legally Trademarked. We are in the process of submitting our logo, brand claim and brand claim verification process to the USDA for use on our product labels. We will be creating a process guide for others who may be interested in creating a brand claim label for their own products as an educational tool for all small-scale meat producers. Below: KPPA's trademarked logo and claim, and Berkshire Pork TM and claim for comparison.
Farm Certification Process & Requirements We have developed our requirements and procedures for a farm to have the right to utilize the 100% Certified Kunekune Pork claim on their own products and to participate in the charcuterie project. We had planned to certify all seven current participating farms in 2020, but due to COVID-19 have been unable to conduct the necessary farm visits. For the purposes of the trial outlined below we are going to operate as if we have all been officially certified until we are able to safely do our farm visits and complete the certifications.
2021 - REVISED Planned Activities 
To address these needs and accomplish measurable and meaningful tasks that fall within the scope of this grant we are proposing the following:
Member Farm Certification As soon as we are safely able, we will complete farm visits of all seven current participating farms to finalize our certifications. We will take videos and photos so that we can provide guidance tools for future farmers wishing to be certified.
Continue Development of Cooperative Infrastructure With regards to creating the organizational structure of our Cooperative, still need to:

Finalize the details with regards to membership levels and cost of each of those levels.

For example, if a member just wanted to utilize our marketing and promotional materials/support about Kunekune pork they may pay less than a member interested in selling animals to the cooperative and thus requiring additional services like farm certification.

Finalize organizational structure with regards to board of directors, eventual paid roles, conditions required for member payouts, business type. Currently, KPPA operates as a sister organization to the Empire Kunekune Pig Association, a 501c3 educational organization. We have a shared board and financials. As we formalize and grow the Cooperative, we will need to determine how the two organizations operate together and how their finances and leadership will work together and separately.
Trial Product Production Kunekune Pork Producers Association will produce a trial batch of charcuterie salamis (approximately 600 pieces, 8 oz) for direct-to-consumer online sales. Grant funding is essential for this trial to assist in the sizable upfront costs involved with producing the products.
The purpose of this trial is to

practice and document the process from start to finish for future scaling and streamlining
determine if, at scale, this can be a viable model for our cooperative
establish relationships with vendors with whom we may work at larger scale and longer-term (processors and charcuterie makers)
Take feedback from retail customers with regards to satisfaction with product, price point, ease of purchase
The process for this trial will be

Eight finished pigs needed to produce the salami will be purchased from KPPA member farms at a pre-determined price per pound live weight, based on current USDA pastured pork pricing. ($3.50/lb live wt)
KPPA will collect the finished pigs and deliver them to the processor on March 1 for slaughter. We will then collect the processed whole muscle and deliver it to Meatcrafters https://www.meatcrafters.com/ in Hyattville, MD for curing.
Once the product is finished curing and has been wrapped and labeled for sale (est date of May, 2021), KPPA will collect and manage inventory, retail the salami via direct to consumer online sales (on kunekuneporkproducers.com/) and by offering a small quantity to KPPA member farms (at discount) for resale at their own farms.
Following each sale, we will follow up with customers via survey to gather information with regards to product satisfaction, ease of purchase, pricing, etc., and aggregate this data for future reporting.

Project Budget. Below is a table that represents direct costs to conduct the Charcuterie Project Trial. Our total modified budget, including some additional expenses (project leader hours, website) comes to $10,752. We have $7441.57 remaining in SARE funds. We are requesting that SARE fund all of the expenses listed in the modified budget, with the exception of $3,311 of the $5,320 expense line to purchase the market weight pigs. We will be able to take a loan from EKPA's funds to cover this additional amount, which we will repay once we have generated sales from products. Any net profit gained from this project will be reinvested into producing future products.
Reporting Outcomes and Educational Materials

Reporting

KPPA will report on total expenses, gross sales, and net income based on sales of the salami between May and August, 2021.
We will provide an update on the status of farms fully certified, and where other farms stand in the process.
We will provide a report detailing any memberships received into the cooperative between January 2021 and August 2021.
We will provide an updated report on the organizational structure with regards to KPPA's relationship to EKPA, how its financials will be structured and how the two organizations will work in partnership and separately.

Educational & Informational Materials Produced

Document - requirements and application for attaining KPPA 100% Certified Kunekune Pork Certification
Video / Document - instructions and guidance for KPPA farm certification
Document - process for getting a claim approved with USDA for meat labels
Document - participating in the KPPA Charcuterie Project
Website - informational for current and prospective members and point of sale for Charcuterie Project
Digital - Branding materials (logos, colors, fonts, photos, etc) for certified farms to utilize in their own marketing effor
Participation Summary
7
Farmers participating in research
Education & Outreach Activities and Participation Summary
2
Curricula, factsheets or educational tools
8
Webinars / talks / presentations
Participation Summary:
45
Number of agricultural educator or service providers reached through education and outreach activities
Education/outreach description:
Kunekune 101: On farm workshop at Bel Canto Farm on April 27.
An educational conference and hands-on workshop focused on herd health care, confirmation, and breeding. On Saturday, April 27th, we were joined by guest speaker Mary C. Smith, DVM at Cornell University, and others for this full day of education focused on the Kunekune Pig.
We had 14 farmers attend this event from NY, PA and MD. 
Returned feedback surveys indicated a high level of satisfaction with the event and interest other events covering topics including: vaccinations, feed, bloodline traits, history of KuneKune, how to house them, how to market them, and more about the co-op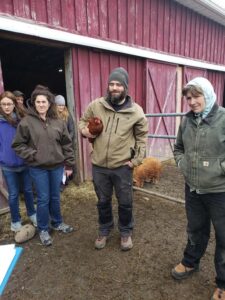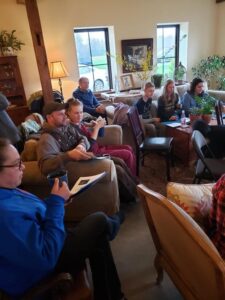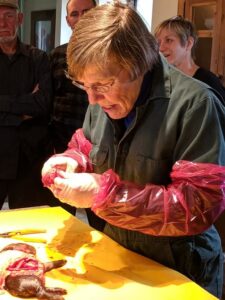 Choosing a Processor • Sunday, February 16, 4-6pm
How do you find a processor that will work with your niche pig for your niche market?
Retailing Niche Pork…Ask a Butcher! • Sunday, February 23, 6-7:30 pm
Once we find a great processor how do we find a great market?
Alternative Farm Management During COVID • Thursday, May 7, 7:30-8:30pm EST
Has COVID affected your farm? This will be a casual discussion open to all attendees. Share some 'Alternative Models to the Local Food System' you might have incorporated during this crisis. What is working, what is not. Let's brainstorm, let's support each other, and let's be successful together. FREE.
WEBINAR: KUNEKUNE NUTRITION 101: FEED MANAGEMENT FOR OPTIMAL HEALTH
Saturday, May 23 • 10:30am - 12:00 pm EST Being a landrace breed, giving the Kunekune pig exactly what they need in their diet is of utmost importance. Do Kunekune need pasture? When should supplementation be done? These questions along with discussion around basic nutrient and ingredients needed in their diets will be discussed. Industry leading pork producers from the Kunekune Pork Producers Association and the EKPA will discuss pasture management techniques, assessing forage quality, and choosing supplements along with the difference in nutrients needed in young pigs, a meat herd, and breeding stock. Want to know some proven methods? Tune in to find out more and get all of your questions answered during the Q&A time!