Final Report for FW15-054
Project Type:
Farmer/Rancher
Funds awarded in 2015:
$4,003.00
Projected End Date:
12/31/2015
Project Information
Abstract:
Our project sought to address the following questions:
1. Given a standardized ration and environmental conditions, what is the input cost comparison between GMO-free and conventional feed to pasture raise Cornish cross broilers?
2. Given a standardized hatch to slaughter timeline (seven weeks), how does the dressed weight compare between these treatment groups?
3. Are consumers willing to pay more at a farmer's market for chickens raised on GMO-free feed?
High-level findings were:
Feed consumption per bird was lower in the GMO-free fed birds; however, total cost of feed per bird was higher given the higher cost of GMO-free feed.
Total input costs per bird were approximately 12% higher for the GMO-free broilers.
Average dressed weight of broilers was slightly lower, on average, for the GMO-free broilers.
Consumers had a slight preference for GMO-free birds when presented with a choice, despite a higher price point.
Introduction
For the 2015 growing season Berggren Demonstration Farm (now Phoenix Farm Enterprises, Inc) received a WSARE Farmer and Rancher Grant to perform a side-by-side comparison of pasture-raised Cornish Cross broilers fed on GMO-free feed vs. conventional feed. We raised three batches of birds under experimental conditions, tracking feed costs, labor inputs, transportation, and dressed weight at processing. At point of sale, we informally surveyed consumers to evaluate preferences for GMO-free vs. conventionally fed birds, with a higher cost-per pound price assigned to the GMO-free birds to account for higher feed costs.
We originally proposed to conduct three trials of 50 chicks each, with 25 chicks on conventional feed and 25 on GMO-free. Ultimately we decided to run four trials of 150 birds, with 75 birds in each group. Due to problems with the two of the trials we are reporting of the results of two of the trials, # 1 and #3, with discussion of all of the trials.
Project Objectives:
We modified our original objectives to increase the total sample size for the experiment. Objectives and performance targets are as follow: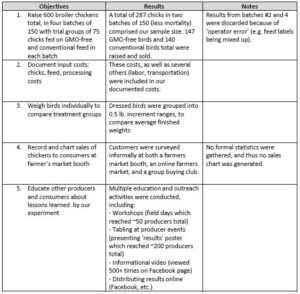 Cooperators
Research
Materials and methods:
Methods are described in our video about the experiment:
Briefly:
Chicks were purchased from a local hatchery the day of the hatch and brought to the farm's brooder house, where they were segregated into two identical pens.
Chicks were initially fed on 'crumble' style feed, and then fed 'pellet' style feed starting at approximately 10 days.
Feed was sourced from Union Point Feed Mill (GMO-free) and Payback (conventional): 50 pound bags of "broiler feed" in both instances.
Feed was stored in separate metal trash cans; the number of 50-lb. bags fed to each group was tallied on an index card taped to the lid, to measure total feed by weight consumed by each group.
Birds spend approximately two weeks in the brooder house, two weeks in indoor/outdoor hoophouse structures (outside during day, inside at night), and approximately three weeks on pasture.
Birds were processed at Mineral Springs Poultry, with leg tags to differentiate the groups.
Processed birds were grouped into 0.5 lb. weight range increments.
Research results and discussion:
(I could not find a way to upload high-resolution images of our charts; using the table function in this portal is prohibitively difficult. I uploaded screenshots of the chart to the media gallery, but the portal puts them into a smaller size resulting in poor quality resolution. I am happy to send these charts as attachments if so desired.)
Outcomes of Batch 1: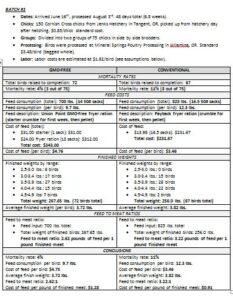 Outcomes of Batch 3: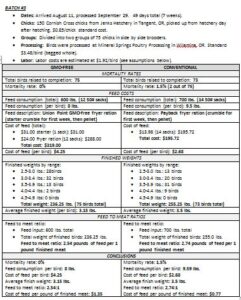 Impacts from the project include:
A wide range of vendors and producers have expressed interest in our findings, including:

Jenk's Hatchery
Union Point Feed Mill
Pleasant Hill Feed & Seed
Other local farms: Havurah Farm, Fair Valley Farm, Porter Acres, Two Rivers Farm, Living Earth Farm

Creating a video and posting it on Facebook has resulted in over 500 views
While our results generally matched our hypothesis- that conventional feed would cost less per pound of finished weight, but that consumers would express a preference for GMO-free birds- the findings have helped to identify specific differences in input costs that are of great interest to other producers in our area
Participation Summary
Educational & Outreach Activities
Participation Summary:
Education/outreach description:
Here is our outreach video:
Publications included a tri-fold poster/report, which we have displayed at the following events:
Local Food Connection conference in Eugene
Small Farms Conference in Corvallis
Heart of the Valley Cooperative grower's meeting in Santa Clara
Other outreach events included:
Two producer field days at the Berggren Demonstration Farm in summer 2015. Total attendance ~35.
Informal producer visits, total ~12 during grant period.
Project Outcomes
Project outcomes:
Significant accomplishments from the project are:
Demonstrating a quantifiable difference in input costs between GMO-free and conventional-fed broilers
Sharing findings with over 500 producers through field days, tabling at events, and online views of our video
This project has catalyzed greater dialogue and collaboration between local poultry producers and vendors, including through the formation of a new grower's cooperative, Heart of the Valley
Recommendations:
Potential Contributions
Information generated through our project contributes to the field of sustainable agriculture by providing a detailed input cost comparison for producers who are interested in providing a GMO-free broiler product to their consumers. Our project was generated based on input from our customers, and we have heard from other producers that customers are interested in having a GMO-free option in broilers. While many customers continued to opt for the lower price point of the conventional-fed birds, many expressed gratitude for having both options to choose from. It is likely that the higher costs will mean that GMO-free feed is only an option for farms who are direct-marketing their products to customers who will bear a higher price point ($4.50/lb.) than farmers could achieve through wholesale marketing. However, for these farmers, having clear information about how input costs will change may allow them to make 'values-aligned' decisions in sourcing feed.
Future Recommendations
Given limited funding and turnover at the farm, we were not able to complete all aspects of the experiment as thoroughly as hoped.
Our recommendation is to expand and replicate this experiment, and further disseminate these findings. In general, a primary barrier is the higher feed cost for GMO free feed. Locally sourced inputs, locally milled, simply cost more than conventional feed. If GMO free feed is important to consumers, efforts should be made to increase the availability and cost of inputs.