Progress report for FW21-372
Project Type:
Farmer/Rancher
Funds awarded in 2021:
$29,000.00
Projected End Date:
03/31/2023
Host Institution Award ID:
G350-21-W8613
Grant Recipient:
Milton Ranch
Project Information
Abstract:
For an individual ranch, sustainable ranching requires adequate information and understanding to adapt management practices and improve ecological health, economic efficiency, and human well-being over time. Many ranchers pay for and participate in monitoring efforts to document successes and failures and understand how their management correlates to changes on the ground. This data collection and interpretation can improve management and the sustainability of their own operations, but the data are often siloed by topic and held in private. When taken a step further, the sharing and discussion of monitoring data across landowners can lead to learning and improved management at a broader landscape scale. The research questions explored in this project focus on how to make monitoring and management data more useful through collaboration and learning at all steps of the monitoring, analysis, and decision-making process. The Range Monitoring Group (RMG) in central Montana has worked to address these questions for four years. Currently, RMG includes a pilot group of three ranchers (including Bill Milton) who have multiple years of monitoring data and are willing to share the data among themselves, and eventually with the larger RMG membership. The ultimate outcome of this project will be to improve the utility of monitoring and data sharing to better understand the ecological, economic, and social impacts of various management practices. Because this project is led by a group of ranchers, dissemination of results will happen through immediate local networks as well as through regional and national non-profit partners.
Project Objectives:
The research objective of this project will be to:
Operationalize monitoring indicators and information about management practices that are consistent, useful, and feasible across landowners, and ensure that monitoring is interpretable and repeatable over space and time
Explore relationships between management practices and ecological impacts
Develop and document data analysis and visualization approaches that make data actionable for decision-making that improves rangeland and ranch sustainability
The educational objectives of the project will be to:
Engage ranchers in self-education and a collaborative process of data sharing and discussion to better understand their own monitoring data
Co-create a process to look at monitoring data at a landscape scale to support decision-making
Timeline:
Activity 1: Group discussion on currently gathered measures rangeland health, land management practices and economic sustainability and what other information is needed to support rancher decision-making
Activity 2: Test and refine indicators and monitoring approaches through collaborative in-person monitoring (pasture walks, etc.)
Activity 3: Analyze ecological indicator and land management data together
Activity 4: Develop data management and visualization tools and processes to facilitate shared interpretation of monitoring data 
Activity 5: Hold group discussions focused on better understanding monitoring data and analysis
Activity 6: Document the discussion process around shared data, t in a way that can be shared with other stakeholders in the region (presentations, a hand book)
 

2021

Q2

2021

Q3

2021

Q4

2022

Q1

2022

Q2

2022

Q3

2022

Q4

2023

Q1

Objective 1

 

 

 

 

 

 

 

 

Activity 1

 

 

 

 

 

 

 

 

Activity 2

 

 

 

 

 

 

 

 

Objective 2

 

 

 

 

 

 

 

 

Activity 3

 

 

 

 

 

 

 

 

Objective 3

 

 

 

 

 

 

 

 

Activity 4

 

 

 

 

 

 

 

 

Objective 4

 

 

 

 

 

 

 

 

Activity 1

 

 

 

 

 

 

 

 

Activity 5

 

 

 

 

 

 

 

 

Objective 5

 

 

 

 

 

 

 

 

Activity 6

 

 

 

 

 

 

 

 
Cooperators
Research
Materials and methods:
The overarching research question driving this project is, how can we connect monitoring data and management practice information to improve decision making and sustainability? We are specifically interested in exploring which monitoring indicators are commonly gathered and useful to ranchers, the best ways to view and visualize the data to support decision-making, and the possible impacts on 'triple bottom line' sustainability that sharing monitoring data across the landscape can have. To address these research questions, the project has the following research objectives:
Operationalize monitoring indicators and information about management practices that are consistent, useful and feasible across landowners, and ensure that monitoring is interpretable and repeatable over space and time
Explore relationships between management practices and ecological indicators
Develop and document data analysis and visualization approaches that make data actionable for decision-making that improves rangeland and ranching sustainability
Objective 1: Operationalize monitoring indicators and information about management practices that are consistent, useful and feasible across landowners, and ensure that monitoring is interpretable and repeatable over space and time
This objective has drawn on legacy and newly collected monitoring data focused on three topical areas: soil health (including carbon, infiltration rates and structure), vegetative cover (presence and abundance of native and invasive species, bare ground), and grassland bird presence (four key species will be the focus). For each of these domains, the three participating producers have data for the past three to five years (2015-2020), and will continue to gather these data in 2022. In 2021, most did not monitor due to extreme drought conditions. The data will continue to be collected using the same protocols that are currently in place, which are developed and implemented by a variety of private and non-profit partners. In addition to these data, the agricultural professionals on this project have worked with the producers to document and generate data about their grazing and land management practices as well as economic indicators. We are exploring existing frameworks to gather these data, including those developed by Point Blue for the grazing and land management practices and by California FarmLink for the economic and business structure indicators. All of the data, new and old, is being gathered in whatever form it currently exists and entered into the soilhealth.app site, which includes long-term, password protected storage and the ability to visualize data on maps. Extensive metadata will be included to ensure repeatability over space and time.
Objective 2: Explore relationships between management practices and ecological indicators
Led by agricultural professional Kristal Jones, we plan utilize inferential statistics to look at relationships between management practices and ecological indicators. If possible, we will specify small (~1 acre square) areas across each producer's operation that include the location that a specific indicator was documented and include each as a single observation. Analysis will look at the relationships between grazing practices and indicators, with separate analyses for each category of indicators (birds, soils and vegetation). For each producer, each year there are roughly 36 vegetation observations, 11 bird observations, and 5 soil observations. Statistical analyses will therefore vary but will likely include linear regression, Chi square and t-tests for differences between locations.
Objective 3: Develop and document data analysis and visualization approaches that make data actionable for decision-making that improves rangeland and ranching sustainability
Objective 3 provides the link between research and education, because the project team is documenting the data analysis and visualization approaches that are most useful and intelligible for producers, and that can make data actionable. The process of experimenting with different parts of the data to use as well as ways to interpret the data constitute the research portion of this objective. The agricultural professionals involved in the project have presented producers with various tools, visuals and combinations of data, and the full group then discussed which seem to be more or less useful, and why or why not. Kristal Jones facilitated these conversations and has treated them as informal focus groups, utilizing qualitative research methods to capture the process through which data is made actionable. The qualitative data will be analyzed using social science approaches like process tracing, which can help explain how change happens. In this case, the change we hope to observe is the process of making data actionable, which in turn will lead to different decisions being made and ultimately (although outside the time frame of this project), measurable impact on sustainability.
Research results and discussion:
In year one of the project, we completed work on a previously existing collaboration with master's students at Yale University, which was focused on defining and operationalizing a list of monitoring indicators that reflect ongoing work with RMG partners (WWF, TNC, etc.). Throughout summer and fall of 2021, the technical advisors worked with the three participating landowners and the monitoring professionals who work with them to organize and describe the data that has been collected in the recent past, and to highlight any ongoing mismatches in approach to collecting monitoring data. The core RMG group, including the three participating landowners, the technical advisors and a core group of collaborators spent substantial time reflecting on the types of data and measures currently being collected by ranchers and the professionals who conduct monitoring on their land. This process included many group conversations about specific indicators, the overall monitoring approaches used by ranchers and professionals who work with them, and the purpose of these data. We also began to explore the kinds of grazing data that ranchers currently collect, both written records and the use of digital tools like MaiaGrazing or LandPKS.
One of the consistent challenges identified by the group is the small spatial scales over which monitoring occurs and the challenge of having few data points over space and over time from which to make decisions. As data was standardized and fully digitized for incorporation into shared data platform (described in detail in Objective 3), it became clear that there are not enough consistent measurements of comparable indicators to generate meaningful statistical results. Instead, the group began to explore ways to pair on-the-ground monitoring data with remotely sensed and modeled data related to ground cover, evapotranspiration, precipitation and other related metrics of landscape health and stress. The figure below shows the kinds of descriptive relationships the group has begun to look at, with the goal of moving into statistical analysis using time for space in year 2 of the project.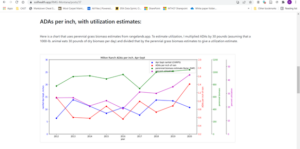 As the RMG group was engaged in ongoing conversation about the data that exists and what it means to producers on the ground, we were also engaged in an iterative process of visualizing the data in a variety of ways on the platform, soilhealth.app, developed by Peter Donovan, one of the two technical advisors. At the end of Year 1, we have 134 individual observations across the land managed by the three participating landowners ingested into the soilhealth.app platform. We have one custom map for each of the three landowners that includes several layers, generated from both monitoring data (like bird counts) and remotely sensed data (like length of green). We also have a shared space for discussion and reflection, a blog of sorts associated with the RMG project on soilhealth.app, which currently has 8 posts. All of these aspects of soilhealth.app allow for different types of data analysis and visualization, and the RMG group has been reflecting on how to interpret and utilize the different types of visualizations. A learning meeting held in December 2021 focused on what an be learned from different types of visualizations and information sharing.
Participation Summary
3
Farmers participating in research
Educational & Outreach Activities
4
Webinars / talks / presentations
Participation Summary:
8
Ag professionals participated
Education/outreach description:
Most of the educational and outreach activities conducted by the RMG group in year 1 were focused on the core group of participating landowners and collaborators. These included an in-person field day in June 2021, an in-person discussion of data visualizations in December 2021, an in-person consensus-building covnersation January 2022, and monthly meetings from May 2021-February 2022. Bill Milton, lead landowner, also gave several presentations on RMG approaches and lessons learned, over the course of 2021 and early 2022.
Learning Outcomes
10
Farmers reported changes in knowledge, attitudes, skills and/or awareness as a result of their participation
Project Outcomes
1
Farmers intend/plan to change their practice(s)
1
Grant received that built upon this project
4
New working collaborations
Project outcomes:
One important project outcome from Year 1 is a plan for Year 2. This includes two planned in-person field days, one in April and one in late summer 2022. These field days will link existing data about a given place on the land with real-time monitoring activities and time for reflection on how to make data meaningful in the context of a specific location. Equally important will be the group learning aspect about what specific indicators mean in combination on the landscape.
A second important project outcome from Year 1 is the creation of extensive qualitative data that captures producers' ongoing reflections on the use of monitoring data and other data sources to support decision making and learning on the landscape. This data, in the form of field notes and transcripts from audio recordings, will be included in the final handbook produced during Year 2 of this project, in part to provide a roadmap for other groups looking to start a similar process to the RMG process.
A third important outcome was the articulation of a consensus statement of the goal of the project and of the Rangeland Monitoring Group more generally. This statement is the synthesis of several virtual calls, two in-person field days, and numerous emails:
We improve the resiliency of the land. As producers, we get reliable information and use that to make better decisions. We have baseline data that shows we are regenerating our soil through our management practices, taking our landscape back to a healthier state. Moving cattle daily, resting pastures for 18 months, all the things people do to try and make themselves better, that's all validated.
Our ranch will survive, financially. The next generation will get some money in the bank.
I've never worked on a ranch where every acre changed the same. There are corners that explode and there are places that do absolutely nothing. That will create frustration within us. We are honest, to reflect and challenge each other. Our team understands what it is to create change. We understand the difference in the approach of each rancher (the worst is to create competition). We do not expect everyone to be doing the same thing, and be open to allow each person to do their own exploration.
We further the knowledge and improve the management of future land managers that will follow us. Community management of data is possible. We create baseline data that lasts for 100 years: we're long gone, but someone could know how grasslands and people coexist.
We grow the positive understanding of the general public for agriculture in general and the positive benefits of grazing land agriculture. This project is an important piece of substantiating and reinforcing people's belief that this is an appropriate way of taking care of communities and places. The results are able to demonstrate the ecosystem services and economic benefits of this process called regenerative ranching. We paint regenerative ranching in a good light, carrying that through to society, sequestering carbon or storing more water than a conventional farming system.
People become aware of how valuable grasslands are: a carbon sink, part of the environment. We can demonstrate that well-managed grazing is completely compatible with healthy rangelands, wildlife, for open spaces, for everything that people find important, with benefits to them as well to the producers who are operating them. We create understanding of the dynamics of mother earth.
We build trust with the outside world: with open candor and open reflection, not afraid to share what is working and what is not. We're not afraid to tell those stories of how we failed. If we hide everything we'll create distrust. We'll have some naysayers. We pay attention to what they're saying. If we listen to them they'll listen to us.
As a group we are able to collaborate with other ranchers, as their management shows what's going on on their places. With our larger group of 100 or so: They have an acceptance and understanding of what we are doing. It's not just you or I that are telling the story, but they are grabbing other folks and saying this is what we can do and this is what we need to do. We maintain an open atmosphere and encourage/invite outside people in.
We are devoted to a community-based collaborative approach to managing large landscapes. This is going to be the pathway people can get into taking care of things without being overwhelmed by discord. They get a lot of satisfaction and it helps them personally as well as their community.
Suzanne Simard's work is evidence of how soil life talks with itself and collaborates, with mycorrhizae supporting multiple species. We're totally interdependent and the only way we're going to coexist is to be collaborative, which is how nature works in ecosystems. It doesn't mean that people don't die, get eaten, don't get used, but the system requires that every part be aware of each other and be supportive of each other. If human beings could be wise enough to be like nature, and our group process could be one pathway to get people to appreciate how this works, it would be super wonderful.
What we're doing is an important component of making the Grasslands Roadmap successful. Across the northern plains the process of monitoring, sharing monitoring, and collaborating with others is known as a valid approach, both for science and also for practical application, which then is accepted and shared across other grassland regions besides the northern plains.
A collective statement from January 28, 2022. Participants included Chris King, Rick Caquelin, Roland Kroos, Bill Milton, Cliff Montagne, Casey Coulter, Peter Donovan.