Progress report for GNE22-295
Project Type:
Graduate Student
Funds awarded in 2022:
$14,938.00
Projected End Date:
10/31/2024
Grant Recipient:
The University of Vermont
Project Information
Summary:
Inoculation with mycorrhizal fungi is known to promote plant growth. Studies have demonstrated this benefit using arbuscular mycorrhizae but the effect of Ericoid Mycorrhizal Fungi (EMF), which forms beneficial associations with blueberry roots is poorly understood. Blueberries are classified as "superfoods" because they contain antioxidants such as anthocyanins which help the immune system to fight disease. To address consumer interests in superfoods, decrease phosphate run-offs and reduce fertilizer inputs; farmers have turned to sustainable practices such as inoculation with commercial EMF but lack information on whether inoculation will influence the healthful attributes of blueberry fruits. The objective of this project is to determine the anthocyanin content and antioxidant activity of blueberry fruits in EMF-inoculated and non-inoculated plants and identify gene expression patterns altered in response to EMF inoculation. I hypothesize that the anthocyanin content and antioxidant activity of blueberry fruits will differ, and this difference may be further understood by changes in gene expression. Using biochemical analysis and RNA sequencing data, my results will provide an insight into the role of EMF on fruit quality and give farmers adequate facts to make informed decisions about the short- and long-term effects of inoculation. The results of the project will be presented at meetings with the Vermont vegetable and berry growers association, American Society of Plant Biologists, NOFA-VT and the academic community.
Project Objectives:
The goal of this research is to examine whether inoculation of blueberry roots with beneficial fungi can affect berry anthocyanin content that promotes good health and makes it a superfood. This information will be useful for farmers to make informed decisions about sustainable practices that influence fruit quality and improve plant growth. Using laboratory experiments, the proposed research will address two objectives:
Objective 1: Determine the anthocyanin content and antioxidant activity in blueberry fruits from both EMF-inoculated and non-inoculated plants. This will enable me to examine whether there is an impact of EMF inoculation on fruit quality.
Objective 2: Identify gene expression patterns in blueberry fruits from inoculated and non-inoculated plants. I will conduct RNA sequencing experiment on blueberry fruits obtained from inoculated and non-inoculated plants. This will enable me to identify what genetic factors are driving the phenotypic changes we may observe.
Introduction:
The purpose of this project is to evaluate the effect of mycorrhizal fungi inoculation on fruit anthocyanin content and gene expression in Northern Highbush Blueberry (Vaccinium corymbosum var. bluecrop). The goal is to see whether inoculation of blueberry roots with beneficial fungi can influence berry anthocyanin content that promotes good health and makes it a superfood.
               Inoculation with mycorrhizal fungi can increase growth of highbush blueberry plants in northeastern U.S. (Yang et al., 2002). Beneficial microbial inoculants such as Arbuscular Mycorrhizal Fungi (AMF) can also improve plant defense (Maffei et al, 2014), enhance soil carbon sequestration (Wu et al, 2014), and benefit plant nutrition status by increasing nutrient uptake (Zhu et al, 2016). The use of mycorrhizal fungi inoculation is gaining increased attention by the sustainable agriculture movement because it promotes the use of natural resources without degrading the environment (Rashid et al, 2019). Benefits of inoculation with AMF have been seen in several crops such as citrus (Abobatta, 2019), tomato (Hart et al, 2015) and strawberry (Cecatto et al, 2016, Lingua et al, 2013, Cordeiro et al, 2019), but little is known about the effect of ericoid mycorrhizal fungi (EMF), which forms a mutual association with ericaceous plants such as blueberries, on fruit quality.
               Over the years, people have become increasingly aware of their health and the need to invest in foods that promotes wellbeing. This awareness has given rise to lifestyle changes as people turn to food with high nutritional value to improve the quality of life (Proestos, 2018). Blueberries are one of the healthiest and most nutritious dietary sources, due primarily to its high antioxidant activity (Nicoletti et al, 2015), and are recommended as a "superfood" to help strengthen the immune system (Wolfe, 2009). To address the changing consumption pattern and consumer interests, farmers are tasked with the responsibility of growing these superfoods to have better quality. They adopt sustainable practices such as inoculating with beneficial mycorrhizal fungi to reduce fertilizer inputs and decrease phosphate run-offs; this requires the purchase of commercial mycorrhizal fungi which manufacturers claim promotes plant growth but attributes of its effect on berry fruit quality is poorly understood.
Although an increase in blueberry mass by EMF is observed on a genotype-specific basis (Brody et al, 2019), the major concern of the farmer should be the commercial value and economic returns. How can farmers tell whether inoculation influences fruit anthocyanin content and fruit quality? Does the type of inoculum affect the quality of berries produced? This is a knowledge gap which my project aims to address and provide information that can help farmers make informed decisions about the effects of inoculation and its contribution to environmental and economic sustainability.
Research
Materials and methods:
Sampling design: The experimental plants are Northern Highbush Blueberry plants located at the Waterman Orchards in Johnson, VT. The initial design was to have samples from Bluecrop cultivars, but I expanded the sampling design to include the cultivars Duke and Spartan whose floral traits was shown to be influenced by ericoid mycorrhizal inoculation. Bluecrop cultivar is the most widely planted in Vermont and provides fruits all summer and in early fall. Duke cultivar is known to be cold hardy and can produce berries well into late fall while Spartan fruits are from June to August and can withstand cold winter. Random sampling was done in one row per cultivar per treatment (inoculated vs non-inoculated). The 3 cultivars chosen for sampling were all grown within the same block with each pair of rows (inoculated and non-inoculated) 3 meters apart. The rationale is to maintain as similar an environment  as possible so that the inoculation treatment is the main difference.
Sample collection: I have completed the initial collection for the first year. I collected 24 berries sampled from 4 branches per plant. Mature and immature berries were harvested separately from each plant. Anthocyanins are the major flavonoids in berries and the choice of immature and mature fruits is because accumulation of anthocyanins begins at the onset of ripening. I randomly sampled 10 plants per treatment for each of the 3 cultivars, so a total of 60 plants were sampled. Spartan cultivar was at its end of harvest when I sampled so total mature berry number was low and very few plants had immature berries. The sampled fruits were placed in labelled Ziploc bags, frozen with liquid nitrogen, stored at -800C and is awaiting processing for RNA Sequencing, Anthocyanin and Antioxidant assays.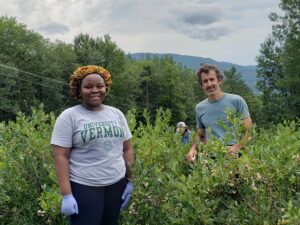 Sandra Nnadi with Ben Waterman at the Waterman Orchards, Johnson VT
Objective 1: Determine the anthocyanin content and antioxidant activity in blueberry fruits.
To test objective 1, I will use two different approaches. The first will directly measure berry anthocyanin content. The second will measure the antioxidant activity present in the berries. I am currently optimizing the anthocyanin and antioxidant assays that will be applied on the samples.
Participation Summary
1
Farmers participating in research
Education & Outreach Activities and Participation Summary
Participation Summary:
Education/outreach description:
It is important for results of funded applied research projects to reach farmers. Effective communication strategies can make reporting more understandable and create more sustainable farming opportunities. One of my goals for this project is to ensure that farmers, scientists, and the academic community is informed about the progress of the project and its outcomes. I will use the following communication strategies to share information about the role of beneficial fungi to plant growth and how it affects fruit quality.
Virtual or in-person presentation to Vermont Vegetable and Berry Growers Association, where I will provide information on the importance of anthocyanin in blueberries to consumer health and the impact of EMF inoculation.
Presentation of research posters at the American Society of Plant Biologists (ASPB) scientific meeting and at the NOFA-VT annual meeting, where the local community interested in sustainable agriculture can be reached.
Social media engagement: i will make a series of posts on Twitter and Facebook about the role of ericoid mycorrhizae on blueberry fruit quality.
I expect the farmers to consider the project results and make an informed decision about whether inoculation is a good addition to their farming practice. I also expect the outcome of the outreach activities to increase awareness and knowledge about the effect on EMF inoculation on blueberry fruit quality.