Progress report for GW21-220
Project Type:
Graduate Student
Funds awarded in 2021:
$30,000.00
Projected End Date:
11/30/2023
Host Institution Award ID:
G243-22-W8615
Grant Recipient:
New Mexico State University
Project Information
Summary:
Hemp production in the U.S. has seen inconsistent performance due to genetic and environmental interactions that influence crop chemistry. This research will evaluate how the phytochemistry of common hemp varieties changes when grown in different New Mexico environments and with different cultural practices. The goal of this research is to help NM farmers better anticipate the results from their hemp crops. By establishing continued two-way communication with local producers, this work can be best tailored to represent the real-world interests of the NM hemp industry. The primary cultural practice of interest is irrigation method. Irrigation infrastructure exists across NM in several forms, some of which may contribute to under-performing hemp production. Changes in hemp biomass chemistry impact downstream product potential. Production environment and practices will be correlated to biomass yields of stalks, seeds, and flowers, and CBD content of floral material. Small-scale extraction with supercritical carbon dioxide will be used to compare extracts from test crops with those found in retail hemp markets. Project results will be disseminated among registered hemp producers and processors through the New Mexico Department of Agriculture (NMDA) and New Mexico Environment Department (NMED); to the NM agricultural community and general public through regional meetings, field day demonstrations, and NMSU Extension publications; and to the wider scientific community and hemp industry stakeholders through open-access digital content including peer-reviewed journal articles and demonstration videos. Lessons learned and relationships developed during this project will serve as the foundation for future hemp research at NMSU.
Project Objectives:
The first research objective is to evaluate how the phytochemistry of common hemp varieties differs from their expected profiles when grown at multiple sites throughout New Mexico. Factors to be considered are environmental conditions at each location and production practices.
The second research objective is to determine how differences in phytochemical profiles correlate to the quality of hemp extracts for cannabinoids. This information will be used to identify inputs that result in high-quality products for downstream manufacturing. This will aid in developing tools for NM producers to consult in order to produce a crop that will result in the highest quality end product.
The first educational objective is to establish recommendations for hemp producers as they decide which varieties to grow and which cultural practices to implement. These recommendations will be shared as digital content, such as production management videos and extension fact sheet publications, as well as presentations and interactions at in-person events such as field days.
The second educational objective is to aid in the development of courses for a hemp production certificate program at New Mexico State University (NMSU). As the state's land-grant institution, NMSU is best positioned to aid in statewide agricultural efforts. With the increased interest in hemp production across NM, it is vital that NMSU act as an agricultural leader to guide the establishment of this new industry within NM agricultural sectors.
Timeline:
The project will begin December 1, 2021 with preparations for the 2022 production season through the following March: obtaining appropriate licensing, procuring hemp genetic material and COAs, and preparing soils at production sites. Planting will start in the month of March 2022 with the timing dependent on temperatures at each location. Cultivation will take place through October 2022, at the latest, depending on the harvest times required for legal compliance. After harvest and drying near the production site, biomass materials (~500 g per variety per treatment per location) will be packaged in opaque vacuum-sealed bags and transported to the NMSU main campus in Las Cruces, NM for analysis. Information dissemination will begin during cultivation, with results being provided as they become available after initial evaluation. The remaining biomass will be used to conduct small-scale the carbon dioxide SFE for cannabinoids to evaluate extract quality. Completion of all analyses is expected before September 2023, with continued result dissemination to stakeholders through December 2023. The Gantt Chart (Figure 2) provides approximate time frames for completing the tasks over the funding period.
[caption id="attachment_751208" align="aligncenter" width="840"]

Figure 3. Gantt chart depicting approximate timeframes for accomplishing major project components/objectives over the funding period[/caption]
Cooperators
(Educator and Researcher)

- Technical Advisor - Producer

(Educator and Researcher)
Research
Materials and methods:
There are two main objectives to this research: 1) evaluate how the phytochemistry of common hemp varieties differs from their expected profiles when grown at multiple sites throughout New Mexico as influenced by environmental conditions and production practices; and 2) determine how phytochemical profiles in resulting hemp crops impact choices for post-harvest processing to ensure a profitable feedstock is maintained for downstream product manufacturing.
Licensing was obtained from the NMDA per the hemp plan approved by the USDA according to the final rule for Establishing A Domestic Hemp Program (2021). Licenses for each trial site were obtained prior to procuring propagative materials and planting. The production trials are being conducted at three NMSU facilities representing the different geographical regions of the state: the Leyendecker Plant Science Center in Las Cruces (south), the Agricultural Science Center at Los Lunas (mid), and the Sustainable Agriculture Science Center at Alcalde (north). Each location is currently operating under annual production licenses that were issued on March 18, 2022 and are valid until November 13, 2022.
Four hemp varieties are being grown at three trial locations with duplicate plots. The varieties include CBD-type (varieties: Sweetened and The Wife) and dual purpose grain/fiber-type (varieties: Orion 33 and Future 32) hemp. The CBD varieties were chosen due to their use in trials the previous year and popularity among NM producers. The dual purpose varieties were chosen in order to screen new genotypes for low-latitude suitability, since these had not been grown in NM previously. One of the two plots at each site is being managed by a standard set of best production practices. The other plot is being subject to a treatment or management practice specific to the local growing regions. The standard practices were based on extension publications and guidelines from states with successful hemp programs (Southwest Hemp Extension Council, 2020; University of Vermont, 2019). All sites are equipped with drip irrigation. The cultural/sustainability treatment at each site is specific to challenges facing that area or the research speciality of the particular location (Table 1).
Table 1. Summary of planting dates and cultural/sustainability treatments applied at each trial location
| | | |
| --- | --- | --- |
|  Location | Planting Date * | Cultural/Sustainability Treatment |
| Leyendecker Plant Science Research Center | April 18 | Water stress - after allowing plants to establish for first 6weeks, one plot was subjected to 50% less watering frequency (every other week) than the standard plot (every week) |
| Agricultural Science Center at Los Lunas | May 4 | Pest management † - a companion plant (dill) was grown in the empty spaces of one of the plots; the goal was to determine if any noticeable differences in pest trap counts occurred between plots with or without a companion plant |
| Sustainable Agriculture Science Center at Alcalde | May 13 | Organic fertilizer - one plot was treated with only organic fertilizer applications; the other plot was managed with the same MiracleGro water-soluble formula used for standard management at all locations |
* Transplanting and direct seeding were performed approximately 2 weeks after the historic last frost dates (± 5 days) at each location (Old Farmer's Almanac, 2021; Southwest Hemp Extension Council, 2020)
† Companion planting crop failed due to miscommunication; seedlings were mistakenly removed during general field maintenance as weeds
All CBD-type seedlings were transplanted by-hand. Seedlings were planted 3 feet (0.9144 m) apart, in six rows of five plants each, per each plot. The grain-type varieties were direct seeded at a rate of 30 lb/acre, in alternating rows (3 per plot) 30 ft in length. A diagram depicting the design of a single plot is provided below.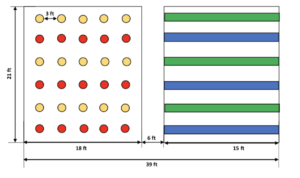 Figure 1. Plot design for trial locations
Because clonal propagative material was not available, all CBD-type transplants were grown as seedlings for four weeks by the supplier. Plants were notably stressed and root-bound upon pick up from the supplier at the time of the first planting. As a result, the transplants at Leyendecker were all stressed upon planting on April 18. However, the seedlings for the other sites were transplanted from 1-inch cells to 4-inch pots and kept in an outdoor shade house until the other plantings on May 3 and May 13 and showed improved growth/mortality compared to the initially placed transplants at Leyendecker.
There are not defined conditions for management of pest, diseases, weeds, or nutrient deficiencies (including pesticide/herbicide applications and micronutrient supplementation). The purpose of this is to allow for observations about these issues to be documented such as prevalent weed species, present diseases, symptoms of nutrient deficiency. Taking note of all the potential issues under the conditions at each trial location will allow for development of the most realistic recommendations for producers to consider.
Although there is a dominant view among CBD-hemp producers that the presence of male hemp plants in a field will dramatically decrease CBD content, this has been disputed by fiber/grain producers. In this study, therefore, any male plants of the dioecious fiber and grain varieties will not be removed. This will allow observation of the percentage of males appearing and how that presence of males impacts CBD content of the female floral structures. This will also allow for observation of the yields of fiber and grain materials, in addition to CBD content, indicating the potential of the tested varieties to be grown as dual-purpose crops.
Monitoring for legal compliance will be conducted regularly throughout the production season. Sampling methods will be performed as per the USDA final rule for Establishing A Domestic Hemp Program (2021). The first test will be conducted at the initiation of flowering, after which plants will be tested every two weeks. Once monitoring results indicate plants are nearing their legal limit (total THC > 0.3%), a harvest notice will be filed with NMDA. After the NMDA harvest inspection and final potency analysis has been completed by Scepter Labs in Santa Fe, NM, the plants will be hand harvested. 
Plants are predicted to be harvested toward the end of September 2022. Upon harvest, plants will be dried in a space with both temperature and humidity control. The drying conditions are to maintained at 60-70 °F and 45-55% humidity (University of Vermont Extension, 2019) until moisture content reaches approximately 8-10% (Żuk-Gołaszewska & Gołaszewski, 2020). After drying, the major components (stalks, seeds, flowers, and leaves) will be separated and the yields recorded for each plant by weight. The average weights of each component per variety per management technique at each location will be determined from the plant replicates. Floral material will be analyzed for cannabinoid content and essential oil profiles. American Society of Brewing Chemists (ASBC) methodology will be used for characterization of biomass (primarily floral material) due to the limited number of accepted standardized analysis methods for hemp, and because of the similarity between hops and hemp inflorescence from their shared family phylogenetic categorization. Each analysis will be performed in triplicate to obtain data for statistical analysis. Approximately 500 g of biomass per experimental variety/treatment will be used to perform the following analyses (adapted from):
Moisture content by oven drying (ASBC Hops Method 4, 2008)
Essential oil extraction by steam distillation (ASBC Hops Method 13, 2008)
Essential oil characterization by gas chromatography with flame ionization detection (ASBC Hops Method 17, 2004)
Cannabinoid solvent extraction and characterization by high performance liquid chromatography (Mandrioli et al. 2019)
Materials required for hemp production and analysis described above include:
Hemp seedlings: 90 per variety (180 total)
Hemp seeds: approx. 1/4 pound per variety (less than 1 pound per variety)
Irrigation equipment and supplies
Fertilizer
Drying space (climate-controlled space)
Solvents/analysis gases
Standards (cannabinoids, essential oils)
Sample storage containers
To accomplish the second research objective, a subset of floral biomass will be processed into oil using supercritical fluid extraction (SFE). SFE using carbon dioxide is one of the most common methods for obtaining cannabinoid-rich oil from hemp biomass (Ramirez et al., 2019). The same processing method will be applied to hemp from each trial location and the extracts analyzed for cannabinoid content and essential oil profile using the following methods:
Lab-scale supercritical CO2 extraction (Rochfort et al., 2020)
Cannabinoid content – final product (Sexton et al., 2018)
Essential oil profile – final product (Sexton et al., 2018)
Materials required for objective two are the same as those needed for objective one (solvents, gases, standards, containers).
Production and analysis of hemp from the production trials will provide the following results for each variety for each management style: yields, average plant cannabinoid content, average plant essential oil profile, average extract cannabinoid content, and average extract essential oil profile. Statistical analysis will be performed to determine which relationships are significant. This will allow comparison of product quality from similar management practices at different geographic locations and from different management practices at the same locations, thus enabling recommendations for producers regarding cultivar selection and best management practices to yield the highest quality product.
Research results and discussion:
The two dual purpose (grain/fiber) varieties were screened for flowering time (photoperiod response) at each location in order to evaluate their suitability for production at low-latitudes. At all locations, both varieties exhibited premature reproductive growth and did not reach their full size before ending their vegetative phase. It is unlikely that either variety, Orion 33 or Felina 32, would be suited for production anywhere in New Mexico.
Participation Summary
3
Producers participating in research
Research Outcomes
No research outcomes
Education and Outreach
2
Webinars / talks / presentations
Participation Summary:
30
Ag professionals participated
Education and outreach methods and analyses:
Tours (1)
The Los Lunas Agricultural Science Center (ASC) hosted a field tour and educational program for the Western Agricultural Economics Association on June 28, 2022. The group of 30 was composed of primarily agricultural economists and Extension Specialists who work closely with farmers and ranchers in the Western and Midwestern US. Several NMSU faculty participated in the annual meeting held in Santa Fe.
Presentations (2)
Conference presentations (poster and oral) that have been given by the graduate student using the information from these research plots include the following:
"Properties of Hemp Stalk Residues and Potential for Value-Added Applications"
American Society for Agricultural and Biological Engineers - July 18
"Hemp Production in New Mexico – Ongoing Trials and Future Outlooks"
American Society for Horticultural Science - August 1