Progress report for LNC19-429
Project Type:
Research and Education
Funds awarded in 2019:
$199,893.00
Projected End Date:
06/30/2023
Grant Recipient:
Savanna Institute
Project Information
Summary:
Agroforestry, the integration of trees with crops or livestock, is a transformative solution to the ecological and economic issues of agriculture. A major hurdle to agroforestry adoption in the Midwest is the inadequate demonstration on a scale comparable to typical row-crop farms. Such demonstration in Europe and Canada by universities and NGOs has greatly increased agroforestry adoption. From its inception, the Savanna Institute has worked with private, independent farms across the Midwest to demonstrate agroforestry. The effectiveness of this network has been limited by the fact that most farms are small, use inconsistent management, and often utilize only one of the many agroforestry practices.
To overcome these barriers and catalyze agroforestry adoption across the Midwest, the Institute is launching a network of Institute-operated Agroforestry Research & Demonstration (R&D) Farms. In partnership with public and private landowners, these farms will facilitate a broad range of decentralized education, demonstration, and research functions. The Institute already has funding for an initial group of R&D Farms in Wisconsin, which will be established in 2019.
This project, "Establishing an Illinois Network of Agroforestry Research & Demonstration Farms" will fund planning, establishment, and education at three R&D Farms in Illinois. At their core, each farm will host commercial-scale demonstration plantings of a suite of agroforestry practices. Comprehensive educational signage and on-farm educational workshops will provide multiple modes of engagement throughout the year. Direct oversight by the Institute will ensure robust, science-based management and improve long-term economic and ecological monitoring beyond what is possible with a network of independent farms.
These Agroforestry R&D Farms will serve as invaluable education hubs for farmers, landowners, investors, policy makers, and the public. Increased familiarity of the profitability and ecological benefits of agroforestry will lead to increased adoption of agroforestry by site visitors, trainees, and collaborators, who then become agroforestry advocates in their communities. Ultimately, widespread adoption of agroforestry in the North-Central Region will enhance farm profitability, ecological resilience, carbon storage, water quality, and rural job creation.
Project Objectives:
LEARNING OUTCOMES
Availability of R&D Farms as an educational asset for sustainable agriculture educators throughout Illinois.

Recognition of agroforestry's profitability and ecological benefits by farmers, landowners, agricultural professionals, investors, and policy-makers.

Application of agroforestry and perennial agriculture knowledge by beginning farmers
ACTION OUTCOMES
Conversion of engaged stakeholders to agroforestry advocates in their communities

Adoption of agroforestry by site visitors and trainees
SYSTEM CHANGE OUTCOMES
Widespread adoption of agroforestry practices, diffusing across the landscape from R&D Farms

Enhanced farm profitability, ecological resilience, carbon storage, water quality, and job creation
Introduction:
While 2021 remained a challenge for education and outreach for the IL Agroforestry & Research Demonstration Farms, we were able to host our first series of field days, expand establishment work on the ground, improve plantings and systems from the 2021 season, and deepen relationships with collaborators, farmers, and landowners. We also welcomed our second crew of interns, who brought enthusiasm, ideas, and hard work to each of the farms in this network. 
Cooperators
(Educator and Researcher)
Research
Education
Educational approach:
In 2021, we hosted 3 in-person field days (one of each of the three R&D Farms). These events focused on agroforestry basics, establishment and maintenance best practices, incorporation of native ground covers into farming systems and sharing what was learned during the first year and a half of this program. Each of these events highlighted the landowners, farm partners, and other collaborators that contribute work, research, and insight to farm designs, establishment, and maintenance. Multiple Savanna Institute staff (including interns) were present at each event to answer questions, provide insight, and connect attendees to additional resources. By providing lunch during the events, we were able to continue networking between attendees, Savanna Institute staff, and our partners. 
Each field day was advertised via personal invitation, social media, newsletters, and word-of-mouth by oth Savanna Institute staff and partners in each location. Local agriculture and conservation organizations and agencies were also invited, not only to share information about their work but to engage and learn more about agroforestry. We welcomed a total of 111 attendees to the 3 field days hosted in 2021. A survey was shared with participants after each event to gather information on their experiences and the impact of the event. 
In addition to field days, IL Agroforestry R&D Farm Educator Kaitie Adams also presented on the IL Agroforestry R&D Farm network at multiple online events, as well as, welcomed small groups of funders, landowners, and farmers for smaller tours.
Project Activities
Educational & Outreach Activities
3
Curricula, factsheets or educational tools
3
Webinars / talks / presentations
Participation Summary:
53
Ag professionals participated
Education/outreach description:
While there were still challenges to keeping people safe and healthy during the continuing Covid-19 pandemic, Savanna Institute was excited to host multiple in-person events on the Illinois Agroforestry Research & Demonstration Farms. Each field day was designed to highlight the important role partnerships between farmers, landowners, and other entities play in successful agroforestry design and establishment, the practical how-tos of incorporating trees into agricultural landscapes, a walking tour of the demonstration plantings, and one-on-one conversations with interested farmers and landowners. Partnerships played a key role in planning and outreach for each event. Savanna Institute staff and outside partners each reached out with personal invitations to landowners and farmers who might be interested in the event. The field days were also shared via Savanna Institute and partner social media channels, newsletters, and at other in-person events. After the events, photos and takeaways were also shared via similar media and in-person channels. 
We saw all three field days as successful in terms of attendance and the number of farmers and landowners who were actively looking for more information, resources, and support to establish agroforestry on their own landscapes. In the months following the events, the Illinois R& D Farm Educator, as well as, other Savanna Institute staff have worked with 10 total landowners who are looking to establish agroforestry practices on their landscapes in the next 2-3 years. During lunch at both Memorial 4H and Fields Restored Field Day, I had farmers and landowners share that they didn't really know exactly how adding trees might look on their own farms until they attended the event and were able to ask questions and talk with SI staff and partners. This "see it to believe it" mentality showcases how important these demonstration farms are in increasing agroforestry adoption and were especially powerful during smaller group tours. 
IL R&D Farm Educator Kaitie Adams also presented on the IL Research & Demonstration Farm Program at 3 online conferences with both local and broader reach. Attendees at these three conferences were not only excited to learn about the work Savanna Institute was doing but that there were farms designed and managed by Savanna Institute that people could engage personally with. At the North American Agroforestry Conference, attendees talked about ways that this model could be replicated in other locations by other organizations to make agroforestry more visible. While the focus of this project has been on the education of farmers, landowners, and agricultural professions, we see immense value in also sharing our successes, failures, and systems with similar organizations wanting to launch their own demonstration farms. 
In addition to in-person and online educational events, Savanna Institute also hosted 4 interns this season who worked across the IL Research & Demonstration Farm sites. These young people came to this work eager to learn and become vocal, articulate advocates for agroforestry across the season.
Learning Outcomes
32
Farmers reported changes in knowledge, attitudes, skills and/or awareness as a result of their participation
13
Agricultural service providers reported changes in knowledge, skills, and/or attitudes as a result of their participation
Key areas taught:
Perennial groundcover establishment and care
Silvopasture
Riparian Buffers
Windbreaks
Alley Cropping
Balancing Conversation and Profit in Agroforestry Systems
Tree Planting
Agroforestry Establishment Best Practices
Agroforestry Design
Financing for Agroforestry
Tree Crop Selection
Nutrient Management
Pollinator Habitat
Integrated Crop and Livestock Systems
Carbon Sequestration
Habitat Enhancement
Plastic Mulch
Precision Herbicide Application
Networking
Partnership Building
Water Quality
Soil Health
Long-term Lease Structures
Project Outcomes
13
Farmers changed or adopted a practice
Key practices changed:
Alley Cropping

Silvopasture

Riparian Buffer

Windbreak
6
Grants applied for that built upon this project
6
Grants received that built upon this project
7
New working collaborations
Success stories: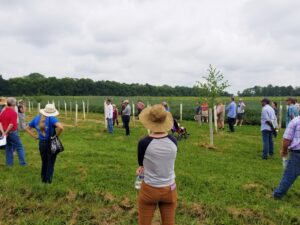 The Memorial 4H Camp Alley Cropping Field Day was a huge success, in part, thanks to the presence, perspective, and honesty of our partner farmer, who subleases the alleys between trees for row crop production, and our partners at the Memorial 4H Camp, who are the lease beneficiaries and neighbors to this site. Because the field day was attended by multiple row crop farmers and landowners, there were lots of questions not only about design but how row cropping could be successful with "trees in the way." Near the beginning of the tour, a farmer attendee asked our partner farmer what he had to change in order for this system to work. To which he replied simply  "Nothing.." Then the follow-up question came, "Okay. But how did it affect yields?" Our partner farmer replied, "It didn't. In fact, we had a great corn year and saw higher yields." With those statements, IL R&D Farm Educator Kaitie Adams felt a noticeable shift in mood, especially with the row crop farmers and landowners in attendance. They started to ask even more detailed questions that showed they were starting to work through how alley cropping might look on their own landscapes. And while Kaitie was quick to point out that bumps in yield probability didn't have that much to do with the trees after one year of establishment (but they would in following years), the impact of the partner farmers' words remained powerful.