Progress report for LNE17-356
Project Type:
Research and Education
Funds awarded in 2017:
$57,281.00
Projected End Date:
10/31/2021
Grant Recipient:
The Pennsylvania State University
Project Leader:
Alyssa Collins
Penn State Southeast Agricultural Research & Extension Center
Project Information
Performance Target:
Fifty farmers will identify and manage heritage grain diseases and stored grain insects, subsequently decreasing yield losses by $100 per acre by 2020.Twenty-five farmers, representing over 1,000 acres in heritage grain production, will reduce input costs by $50 per acre using disease resistant varieties of spelt by 2021.
Introduction:
Spelt and other heritage grains are in increasing demand among consumers and millers as a specialty product.  However, there is little information concerning best management practices available to farmers growing or interested in growing these crops in Pennsylvania.  Further, there is no current information concerning the performance and relative disease resistance of available grain varieties in Pennsylvania.  Farmers are seeking answers to their production questions, especially in regard to disease and stored pest issues.
An educational program will be designed to increase farmer knowledge in the areas of heritage wheat production and pest management.  Farmers will share knowledge with one another and take advantage of entomology and plant pathology expertise to become familiar with pest identification and management. The educational opportunities resulting from the project will include field days, workshops, and Extension publications.  These resources will be targeted toward Pennsylvania growers, but will also be made available to farmers, educators and crop consultants in the greater mid-Atlantic region.
In order to identify potential disease resistance in varieties that are well-suited to Pennsylvania, a research component of variety trials focused on spelt will be located at two on-farm sites and one research & extension center (PSU Southeast Ag Research & Extension Center (SEAREC), Lancaster County, PA) for three years.  Researchers and farmers will evaluate five varieties of spelt, chosen in consultation with local millers and farmers. Varieties will be evaluated for yield and disease, and analyzed for milling quality. Results will be shared through academic research articles, non-refereed publications and extension presentations.
Cooperators
(Educator and Researcher)
Research
Hypothesis:
Differences in foliar disease susceptibility and milling quality exist among currently available spelt varieties in Pennsylvania.
Materials and methods:
In order to evaluate the success of winter spelt varieties under Pennsylvania conditions, field plots were established at three locations in the fall of 2017.
At the Penn State Southeast Agricultural Research & Extension Center (SEAREC) in Manheim, PA, four spelt varieties (Comet, Maverick, Sonic, and Sungold, French's Hybrids Inc., Wakeman, OH) were planted on October 18, along with one winter wheat variety (MAS #4, Mid-Atlantic Seeds, York, PA) on October 19.  In a no-till field, following soybeans, plots were seeded at a rate of 130 pounds per acre, 1 1/4" deep using a JD 1590 no-till drill.  Plots were 10' by 75' and arranged in a randomized complete block design with six replications.  Plots at this location will be managed using conventional best management practices.
At both cooperating farm locations, Marshall Farms and Small Valley Milling, three spelt varieties (Comet, Maverick, and Sungold, French's Hybrids Inc., Wakeman, OH) were planted on November 3 and December 1, respectively.  Following corn, both fields were plowed and disked prior to seeding.  Plots were 30' by at least 100' and arranged in a randomized complete block design with four replications.  Plots at cooperating farmers' locations will be managed organically.
Research plots at the two on-farm locations were managed using organic methods while the plots located at SEAREC were topdressed with 60lbs of nitrogen per acre applied as 32% urea ammonium nitrate on April 7, 2018.  Weeds were managed with an application of Harmony GT applied on the same date at 0.5 oz per acre at SEAREC. Stand counts were conducted at all sites when plants reached Feekes 6 growth stage.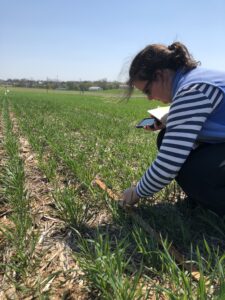 While powdery mildew was not observed in 2018 at SEAREC, moderate disease pressure was experienced and subsequently rated at the two on-farm sites.  All sites reported additional foliar diseases such as tan spot and leaf blotch complex and were evaluated at early dough stage.  Weather conditions were highly conducive to the development of Fusarium head blight at all sites during the entire period of anthesis in 2018, and while not an initial target of this research, the decision was made to also capture FHB incidence and severity data at all three sites.  This disease is of critical importance because of the associated production of mycotoxins.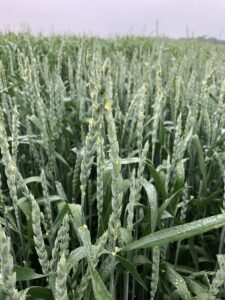 Research plots at all sites were harvested using a Wintersteiger Elite plot combine by taking the center meter of each plot.  Harvested length ranged from 40' to 60'.  The harvested material was weighed to determine yield and a subsample was taken from each for de-hulling and submission for further testing to evaluate milling qualities.  Samples were cleaned, ground, and shipped to the Wheat Quality Lab at Kansas State University for quality analyses on instrumentation including Brabender Quadumat Senior and Farinograph as well as protein content, ash content, and falling number.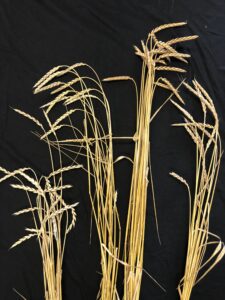 Spelt plantings for 2019 were again established in fall of 2018 at SEAREC and Marshall Farms, using the equipment and parameters stated above for the previous year.  While cooperators at Small Valley Milling remain active participants in the project, they declined installation of study plots due to equipment and time constraints.  The PIs appreciate their ongoing contributions to the project, including processing grain samples and serving as advisors.  Varieties Comet, Maverick, and Sungold were planted at both sites while a fourth variety, Sonic, was included at SEAREC.
Management and evaluations of the plots were repeated as described above in 2019.  Powdery mildew was present at Marshall Farms, along with other leaf blotch diseases, and rated accordingly.  Powdery mildew was not observed at SEAREC, but septoria leaf blotch, leaf rust, and mild Barley Yellow Dwarf Virus was rated at this location.  Fusarium head blight did not appear at Marshall Farms, but was present at low to moderate severity at SEAREC.  Harvest, yield measurements, and sample analysis took place as described above.
Plots for 2020 observation were established in October 2019 at SEAREC and Marshall Farms, and management practices were as described above.  Disease pressure was very low during the spring and summer of 2020 due to dry conditions, but foliar and head disease symptoms were rated when observed.  Lodging was also rated. 
In order to conserve funds, 2019 and 2020 samples were batched together and are in process at KSU for milling quality analyses.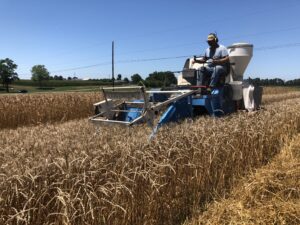 Videos:
Research results and discussion: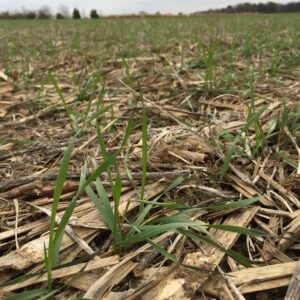 Spelt emergence at SEAREC, approximately one month following planting.
In all three growing seasons, spelt established well at all of the trial sites, and overwintered without any stand loss.  Performance at the SEAREC location remained strong for all varieties compared to other small grains, however weed pressure presented a persistent challenge at the cooperating on-farm organically managed sites.  Grain ripened and was ready for harvest approximately 1-2 weeks after wheat crops.
Data collected through the evaluations above have been received for 2018 samples and are in process for 2019 and 2020 samples.  The analysis and results of milling quality assessment are forthcoming.  Initial results suggest some important differences among varieties in terms of potential yield, disease tolerance and other agronomic qualities or features such as lodging and straw production.  The persistently wet field conditions during flowering and grain fill in 2018 created high disease pressure for most of the common wheat (and therefore, spelt) diseases in the region, and allowed for a good evaluation of potential resistance or tolerance among varieties.  All varieties showed some level of infection by Fusarium head blight.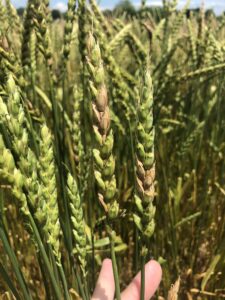 Some preliminary results for milling quality in 2018 are shown below.  FN indicates Falling Number (a measure of sprout damaged grain; number greater than 300 is desirable), while AC refers to Ash Content (a neutral measure of mineral content).  
| | | | | |
| --- | --- | --- | --- | --- |
| Row Labels | Average of FN (SEC)  | StdDev of FN (SEC)  | Average of AC (%) | StdDev of AC (%) |
| COMET | 356.5 | 31.9 | 2.34 | 0.15 |
| MARSHALL FARM | 349.8 | 12.1 | 2.44 | 0.17 |
| SEAREC | 351.7 | 31.2 | 2.29 | 0.13 |
| SMALL VALLEY MILLING | 370.5 | 47.5 | 2.31 | 0.12 |
| MAVERICK | 350.5 | 30.4 | 2.00 | 0.11 |
| MARSHALL FARM | 359.5 | 23.9 | 2.02 | 0.10 |
| SEAREC | 342.6 | 37.2 | 1.92 | 0.08 |
| SMALL VALLEY MILLING | 353.3 | 29.8 | 2.10 | 0.09 |
| SONIC | 352.9 | 45.0 | 2.14 | 0.10 |
| SEAREC | 352.9 | 45.0 | 2.14 | 0.10 |
| SUNGOLD | 354.6 | 28.3 | 2.03 | 0.09 |
| MARSHALL FARM | 371.5 | 13.0 | 2.11 | 0.02 |
| SEAREC | 336.1 | 34.2 | 1.95 | 0.06 |
| SMALL VALLEY MILLING | 365.5 | 10.8 | 2.06 | 0.10 |
| | | | | |
Even in 2018, a wet year, all varieties at all locations maintained high quality through harvest.
Preliminary analysis of yield data from organic production shows that all varieties yielded similarly in any given year, with Sungold sometimes outyielding the other two.  This suggests that farmers may prioritize preferred milling qualities or other agronomic features such as straw yield over grain production when choosing their variety.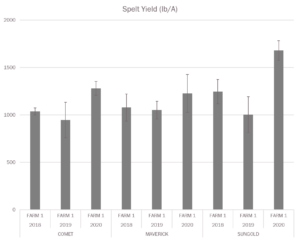 In summary, cv. 'Comet' was the shortest and earliest maturing variety, reaching around 34-36". Cv. 'Maverick' was among the tallest of the varieties trialed at all locations (45-47").  Subsequently, it was the most prone to lodging, but not at every location every year.  This variety has good straw potential and is early maturing compared to others. The latest maturing cultivar at all locations, 'Sungold', was also a tall variety at 46-49".  Heading and flowering timing varied among varieties from a day up to a week.  
Analyses for flour and baking quality are currently being completed at the Kansas State University and results are expected in late winter 2021.  We hope to offer a complete report to share results in spring of 2021.
Research conclusions:
Through working with farmer and miller cooperators as well as with varied equipment and in different conditions (tilled and no-till), researchers established some important conclusions and are able to provide recommendations accordingly.
Considerations for spelt production in the Northeast:
Drill calibration is essential for hulled and de-hulled seed
Target 130lb/A at an "oats" setting, and calibrate to desired seed density
Emerges a bit slower than wheat, but puts on biomass rapidly
Fertilize similar to wheat, but avoid excess N on tall varieties
Timely fall establishment ensures good winter survival
Harvest mid-late July
Aim for 14% moisture at harvest to preserve quality
Set concave to avoid de-hulling the kernels during combining
Challenges for producing spelt in the Northeast:
Prone to lodging
Longer season than wheat—difficult to work in a double crop
Particular storage and processing needs
Disease susceptibility similar to wheat, but few fungicides are labeled for management
Opportunities for producing spelt in the Northeast:
Produces ample straw
Less susceptible to Fusarium head blight than wheat
Planting multiple varieties may help to spread risk of FHB infection due to differences in flowering timing (window of susceptibility)
Can serve as animal feed (either forage or grain) if quality does not meet milling requirements or a buyer is not found
Valued in organic and specialty products (including baked and brewed goods)
Overall, spelt performs well compared to wheat in PA, with a few extra agronomic complications.  Growing this crop requires a bit of preplanning, including working with your buyer to determine their needs first, and choosing your variety and its placement in your rotation accordingly.
Participation Summary
2
Farmers participating in research
Education
Educational approach:
In working side by side with cooperating farmers, the research team has adjusted the educational approach to meet grower needs in terms of event timing.  In response to their feedback on appropriate times to host events, PIs have created a series of three small grain production workshops which were scheduled take place in three geographic locations across Pennsylvania in March 2020.    
Due to severely diminished outreach capabilities resulting from Covid-19 restrictions imposed in March 2020 and remaining in place currently, the in-person field days and workshops had to be cancelled.  Formats were moved to virtual webinars and other media where possible, but we fear impact for our growers without digital resources such as broadband access has been curtailed. A request for a no-cost extension was made in March to allow funds to support in-person activities in the 2021 program year, and new goals for creation of additional learning materials are being developed.
Spelt Production Presentation: Spelt 2020
In addition, we created presentations for Extension Educators to use across the Commonwealth during grower meetings for the 2020 season and beyond, covering the production of high quality grains using variety selection and disease management.
Also planned was a targeted workshop/field day focused on small grains production, including diversity in crops, as well as featured presentations during our Farming for Success Field Day, and digital articles on these variety trials and small grain production.  An example of a brief video field tour of the spelt varieties is included above.  These events were conducted online in summer and fall of 2020.  Our Small Grain Production Workshop (virtual) was held on October 29, 2020, with emphasis on pest management and a special session on considerations for spelt production in the MidAtlantic (selected presentation slides included above, file name: "Spelt 2020").  The foundation of this session was based on the field trials conducted through this project.  Farmers with previous experience in spelt production were invited to share their experiences and learnings with the group, and generously did so.  Attendees conveyed appreciation at the breadth of information offered, and appreciated the opportunity to learn from other growers who have worked with the crop.  While many had some small grain production experience, they reported that the details learned through this session better prepared them for minimizing their risk while attempting a new crop. 
Milestones
What beneficiaries do and learn:
In 2017 and 2018 two Pennsylvania farmers and a miller will participate in on-farm spelt variety trials to evaluate yield, quality, and disease resistance with support from researchers. Prior to the fall planting season, researchers will meet with on-farm cooperators to discuss plot layout and select a potential field. We will assist the on-farm cooperators with marking and staking the trial during and after planting. A template will be provided to track inputs, expenses, changes, and other notes throughout the project. In the winter, an advisory board meeting will be conducted to prepare for spring data collection and generate a plan for harvesting in July. We will meet again in December to discuss the past field season and plan for the next season. This cycle will repeat throughout each year of the project.
Proposed number of farmer beneficiaries who will participate:
6
Proposed number of agriculture service provider beneficiaries who will participate:
2020
Actual number of farmer beneficiaries who participated:
2
Actual number of agriculture service provider beneficiaries who participated:
1
Proposed Completion Date:
October 15, 2020
Accomplishments:
Beginning in 2018, two partner farmers (Joel Steigman & Dave Marshall) participated in the design of and established field variety trials mirroring the controlled trials installed at the Southeast Ag Research & Extension Center.  These plots were observed, harvested, and data collected by the researchers, Collins and Bosak.  While formal board meetings were not called, Dr. Bosak repeatedly met with both cooperators throughout the trial and plans were adjusted to meet the needs of the farmers.  In 2019 and 2020, Joel Steigman chose to redefine his involvement with the project and participate instead in his capacity as an agricultural service provider (milling).  His equipment made it difficult to install trial plots, but he remains a valuable partner in his capacity as a miller in processing samples and helping to assess the quality of the grain.  Dave Marshall continued to execute the planned on-farm research plots in all three years.
What beneficiaries do and learn:
Seventy-five Pennsylvania farmers will learn disease diagnosis and proper stored pest management. This workshop will occur in spring, 2020 at SEAREC and will be regionally focused on Pennsylvania, Maryland, and Delaware.
Proposed number of farmer beneficiaries who will participate:
75
Actual number of farmer beneficiaries who participated:
76
Proposed Completion Date:
May 22, 2020
Accomplishments:
The workshop we initially planned was not able to be held due to sudden restrictions on in-person programming in response to the pandemic.  However, this education was delivered by 12 specialists at our Small Grain Production Workshop (virtual) held on October 29, 2020, with proper acknowledgements to NeSARE funding.  Participants (76) engaged in 5.5 hours of small grains management education.  The foundation of this session was based on the field trials conducted through this project.  Farmers with previous experience in spelt production were invited to share their experiences and learnings with the group, and generously did so. Pesticide recertification credits and CCA credits were offered for these sessions.
What beneficiaries do and learn:
Fifty Pennsylvania farmers will increase their knowledge about spelt production and disease management approaches during guided field days. In spring 2020, a field day will be hosted in Lancaster County, in South
Central Pennsylvania. In spring 2020, a field day will also be hosted in Potter County, in Northern Pennsylvania, reaching audiences into Southern New York state.
Proposed number of farmer beneficiaries who will participate:
50
Proposed Completion Date:
June 25, 2020
Accomplishments:
Again, these field days became impossible when Covid restrictions were imposed in Spring 2020.  Our extension team will formulate a plan to offer this experience in a different format if it appears unlikely that in-person events will also be restricted in Spring 2021.
Milestone Activities and Participation Summary
Educational activities:
2
Webinars / talks / presentations
Participation Summary:
25
Number of agricultural educator or service providers reached through education and outreach activities