Progress report for ONE20-375
Project Type:
Partnership
Funds awarded in 2020:
$28,187.00
Projected End Date:
06/30/2022
Grant Recipient:
Rich Earth Institute
Project Information
Summary:
Fertilizers made from human urine are a sustainable and abundant source of nitrogen and other agricultural nutrients. Previous field research has established their effectiveness for growing hay, while social research has revealed areas where farmers would like additional information before trying urine-derived fertilizers on their own farms. This research project combines two activities: 1) a collaborative demonstration of urine-derived fertilization on five  farms, growing hemp, hay, figs, cut flowers, and corn, and 2) a controlled fertigation experiment using urine-derived fertilizer and hard irrigation water, evaluating the ability of three types of drip irrigation emitter to resist clogging. 
The project is a collaborative study, involving partner farmers in all the stages of planning and execution. The proposed research addresses needs and interests expressed by farmers interviewed in our previous SARE project, many of whom were open to urine fertilization, but wanted more concrete information on application methods and plant response for specific crops. The broad themes of this proposal, including the focus on drip fertigation, match the interests of the farmer partners. The details of the specific on-farm demonstration experiments will be determined by the farmers in order to best support their farming objectives.
Outreach will include a farm field day during the growing season (August or September)  and a farm partner gathering in the winter to discuss results; a presentation describing the study for relevant farming conferences; publicity via Rich Earth's communication platforms and international networks; and articles for publication in both peer reviewed journals and trade publications.
Project Objectives:
This project seeks to demonstrate the effect of urine-derived fertilizer on the development and yield of a variety of crops, while testing application methods and fertilizer formulations chosen to meet plant needs while minimizing harmful nutrient migration into the wider environment.
Objective 1: Develop fertilization plan for each crop, including urine-derived fertilizer type and application method. Conduct side-by-side demonstrations, comparing urine-derived fertilizer to typically-used fertilizer for each crop. Document farmer experiences and plant response.
Objective 2: Conduct a controlled experiment testing the incidence of clogging when urine fertilizer is injected into drip fertigation systems fed with hard water. Test two injection methods and three emitter types, in an accelerated two-season laboratory simulation.
Demonstrating the effect of urine fertilizer on a variety of crop types is essential to helping more farmers become familiar with and potentially adopt this practice. Testing drip fertigation using urine, to determine what conditions are necessary for successful operation, will make available an application method that is ideally matched to the characteristics of urine. Farmers will benefit from an increased ability to effectively utilize a new low-cost and sustainable source of nitrogen fertilizer.
Introduction:
By diverting human urine from the wastewater stream and transforming it into fertilizer, we are beginning to solve two major problems: pollution of sensitive waterways with nutrients from wastewater, and dependence of agriculture on unsustainable sources of fertilizer. The proposed project builds on previous work, improving methods for meeting plant nutrition needs using sustainable fertilizer made from urine. 
Most nitrogen fertilizer is derived from the Haber-Bosh process, which accounts for 1.2% of global energy use and associated greenhouse gas emissions (Dawson & Hilton 2011), while high-N amendments used by organic farmers are expensive and supplies are uncertain. Phosphate is a finite resource, subject to politically induced price swings, and the Global Phosphorous Research Initiative is predicting a shortage of high-quality rock phosphate within 40 years.
Surface waters throughout the Northeast are heavily impacted by nitrogen and phosphorus pollution caused by human activity. Agriculture is a major contributor, but wastewater from homes and businesses can be the principal source of nutrient pollution in more populated watersheds, primarily due to the urine it contains. 70% of the nitrogen and 50% of the phosphorous in wastewater is from urine, with feces contributing a relatively small share. Many wastewater plants and most septic systems are unable to control this nutrient pollution and are poorly suited to nutrient reclamation.
Although still uncommon, urine diversion is gaining traction. Laufen, a high-end porcelain company, is manufacturing a new urine-diverting toilet, and the National Fish and Wildlife Federation is funding urine-diverting toilet installations to protect Long Island Sound.
The potential of urine-derived fertilizer is immense. With 54.5 million people living in the Northeast SARE region, each producing 4 kg of nitrogen in their urine annually (Vinnerås & Jönsson, 2002), there is a maximum potential to source 218 million kg of nitrogen fertilizer each year, (plus P, K and trace nutrients,) which would nearly meet the region's approximately 280 million kg demand for N fertilizer (US EPA, 2019).
However, there are challenges with using urine as fertilizer. When surface-applied, urine is prone to nitrogen loss through ammonia volatilization. And along with high nitrogen content, urine has significant levels of phosphorus--beneficial in phosphorus-deficient soils, but problematic in soils with excessive phosphorus. Finally, urine is dilute compared to other nitrogen fertilizers, increasing equipment and labor requirements for storage and application, and potentially contributing to soil compaction.
To address these issues, Rich Earth has developed a process to freeze-concentrate urine (Noe-Hays & Love, 2019), and has also successfully separated phosphorus from urine, producing struvite and a low-P liquid fertilizer.
Drip fertigation has special promise with urine fertilization because it:
Incorporates the fertilizer into the soil, greatly reducing ammonia volatilization potential

Combines fertilization with an existing process, reducing labor demands

Avoids compaction caused by tractor-based application

Allows small, precise fertilization applications, matched to crop needs and field conditions, potentially reducing nitrogen run-off and leaching

Uses standard and widely-used agricultural equipment
These new products, combined with fertigation, have potential to make urine fertilizer more practical, effective, and useful to farmers in the Northeast.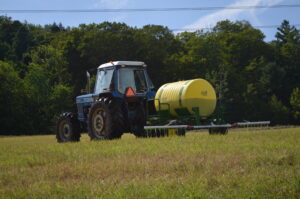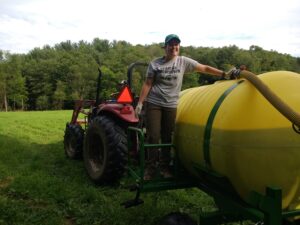 Cooperators
Research
Materials and methods:
The proposed research activities comply with all agricultural/food safety regulations. There are currently two overarching rules governing the use of amendments made using human waste: the EPA's biosolids rule, and the Food Safety Modernization Act's Produce Safety Rule.
Before distribution to farms, we sanitize all urine using pasteurization, under a permit issued by the Vermont Department of Environmental Conservation. The permit certifies our pasteurization process under the state's biosolids program, which implements 40 CFR § 503, the federal EPA rule governing the treatment of biosolids and their use in agriculture. We submit quarterly compliance reports to the state, and our treated urine meets the biosolids standard for a Class A EQ (exceptional quality) product, legal to distribute to the public for use on any crop without restriction. This level of treatment (meeting the standards in 40 CFR § 503) is also what is required by the Produce Safety Rule (made under the Food Safety Modernization Act) for use of amendments derived from human waste for growing fresh produce.
Collaborative field trial/demonstration project
Farmer partners and Rich Earth staff met on 1/14/2021, to review project objectives and collaboratively develop a strategy for implementation. Rich Earth staff and farmers discussed the findings from Rich Earth's previous SARE project (ONE18-318: Practical Strategies for Reducing Ammonia Volatilization from Urine-Derived Fertilizers) relating to minimizing ammonia volatilization. Farmers began evaluating what application method to use, and whether they have appropriate equipment. Rich Earth will assist in adapting or adjusting equipment, fabricating attachments, or loaning its own equipment. Three farm partners are planning to use drip fertigation.
Each farm has begun to develop an experimental plan tailored to their own farming methods and the crop to be experimented on. Rich Earth staff will assist each farmer in finalizing the plan to include the following elements:
Plans will include:
Which urine fertilizer to use for the crop being grown (urine, concentrated urine, or urine with phosphorus removed)

Application method (drip irrigation, modification of existing equipment such as liquid manure spreader, use of Rich Earth equipment)

Application rates

Control treatments (standard fertilizer and/or no-fertilizer treatments)

Criteria to evaluate crop performance such as:

yield

developmental differences

appearance

disease

plant/insect interactions (pests or beneficials)

immediate beneficial or adverse effects at time of fertilization

taste (foods) or palatability (feeds)

Criteria to evaluate practicality of UDF such as:

time required for application

odors

equipment performance
Crops to be tested by confirmed farmer partners include hemp, figs, hay, and cut flowers. We are recruiting an additional partner to test urine on corn. (The previously listed corn-growing farm partner had to withdraw because his organic certification organization was not certain whether pasteurized was allowed in organic production.)
Each trial will include at least one plot fertilized with urine, and one plot fertilized with the farmer's standard method. An unfertilized control, or additional urine-fertilized plots, will be encouraged. Test plots will not be replicated, but will provide side-by-side demonstrations, allowing farmers and visitors to observe comparative performance. Soil salinity in greenhouses will be monitored.
Rich Earth staff will deliver fertilizer and assist with application, documenting the process with photos, videos, and written notes. Rich Earth staff will visit each farm three times during the season to discuss the farmers' observations, photograph test plots, and assist with quantifying field results. Conversations will be audio recorded for transcription and analysis. This approach is designed to reliably document crop development and farmer observations throughout the season, while minimizing extra work for farmers.
Analysis will include documenting and characterizing farmer observation of plant responses for each crop type (such as plant growth and development; pest and disease incidence; and plant/insect interactions) as well as farmer experiences with chosen application methods (observations of odor level; time required for fertilizer application; and performance of application tools).
Case study reports for each farm trial will be prepared using this analysis, and reviewed with farmer partners at a winter gathering to be held in December or January following the field trial season. We will discuss the results of the trials with the farmers and integrate their feedback into our final report. These reports will form the basis for communicating these experiences to the larger farming community via the outreach methods described below. 
Drip irrigation emitter trial
This trial will test the suitability of a variety of drip irrigation emitters for fertigation using urine-derived fertilizer and hard irrigation water.
Three types of emitter (two individual emitters and one drip tape with integrated emitters) will be tested:
DripWorks Take-Apart 1 GPH emitter, cleanable

DripWorks Non-Plugging 1 GPH emitter, clog-resistant

AquaTraxx medium flow drip tape, 60 GPH/100'
Irrigation water will be municipal water from Brattleboro, Vermont, adjusted to moderate hardness (90 PPM) using MgCl2 and CaCl2 addition to attain a 1:1 molar ratio of Mg+2 and Ca+2. These ions react with PO4-3 in urine to form hydroxyapatite and struvite precipitates, which could potentially block drip irrigation emitters.
Three experimental irrigation/fertigation conditions will be tested:
water only (control)

7:1 water/urine mixture (16 gallons), 4-gallon water rinse

Pure urine (2 gallons), then 18 gallons water
Condition 2 gradually injects urine into the system, risking precipitation of phosphate minerals that can occur when hard water and urine combine, possibly clogging emitters. Condition 3 tests an alternating sequence of urine and water, to minimize mixing of water and urine within the fertigation lines, possibly reducing clogging risk.
To simultaneously test the three fertigation conditions, three setups (see attached diagram) will be built for each of the three emitter types, for a total of nine setups. Setups for individual emitters will have 60 emitters each, and for drip tape will have 100' of tape, so all setups will distribute water at 60 GPH. Individual emitters will be placed at approximately 4" intervals, and distribution branches or drip tapes will be spaced as close as practical on the mainline. Water and urine will be delivered using diaphragm pumps, controlled to maintain recommended pressure for each emitter type, monitored with calibrated pressure gauges. 
Setups will be subjected to 5 weekly fertigation episodes, approximating multiple small fertilizer applications throughout a growing season. Each episode will begin by pumping two gallons of water into each setup, to fill all lines and adjust pressure. Then a timer will start and condition 1 will receive 20 gallons of water, while conditions 2&3 receive 18 gallons of water plus 2 gallons of urine. This dose/emitter equates to a high nitrogen loading rate of 200# N/acre at more typical emitter spacing. pH, temperature, and electrical conductivity of water, urine, and urine/water mix will be recorded.
Emitter clogging will be evaluated using two metrics:
Incremental blockage of emitters -- gradual reduction in emitter performance, measured by the increase in time required to distribute the fertigation volume through the entire setup

Emitter failure -- complete (or near-complete) blockage of individual emitters, measured by observation of drip rate from each emitter
Successful pairings of emitter type and fertigation method (exhibiting <25% flow rate reduction and <10% clogged emitters) will be further tested for an additional 5 fertigations episodes to simulate a second season. The episodes will occur back-to-back, using a subset of the original emitters/drip tapes. Representative emitters/tapes will then be cut open and inspected, and cleaning of "Take-Apart" emitters will be attempted.
Research results and discussion:
There are no results to report yet.
Participation Summary
6
Farmers participating in research
Education & Outreach Activities and Participation Summary
Participation Summary:
Education/outreach description:
In order to disseminate the results of this research, we will:
Sponsor a farmer field day in August or September, bringing attendees to one or more of the participating farms to meet with farmer partners and Rich Earth staff. The event will include viewing of demonstration plots, discussion of application methods and urine-derived fertilizer formulations, and presentation of the drip fertigation laboratory experiment results. Audience: Southern VT and northern MA farmers, agricultural educators and the wider farming community. Target: 20 attendees

Meet with farmer partners at the Rich Earth Research Center at the end of the project to evaluate results and discuss outcomes and recommendations. Attendees - 5 farmers, 4 Rich Earth staff [December/January]

Create a PowerPoint presentation reporting the study, with extensive photo documentation, to be shared at conferences such as the NOFA winter conference and the Vermont Vegetable and Berry Growers Association conference. Attendees: 30 at each conference

Publicize project information, progress, and outcomes on Rich Earth website (750 visitors/month), Facebook page (1,498 likes), and newsletter (1,300 subscribers)

Profile and acknowledge farmer partners in public presentations and newsletters.

Share with the international network via the Sustainable Sanitation Alliance (SuSanA) platform 

Publish in relevant publications (e.g. Natural Farmer, journal of Northeast Organic Farming Association)

Write and submit a paper to a peer reviewed journal such as

Renewable Agriculture and Food Systems

or

Journal of Agriculture, Food Systems and Community Development.