Final report for SKY17-001
Project Type:
PDP State Program
Funds awarded in 2017:
$44,444.00
Projected End Date:
06/30/2020
Grant Recipient:
University of Kentucky
Project Information
Abstract:
This is the second year of Dr. Paul Vincelli and Brett Wolff as the Kentucky SARE team. In addition to his leadership of the program, Dr. Vincelli has brought expertise in the areas of climate change, cover crops, and GMO technology. Brett acts as a networker for the program, identifying new opportunities for collaboration and new venues to share SSARE resources. In the past, KYSARE has supported a number of smaller sustainability-related programs. This year, we are focusing on a few high-impact projects that promise to amplify the financial commitment made to them:
- Southeast Kentucky Ag Service Provider Symposium
o A gathering of sustainable agriculture outreach professionals from the southeast
part of the state to define priorities and receive professional development.
- Genetic Engineering Education
o Programming aimed at Ag outreach professionals detailing the science-based pros
and cons of genetic engineering for sustainability in agriculture.
- Extension Associate Professional Development Scholarships
o Providing travel opportunities for Extension Associates to attend
sustainability-related conferences or workshops in or out of the state.
In 2017-18, we plan to meet with our Advisory Committee once in-person and once via teleconference. In the last year we have expanded our network to include more livestock and grain producers and we intend to develop these relationships further in the coming year.
Project Objectives:
2016 Objectives & Outcomes:
- Build a broad base of interest and skills in agricultural sustainability among extension agents and other professionals in the state
- Equip them with the needed skills & resources to assist farmers, marketers, and community leaders, and to facilitate a diverse range of collaborative projects.
- Build effective partnerships with NRCS, FSA, and the Kentucky Department of Agriculture
- Evaluate and revise our broad strategic plan, and to develop KYSARE LOGIC Model for the program as a whole.
We have delivered on these goals through several projects including: Third Thursday Things' wide variety of topics, the Annual Minority and Limited Resources Farmer Conference, GAP Third Party Audit training for extension agents, small-scale fruit and vegetable disease identification and integrated management agent trainings, and supporting travel to the 2016 Southern Cover Crops conference for agents, producer leaders, and NRCS personnel. We supported the 2016 Kentucky Grazing Conference, including printing publications on pasture-finishing beef to be distributed to agents, as well as the producers they serve. Our director and program assistant have put an emphasis on networking and promoting the program to agencies across the state.
Additional goals for 2017 include:
- Increasing support of professional development for NGO service providers.
- Further development of relationships with those delivering livestock and grain programming.
- Sustained education in genetic engineering and its pros and cons for sustainability.
Advisors
(Educator and Researcher)

(Educator and Researcher)

(Educator and Researcher)

(Educator and Researcher)
Education
Educational approach:
Our approach with the University of Kentucky portion of MSP funds continues to  provide support for existing initiatives or to convene groups of people with common interests in the hopes of spurring action. The Southeast Kentucky meeting this year was a strong example of this effort. The educational approaches of the programs we support are quite diverse, but we are guided by the principle of focusing on trainees who can then go forth to impact additional members of the community. Though not always a strict "Train-the-Trainer" we do advocate for introducing or expanding on sustainability topics for a wide range of agricultural professionals in this state, and we seek to provide SARE and other materials to these trainers to help them serve their clients.
Education & Outreach Initiatives
Southeastern Kentucky Ag Outreach Provider Symposium
Objective:
Convene agriculture outreach providers in the Extension, NGO, and governmental sectors to discuss collaboration in the Southeastern region of Kentucky.
Description:
In March 2018, Southern SARE hosted a meeting in Hindman Kentucky for agriculture outreach providers working in the Southeastern Region of Kentucky. While we had 32 registrants, inclement weather impacted attendance. Nevertheless, we had 17 attendees from 9 different institutions including:
Grow Appalachia
University of Kentucky Extension
Kentucky State University Extension
Community Farm Alliance (CFA)
Kentucky Department of Agriculture (KDA)
Kentucky River Foothills Development Council, in.
St. Vincent Mission
Floyd Co. Farmers Market
NorthFork
Perry County Farmers Market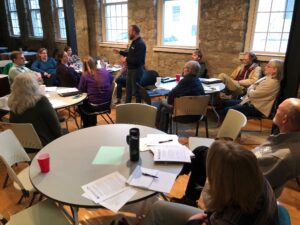 Chris McKenzie of Grow Appalachia shares about the resources and needs of his organization.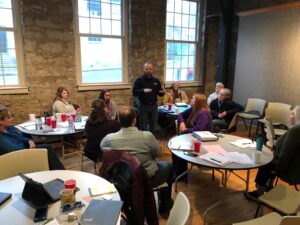 Our agenda is available here.
Outcomes and impacts:
This group plans to have a follow up meeting in fall 2018 to establish additional priorities. We will survey participants from this first meeting after 6 months to assess impacts of this meeting.
Point of Training Evaluation Results: 
How frequently do you work with farmers? (1= every day, 5= never)
| | |
| --- | --- |
| Mean | 2.5 |
| Median | 2.5 |
| 1 | 2 |
| 2 | 5 |
| 3 | 5 |
| 4 | 1 |
How would you currently rate your knowledge of the following (1=poor, 4= Excellent)
Sustainable agriculture production practices
| | |
| --- | --- |
| Mean | 3.14 |
| Median | 3 |
| 1 | 0 |
| 2 | 1 |
| 3 | 8 |
| 4 | 3 |
| | |
| --- | --- |
| Mean | 2.86 |
| Median | 3 |
| 1 | 0 |
| 2 | 2 |
| 3 | 9 |
| 4 | 1 |
Do you feel you have the knowledge and skills to help improve the quality of life of those in your community? (1= Definitely not, 4 = Definitely yes)
| | |
| --- | --- |
| Mean | 3.07 |
| Median | 3 |
| 1 | 0 |
| 2 | 1 |
| 3 | 9 |
| 4 | 2 |
On average how many times per month do you work with the following groups (1 = 0 times, 5 = 10 or more times)
| | |
| --- | --- |
| Mean | 3.29 |
| Median | 3 |
| 1 | 0 |
| 2 | 4 |
| 3 | 5 |
| 4 | 2 |
| 5 | 3 |
| | |
| --- | --- |
| Mean | 3.71 |
| Median | 4 |
| 1 | 0 |
| 2 | 4 |
| 3 | 3 |
| 4 | 0 |
| 5 | 7 |
| | |
| --- | --- |
| Mean | 3.36 |
| Median | 3 |
| 1 | 1 |
| 2 | 3 |
| 3 | 4 |
| 4 | 2 |
| 5 | 4 |
How familiar are you with the SARE program? (1= Not at all, 5 = Extremely familiar)
| | |
| --- | --- |
| Mean | 3.14 |
| Median | 3 |
| 1 | 0 |
| 2 | 4 |
| 3 | 5 |
| 4 | 4 |
| 5 | 1 |
How useful was this meeting for you? (1=  Completely Useless, 5 = Very useful)
| | |
| --- | --- |
| Mean | 3.79 |
| Median | 4 |
| 1 | 0 |
| 2 | 0 |
| 3 | 5 |
| 4 | 7 |
| 5 | 2 |
Should we plan to have a meeting like this in the future?
| | |
| --- | --- |
| Definitely Not | 0 |
| Maybe, but with major changes | 0 |
| Yes, but with some changes | 8 |
| Yes, exactly like this one | 6 |
A consensus need that emerged was a guide to organizations, central person or place, where to send producer, resources, etc.
Target Projects for the coming year included:
Strengthening relationship with Bryan Brady re: Third Party GAP audits
Local Foods Assessment for county
Apply for KSU demonstration grant
Create steering committee to continue meetings like this
open CFA farmers market resources to non-program participants
new farmer/vendor information
list of additional paperwork that must accompany microprocessor

Confusing info from different agencies

Internet Access at markets
Create trainings for agents that could help them feel confident in supporting local food system work more directly in their counties
producer-buyer meetings for farmers and institutions who are ready
build contact list
Need help identifying farmers who want to scale up.
Sustainability Considerations on Genetically Engineered Crops (GMOs)
Objective:
To explore the potential contributions of Genetic Engineering to the field of sustainability.
Description:
Genetically engineered crops (GE crops, also often called "GMOs") generate substantial interest and controversy. SARE presentations on this topic are based strictly on scientifically credible evaluations of a wide range of sustainability issues. On the "plus" side, the public is commonly very interested to hear of the well-documented benefits of certain GE crops. For example, substantial reductions in insecticide use have occurred as a result of Bt traits in several crops throughout the world. Another example: GE papaya has literally saved the papaya industry in Hawaii. However, the public is equally interested in learning about the "minus" side: the legitimate concerns that scientists have documented with respect to certain GE traits. An excellent example of this is presented by herbicide-tolerant crops. Some studies have concluded there are significant benefits for farmers and the environment while some environmental and/or farmer advocacy groups dispute such claims. We finds that most members of the general public are interested in a fair-minded and scientifically accurate discussion of the risks and benefits of GE technology.
Because our SARE programs on GE crops are so well-grounded in objective and science-based analysis, the public seems to be consistently very appreciative of them (which has been documented quantitatively in post-program surveys).
Outcomes and impacts:
Programs partially funded through SARE funds
Parenthetic number indicates estimated number of participants
Commonly 35-65% female attendees
* CRISPR: Revolutionary Tools and Ramifications (for ANR/Hort Agents) 18 Oct 2017 (35)
* CRISPR: Revolutionary Tools, Consumer Questions (for FCS Agents), 27 Sep 2017 (20)
* GMO Crops: Scourge or Salvation? Campbell County Master Gardener training, 22 Mar 2018 (25)
* Risks and Benefits of GE Crops, Agribusiness Association of Kentucky annual meeting, Louisville, 13 Feb 2018 (45)
* Update on genetically engineered crops (GMOs), Kentucky Fruit and Vegetable meeting, 8 Jan 2018, Lexington (100)
* Genetically Engineered Crops: Scourge or Salvation?, Good Foods Market and Café, Lexington, 29 Nov 2017 (8)
* GMO Crops Scourge or Salvation? Jefferson County Master Gardeners meeting, Louisville, 3 Oct 2017 (10)
* GMOs, What You Need to Know, Kentucky Master Gardener Conference, Georgetown, 15 Sep 2017 (120)
* Food Myths and Misconceptions – Genetic Engineering, offered by the joint Owensboro Extension programs at the Owensboro Community College, 24 Apr and 25 Apr 2017 (20)
* Biotech (GMO) Crops: Scourge or Salvation, Boone County Extension Office, 18 Apr 2017
* GE Crops and the Environment, Sierra Club Bluegrass Chapter, Lexington, 20 Mar 2017 (25)
* GE Crops and the Environment, Shelby County Extension Office, 16 Mar 2017 (25)
CSA Extension, Research, and Producer Leader Trip to Madison Wisconsin
Objective:
To help our interdisciplinary team of researchers, extension personnel, and farmers to better understand the CSA employer-based voucher programs developed in Madison, WI.
Description:
Ten individuals from Kentucky visited four organic farms in Wisconsin that participated in the FairShare CSA Coalition based in Madison. This included four KY farms, the UK South Farm CSA, the Executive Director of the KY Farm Share Coalition (KFSC), and three UK staff – Tim Woods, Mark Williams, and Jairus Rossi. The goal of the trip was to strengthen relationships with the FSC and the nascent Kentucky organization. (All photos by Brooke Gentile)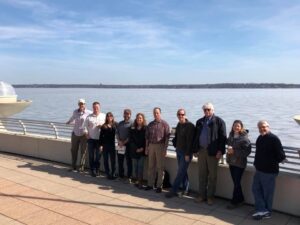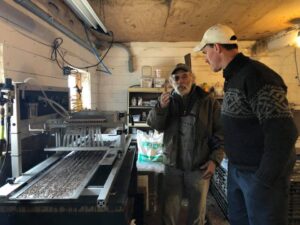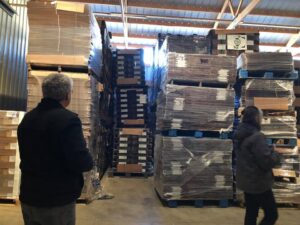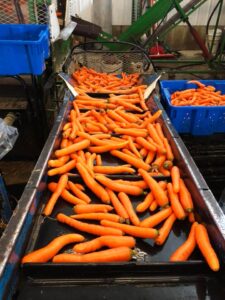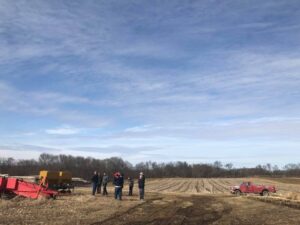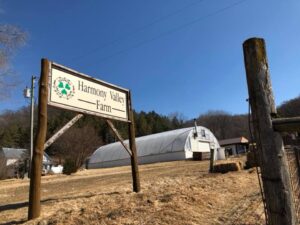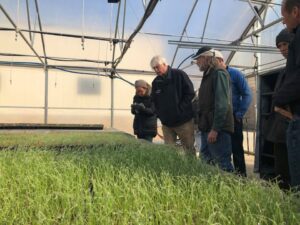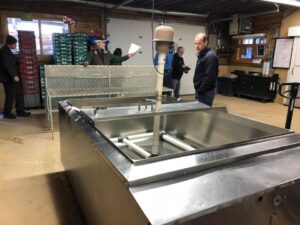 The group attended the annual FSC CSA Open House in Madison, which provided an initial opportunity to interact with the FairShare staff and to meet with farmers and other program partners all gathering in one place. The KFSC group was able to explore potential partner opportunities, community awareness events, fund raising, and approaches to farm/CSA promotion, as well as make some initial contacts with some of the farms visited later.
Four farm visits were organized, choosing operations based on scale and growth, mechanization, and leadership within the FSC CSA network. These included Harmony Valley Farms, Ridgeland Organics, Driftless Organics, and Tipi Produce. Each of the farm operators were very generous in sharing production, marketing, and management information, as well as offering their perspectives on the benefits and challenges of maintaining a coalition such as FairShare.
The group met at length with the staff of FairShare to discuss a wide range of organization structure and policy issues, financials, farmer engagement, community engagement, and CSA trends. Many shared opportunities and concerns exist between the Wisconsin and Kentucky groups around CSA and wellness connectivity.
The KFSC team benefitted greatly from all of these interactions. This was a highly beneficial interaction – both with the FSC staff and the leading farms – as the Kentucky group continues to build CSA farm-employer wellness programs locally. A continued interaction between the WI and KY groups will be essential for learning from the past and setting a course for the future around this market opportunity. The SSARE funds allowed the group to visit in person the only CSA wellness voucher model that exists and to strengthen the efforts around the current USDA-LFPP project developing this in Kentucky.
Attendees included: 
Mark Williams (UK)
Kristi Durbin (UK)
Jairus Rossi (UK)
Brooke Gentile (KY FS Coalition Executive Director)
John Bell (Elmwood Stock Farm)
Ann Bell (Elmwood Stock Farm)
Bryce Bauman (Lazy 8 Stock Farm)
Ford Waterstrat (Sustainable Harvest Farm)
Larry Brandenburg (Harmony Fields Farms)
Outcomes and impacts:
Kentucky and Wisconsin are the leading states for building CSA wellness connection programs.  Bringing the key players from each state together has led already to many useful outcomes, including:
Further direct interactions between WI and KY growers over a range of farm-level CSA production, labor, wholesale-CSA links, and CSA-specific marketing strategies
Stronger KY grower links to the listservs and other resources shared by WI farms
Stronger KY grower awareness of alternative wellness engagement models
Stronger KY Farm Share Coalition vision for own visioning and strategic planning
Administrative linkages that have led to pursuit of Federal funding for a national CSA Community of Practice led by FSC, UK, and a CSA coalition in CA.
New initiative to build a web-based resource platform based on the UK South Farm CSA and Organic Research work
An FMPP proposal to create a national CSA COP came directly as a result of our visit to Wisconsin. 
Community Garden Materials Support
Objective:
To provide soil for raised beds at an Extension-High School partnership's outdoor classroom.
Description:
We provided partial support for soil and mulch materials for this program. The urban farm initiative through a Jefferson County public high school aims to foster a strong relationship with Agriculture. 
Promoting SARE Resources to County Agents
Objective:
To enhance the visibility of SARE resources among county agents across the state.
Description:
The Kentucky SARE program provided funds to supplement support directly from SSARE to purchase and distribute a "packet" of sustainability-related materials to each of the 120 county offices in Kentucky. We sent each SARE-Materials-Agent-letter explaining the SARE program and as well as one of each of the following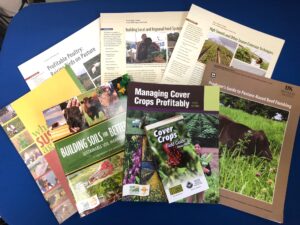 A picture we attached to the email to agents so they knew what to expect.
Managing Cover Crops for Profit
Building Soils for Better Crops
What is Sustainable Agriculture?
High Tunnels and Other Season Extension Techniques
Profitable Poultry
Farm to Table: Building Local and Regional Food Systems
Midwest Cover Crops Field Guide (Midwest Cover Crops Council)
Producer's Guide to Pasture-Based Beef Finishing (UK-U. of Missouri Extension)
Outcomes and impacts:
We had strong feedback from agents with some requesting additional resources. Some agents did not realize they could order materials directly from SARE (many of our offices have good material budgets). The letter and personal (re)introductions were as valuable as the resources, as we seek to be the "Face of SARE" in the state. 
Advisory Support to Community Outreach on Fertilizer Use
Objective:
This initiative sought to reach a broader audience by presenting at a local microbrewery. The purpose of the event was to encourage homeowners to avoid over-fertilization and to access soil tests.
Description:
We did not provide any direct funding, though Brett--in his capacity as program assistant--provided some consulting, guidance, and bridge building. The goal here was to help other ag outreach professionals to think about novel platforms and locations for their meetings, and ways to reach urban clientele. 
Outcomes and impacts:
From the project director:
"I wanted to send this email in appreciation from all of us working on the No P on my Lawn project.  We had about 50 people attend our meeting Monday evening.  The majority of the audience was interested enough to take home soil testing supplies and one individual had already submitted their soil samples to the Fayette CES office. None of this would have occurred without your connection to West 6th through your outreach programs.  We sincerely appreciate your support with this project.  
 CRISPR: Revolutionary Tools, Consumer Questions Agent Training
Objective:
Provide an overview of CRISP technology as well as resources for agents to answer client questions.
Description:
Two trainings were held:
One aimed at Family and Consumer Science agents on September 27, 2017
One aimed at Agriculture and Horticulture agents on October 18, 2017
Outcomes and impacts:
Attendance for these trainings was:
FCS - 14
Ag/Hort - 22
Educational & Outreach Activities
1
Other educational activities: Mailing/PR Campaign for KY/SSARE.
Learning Outcomes
1260
Participants gained or increased knowledge, skills and/or attitudes about sustainable agriculture topics, practices, strategies, approaches
770
Ag professionals intend to use knowledge, attitudes, skills and/or awareness learned
Project Outcomes
20
New working collaborations
600
Agricultural service provider participants who used knowledge and skills learned through this project (or incorporated project materials) in their educational activities, services, information products and/or tools for farmers
350
Farmers reached through participant's programs
Face of SARE
Face of SARE:
Kentucky's SARE PDP program objective is to build a broad base of interest and skills in agricultural sustainability among extension agents and other professionals in the state, equip them with the needed skills to assist farmers, marketers, and community leaders, and to facilitate a diverse range of collaborative projects. The way that we manage our programs has led to strong partnerships with the Kentucky Department of Agriculture, NRCS, FSA, Community Farm Alliance, Kentucky Center for Agricultural and Rural Development, the Cooperative Extension Service, Grow Appalachia, as well as grower groups across the state.
The program assistant is often the face of the KYSARE program, since half of his job is to support and implement the Model State Plan. He is actively involved in Kentucky State University's "Third Thursday Thing" monthly sustainable ag field days and in the wide range of program activities.The core job of KY SARE's Program Assistant is coordinating all of the SARE-promoted trainings. 
Because sustainable agriculture programs in Kentucky extend much beyond the SARE-supported programs, the program assistant actively participates in other activities. This includes attending extension and grower events where he simultaneously represents KYSAREHis engagement with these programs assists in expanding the visibility of the SARE Program.  The current Program Assistant has strong networking and leadership skills that help us build productive partnerships with FSA, KDA, and NRCS
1800
Farmers received information about SARE grant programs and information resources
650
Ag professionals received information about SARE grant programs and information resources