Progress report for SSC20-001
Project Type:
PDP State Program
Funds awarded in 2020:
$22,222.00
Projected End Date:
06/30/2022
Grant Recipient:
Clemson University
Project Information
Abstract:
The overall objectives of the 2020-2021 SC SARE Program will be to continue the existing strategic and collaborative planning process for statewide sustainable agriculture development; provide professional development opportunities for Extension agents, NRCS field staff and other agriculture professionals; reward outstanding service; and to continue to organize and support in-service training in sustainable agriculture practices. The MSP Assistant will work with the state SARE coordinators and program advisory committee to organize training activities for 1890 and 1862 Extension and other agriculture professionals that will address critical needs identified by program stakeholders. The program is guided by stakeholder input through an advisory committee consisting of farmers, agriculture professionals, non-government representatives and others with an interest in sustainable agriculture development. Our mission/strategic plan is to foster the adoption of sustainable agriculture practices statewide through education and outreach programs on relevant topics for Cooperative Extension Service personnel, Natural Resources Conservation Service staff and other agriculture professionals, farmers, and landowners. The overall program mission/plan will not change however, training topics have been revised based on current needs identified by our program stakeholders. The program advisory committee met on January 30, 2020, and identified priority topics for 2020-2021 training programs. The MSP position will continue to facilitate program reporting and evaluation and will assist with project accounting and budgeting. A joint budget for Clemson and South Carolina State University has been developed. Funds will be administered through Clemson; South Carolina State University will submit invoices for training expenses to the Clemson Sustainable Agriculture Program.
Project Objectives:
Continue the existing strategic planning process for statewide sustainable agriculture development. Building on new and existing collaborations with stakeholder groups, the state co-coordinators will work with the MSP Assistant and with the SC SARE Advisory Committee to broaden the pool of stakeholders including under-represented groups who are involved with the planning process and the development of educational programs. As in previous years, an annual sustainable agriculture retreat will be organized in fall/winter to identify priorities and to plan educational programs based on stakeholder needs. We will continue to collaborate on training programs with stakeholder organizations and with SARE PDP personnel from neighboring states when appropriate. The comprehensive and inclusive planning process will limit duplication of effort and will help to leverage available resources.
Continue to provide professional development opportunities for Extension agents, NRCS, FSA and state Department of Agriculture staff and other sustainable agriculture educators. The outcomes of this objective are that our agriculture professionals will enhance their knowledge and competency in sustainable agriculture, they will increase their contact with the sustainable agriculture community, and they will be recognized as local experts to be called upon for information on sustainable agriculture. Travel scholarships will be provided for select Extension agents and agricultural professionals to attend the 2020 Carolina Farm Stewardship Association (CFSA) Sustainable Agriculture Conference (November) and other sustainable agriculture educational events as funds are available. These events represent valuable educational opportunities for our agents and other agriculture professionals and facilitate interactions between agriculture professionals and farmers.
Continue to support the "Outstanding Sustainable Agriculture Extension Agent of the Year" award to recognize SC cooperative extension personnel for excellence in sustainable agriculture outreach. A call for nominations will be released in summer of each year open to 1890 and 1862 personnel. The award recipient will receive a travel scholarship to attend a sustainable agriculture event and a plaque recognizing their service to the sustainable agriculture community. The award will continue to encourage the development of innovative public outreach programs by our Extension agents.
The SC SARE PDP Program will continue to organize and support in-service training opportunities for Extension agents, NRCS, FSA and state Department of Agriculture personnel, agricultural educators, and for other interested persons as space permits. Workshop topics will be determined annually by the Advisory Committee (see listing of Winter 2020 workshop topics in minutes below). The MSP Assistant, in consultation with the coordinators and the SC CFSA representative, will have overall responsibility for workshop organization, publicity and evaluation.
Advisors
Education & Outreach Initiatives
Distribution of hardcopy SARE publications
Objective:
To disseminate knowledge regarding sustainability to Extension agents
Description:
An announcement was emailed to Clemson University and SC State University extension agents inviting them to request hardcopy publications that the SC SARE program had in stock for distribution to trainers. 
To assist in the dissemination of the SARE publications, a virtual library of publications available-for-request was created. This virtual library allows trainers in our state to see which National SARE publications the SC SARE program has available for request. Emailing a link to the virtual library for trainers to peruse was a more eloquent solution compared to emailing a list of available publications, as the virtual library includes additional information such as publication descriptions, cover photos, and links to download said publications from the National SARE program website.
https://scsare.libib.com/i/national-sare-program-publications
Outcomes and impacts:
The outcome of this initiative was that Extension agents were given direct access to knowledge regarding sustainable practices, which they will use in turn to train farmers, growers, students, and homeowners. Having a hardcopy available meant that agents did not have to rely on electricity or an internet connection to obtain the desired information. 
2021 SC SARE Training Coordination
Objective:
Meeting with partner organizations to avoid duplication of efforts
Description:
On February 15, 2021, a virtual training coordination meeting was hosted by SC SARE with the intent of coordinating with partnering organizations to avoid duplication of training efforts. 
Outcomes and impacts:
Organizations shared their training initiatives and goals for the coming year, which allowed for scheduling and consolidation of trainings pertaining to certain topics. 
SC SARE Annual Open Forum
Objective:
Input from this public meeting was used to prioritize issues and formulate plans for statewide sustainable agriculture training and education programs in 2021.
Description:
On January 13, 2021, SC SARE hosted its annual open forum (virtually). This open forum allowed for networking among extension agents, farmers, agencies, non-profits, and researchers while providing the SC SARE program with feedback regarding areas that these stakeholders felt should be focused on for 2021.
Outcomes and impacts:
Registrants were asked what they felt were the top three areas in which SC SARE should focus on in 2021. This data was categorized and shared with the SC SARE advisory committee. With input from the event registrants and further input from the advisory committee, topic areas were prioritized for statewide programing in 2021 (topics listed in minutes below). 
CFSA Conference Fee
Objective:
To provide funding for Extension agents to attend the 2020 Carolina Farm Stewardship Association Sustainable Agriculture Conference.
Description:
Funding was provided by SC SARE to cover registration fees for Clemson University and SC State University extension agents to attend the 2020 Carolina Farm Stewardship Association Sustainable Agriculture Conference. 
Outcomes and impacts:
The goal of this initiative was to provide Extension agents with access to the conference talks given regarding sustainable practices and provide them with an opportunity to network with those in the sustainable agriculture community. Exposure to these topics and the connections made at this conference directly impact trainer knowledge and resources. Agents witness first-hand the practices that others are employing in different regions which better allows them to prioritize what practices would be best for stakeholders in the agent's region. Networking opportunities open the door for collaborations, which are critical when applying for competitive grants. 
Marketing Strategies for Small Scale Vegetable Producers
Objective:
To provide training on updated practices and techniques in vegetable production, to include sustainable practices to reduce off farm input.
To provide IPM training for small vegetable producers.
To educated small vegetable producers in the areas of production, marketing, and risk management.
To improve cash flow and quality of life for small, part-time, and limited resource farmers.
To increase farm management and marketing skills.
To promote quality, marketable crops.
To develop leadership skills and foster a spirit of cooperativeness among participating farmers and producers.
Description:
Small scale vegetable producer workshop hosted by SC State University Extension aimed at teaching direct marketing strategies promoted through sustainable practices. 
Publicity write-up here: SC State 1890 Collards Project targets food deserts in Pee Dee region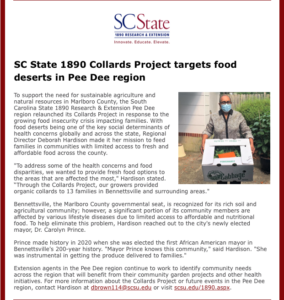 Outcomes and impacts:
Expected Accomplishments/Outcomes:
Participating farmers gain skills in marketing vegetable crops using advanced technology. New and beginning small vegetable producers find leafy green crop production to be a viable and profitable enterprise. Marketing strategy training yielded positive results. 
Small vegetable producers increase farm management skills, reduce off farm inputs and increase profitability through sustainable agriculture practices. Producers increased awareness of available resources (Federal, State, and other Ag. groups). Small scale producers increase awareness of risks involved in agriculture production and learned to manage them.
Indicators:
Number of vegetable producers making commitments and participating in training programs (55).
Number of vegetable producers applying and adopting sustainable practices (39). 
Number of vegetable producers increasing production of leafy green crops (23).
Number of vegetable producers increasing cash flow through the production and sale of leafy green crops (8).
Number of vegetable producers demonstrating adoption of direct marketing strategies and enhanced marketing practices, using technology and virtual activities (5).
Educational & Outreach Activities
3
Webinars / talks / presentations
Learning Outcomes
1268
Participants gained or increased knowledge, skills and/or attitudes about sustainable agriculture topics, practices, strategies, approaches
Project Outcomes
Additional Outcomes:
SC SARE programming has been hindered by COVID-19. Trainings are expected to resume this year (2021) as in-person restrictions are lifted. 
Face of SARE
Face of SARE:
The SC SARE webpage was revised and updated for the first time since new program coordinators and MSP assistant were named. As per new Clemson University webpage policies, the SC SARE webpage is slated to be updated again to comply with newly issued webpage templates. The webpage is an important promotional tool for allowing us to post updates, events, and news regarding the SC SARE program.  
The CU Sustainable Ag Program email listserv was transferred to the new MSP assistant. Inactive addresses (and those who wished to unsubscribe) were removed. The listserv is used to share updates about the SC SARE program and news from related programs. 
500
Ag professionals received information about SARE grant programs and information resources
Information Products