Final report for YENC19-138
Project Type:
Youth Educator
Funds awarded in 2019:
$4,000.00
Projected End Date:
02/28/2021
Grant Recipient:
Western Dakota Tech
Project Information
Summary: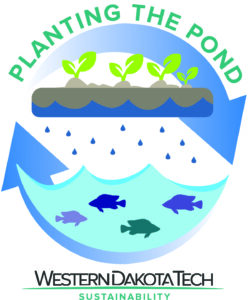 Western Dakota Tech (WDT) took first place in the National Science Foundation's 2018 Community College Innovation Challenge for our innovative aquaponics project.  As a continuation of this success, we implemented aquaponics in a middle school classroom as a STEM education tool.  Not only did this project effectively engage students, help students learn and retain scientific principles and understand systems-level processes, but it could provide a pathway into already established STEM tracks in local area high schools and subsequently technical schools like WDT.  This project serves as a successful model for other K-12 schools to integrate similar technology into their own curriculum.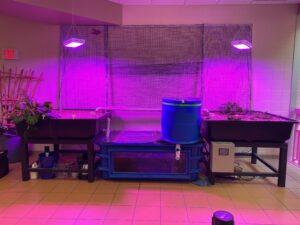 Project Objectives:
Planting the Pond had four main objectives:
1.) to design, construct, and implement a medium-sized aquaponics system in a middle school STEM classroom that has already integrated concepts in sustainable agriculture into their curriculum,
2.) to supplement current curriculum with our aquaponics expertise through demonstrations and interactive lectures,
3.) to organize a culinary event featuring the produce grown with the classroom system*, and
4.) to provide a pathway into already-established secondary and post-secondary STEM education tracks.    
*Due to the COVID pandemic, objectives were slightly modified and the culinary event was indefinitely postponed.  
Project progress:
For the Planting the Pond Project, Western Dakota Tech partnered with East Middle School to implement aquaponics into their 6th grade curriculum.  Instructors at this middle school have created STEM programming that ultimately addresses the problem of food insecurity in our community.  They have a goal of fostering a land stewardship mindset among their students while promoting local foods.  Their 5-year goal is to have students produce enough crops in a greenhouse to supply their school's cafeteria with fresh vegetables and greens.   
An MOU (Memorandum of Understanding) was established between WDT and East Middle School for this project. 
DESIGN
In order to help East Middle School meet their curricular goals, we designed a fully automated aquaponics system that was integrated into both STEM and non-STEM classrooms (English, Social Studies et. al.).  Students in WDT's Computer-Aided Design Program used CREO Parametric 3D modeling software to build the concept digitally, which allow us to correct interference while increasing the efficiency of usable space before construction.  CAD students created virtual reality and augmented reality walk-throughs in Autodesk REVIT.  They intend to 3-D print the design using a Stratasys uPrint, which will give us a hands-on model.   
The unit was designed to be easily and fully accessible to students, with grow beds at a kid's height and a fish tank with a window.  The entire system was built to be modular (cord/plug sensors versus hard-wired) for easy part replacement in the future.  
Upon construction, we integrated cutting-edge process control technology.  We used Bluebeam to design wiring schematics of the electrical circuits. Using Rockwell software with an Allen Bradley Micro820 PLC with an HMI, we connected digital sensors to observe various parameters which can be monitored from any internet-connected device.  The ability to precisely measure and control numerous variables allows us to make necessary adjustments in real time.
The design of the control system eliminates a lot of the vulnerability typically seen in the aquaponic growing process.  To keep both the plants and fish safe and healthy, different sensors were placed at key areas for concern.  These sensors are linked to the operating system, and should a dangerous condition occur, for example a flood, or pumping water where it shouldn't be pumped, they are designed to create a safe condition until the problem can be manually addressed.  The control system is set to reset if it experiences a power outage and a backup aeration pump is integrated into the system to allow the system to maintain a healthy dissolved oxygen content level until a reboot can occur.  East Middle school has a standby generator that is available and switches automatically when utility power is lost, so long-term power outages are unlikely.  
One additional stressor we did not account for during the design phase was the potential for the target audience (middle schoolers) to tamper with the system.  We added plexi-glass lids with locks to both the main tank and the swirl filter to deter students from tossing items in the water that could potentially interfere with the operation of the system.  We also put up a "velvet rope" type barricade that prevents students passing through the hallway from being able to walk up to the system without proper supervision.  
In addition to the design work performed by the CAD team, a Planting the Pond logo was designed for the project by WDT's Marketing and Website Coordinator.  
CONSTRUCTION
For construction of the unit, we acquired necessary materials, including grow beds, holding tanks, lighting, control systems, and structural components.  (Due to back-ordered items, there were substantial delays in the construction process.)
Students from WDT's Electrical Trades and Environmental Engineering Programs participated in the construction of the unit and students from our Welding Program welded the support stands (to support the weight of the grow bed, which was approximately 1 ton).  The plumbing construction consisted of installing pumps, a swirl filter, and bell siphons).  Lids for the fish tank and the swirl tank were added as a safety feature.  Both were etched by the CAD department with project logos. 
The electrical control process was commissioned under the Electrical Trades program and is the most advanced program to date for our larger aquaponics project.  Documentation of the program is attached. 
After construction, WDT students did testing and troubleshooting of the system.  Additionally, a lattice system was designed and constructed by Environmental Engineering students to provide more grow space.  
Overall, about 200 man-hours were put into the construction and testing of this unit.  
Construction was complete in early February 2020 and the unit was installed at East Middle School on February 27, 2020.  It was anticipated that fish would be delivered to East Middle School on March 2, however, COVID lockdowns prevented progress in this project until late Fall 2020.  A tilapia breeding colony, gold fish, and Plecostomus were introduced into the system over the the Fall 2020/Spring 2021 semesters.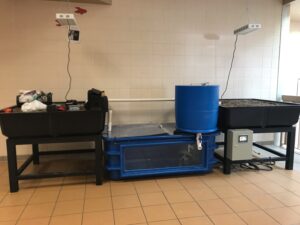 IMPLEMENTATION
The next phase of this project (which is ongoing due to COVID delays) included the optimization of the ecological conditions of the system, based largely on biological surface area calculations, and the operating conditions will be described to optimally balance plant and fish growth.  This data-driven component is necessary a.) to serve as a point of comparison for other small aquaponics operations, b.) to describe the inputs (energy, water, fish feed) and outputs (edible crops and fish) required to maintain the system, c.) and to reconcile the water quality and lighting parameters that affect the survival and growth of the plants, fish, and nitrifying bacteria in the system. Parameters that will be optimized include pH, alkalinity, dissolved oxygen, specific conductivity, ambient air and water temperature, total suspended solids, nitrogen transformations, phosphate and iron levels, weekly water demand, and photo-period.  Current Environmental Engineering and Controlled Environment Agriculture Students continue to make routine (weekly) measurements of various water quality parameters in the system.  
CURRICULUM DEVELOPMENT 
Given the COVID outbreak, classroom curriculum was developed for a virtual platform.  Several Environmental Engineering students made videos and handouts to be shared with East Middle School students.  All curriculum materials can be accessed in the shared drive that can be accessed here in the media folder. 
Aquaponics Worksheet Handout Local Foods Handout Urban Agriculture Handout Sustainable Agriculture Handout Nutrient Cycling Handout
This project has been presented at the South Dakota Local Foods Conference, and was scheduled to be presented at the Western South Dakota Hydrology Conference and Rapid City Earth Day Expo, both of which were cancelled due to COVID.    
CULINARY EVENT
Due to the construction delays compounded by the COVID outbreak, the culinary event was indefinitely postponed.  
PATHWAYS TO ESTABLISHED SECONDARY AND POST-SECONDARY STEM EDUCATION TRACKS 
In the fall of 2020, Rapid City Area School (RCAS) District  launched a pathways approach that will provide all students with access to career-connected learning experiences.  The incoming 9th grade class was the inaugural year of the RCAS Academies.  Within the Academy of Science and Engineering, students are exposed to a variety of career opportunities in Engineering and Agricultural Sciences.   This Planting the Pond project is expected to help guide interested students into this Academy, where they can pursue pathways in Engineering, Natural Resources, Animal Science, and Environmental Science.  The ultimate goal is to have K-12 students continue their pathway into programs at Technical Colleges around the state of SD.  
NEWS STORIES 
https://www.kotatv.com/video/2021/03/19/aquaponics-lessons-help-east-middle-school-students-grow-produce/ 
https://www.blackhillsfox.com/2021/03/18/east-middle-school-students-learn-about-aquaponics/ 
STUDENT RESPONSE TO THE PROJECT
East Middle School students were extraordinary excited to participate in this project, as two students in the above news stories reported.  Their overall enthusiasm for local foods has been remarkable, and as a college instructor, I am impressed with the extent of their knowledge gained in the realm of sustainable agriculture.  Due to COVID, a limited number of students (approximately 100) were able to directly participate in this project during the 2020-2021 academic year, however, with easing of COVID restrictions on class sizes and new STEAM initiatives being developed in the Rapid City Area School system, it is anticipated that several hundred students will interact with the aquaponics unit in the upcoming year. 
"Every day they are coming up and looking at the system and reporting back to me, Mr. Cerny you should see the strawberry today. Just the excitement they have is something I will cherish forever," Jason Cerny, English and Social Studies teacher at East
"It is really fun, and you feel a part of something, and seeing it there you feel proud," Kaylie McColom
Western Dakota Tech students have expressed the same enthusiasm and excitement for the project.  During the design phase, students willingly stayed late and worked weekends to ensure success of this project.  Students really appreciated the service-learning, hands-on nature of learning skills they will need to be successful in their respective career paths.  
Overall, this project was a success and we are hoping it serves a proof-of-concept for implementing similar systems into other local area school and non-profit organizations!
Cooperators
Educational & Outreach Activities
12
Curricula, factsheets or educational tools
8
Webinars / talks / presentations
4
Other educational activities: This project was shared with students at the Sturgis Brown Career Fair (with a total estimated attendance of 850 students).  Additionally, the WDT students who worked on this and other aquaponics-related projects created a video for the American Technical Education Association's 3D Futures Design Competition, where they were awarded 2nd place.  The video can be found at:  
https://www.youtube.com/watch?v=DB69bFml1OU&fbclid=IwAR2IhfYnzwzEBTV-BfdRgAI7pcGIRTOSCYyEkHewkVz3PHMmTLuiwGF7wo8 
Youth: During the design and construction phase of this project, approximately 30 students toured WDT and had the opportunity to learn from this project.  The second phase of this project will see a large increase in the number of youth reached.  
Participation Summary:
Education/outreach description:
Curricula, Fact sheets, Other Educational Tools: For this project a mid-scale aquaponics unit was built to be used as an educational tool related to sustainable farming practices.  The electrical automation program (PLC) designed for this aquaponics system is an open-source product of this project.  Curricular materials were developed for classroom use. 
Published Press Articles, Newsletters: 2 pending publications, 1 pending news story 
Tours: During the design and construction phase of this project, numerous programs toured WDT's aquaponics projects: U.S. Representative Dusty Johnson, Fork Real Community Cafe, Stevens Middle School, Harvest Table for Good, Pangea Design Group, Rose Group International, Rapid City Earth Day Planning Committee, EchoWorks, Live Move Be Farms, South Dakota School of Mines and Technology Faculty, Farmers Market Board of Directors, DRB Beekeeping and Supplies, et al. We anticipate many tours to East Middle School during the upcoming Education phase of the project.     
Webinars, Talks, Presentations: This project has been presented at the SD Local Foods Conference and a Rapid City Area School Board Meeting.  Additionally, this work was intended to be presented at the 2020 Western South Dakota Hydrology Conference, however, both events were cancelled due to the COVID pandemic.   
Educators: In addition to educators at East Middle School, instructors from South Middle School, Stevens High School, and Central High School have toured WDT's aquaponics program and have expressed interest in implementing "Planting the Pond" at their respective institutions.  
Other Adult Participants: Over 150 students from WDT's Environmental Engineering, Electrical Trades, Welding, and Computer-Aided Design Programs have participated in or have been exposed to the design/preparation phase of this project.  
Learning Outcomes
Results and discussion:
Learning outcomes will be assessed in the second phase of this project.  Phase I was primarily focused on design and construction.  Phase II will focus on the education component of the project.  
Project Outcomes
1
Grant received that built upon this project
8
New working collaborations
Increased organizational support to explore and teach sustainable ag:
Yes
Explanation for change in organizational support to explore and teach sustainable ag:
As a result of Dr. Kelsey Murray and Bryan Mitchell's work on this and other sustainable agriculture projects, Western Dakota Tech's President and Vice President for Teaching and Learning have approved a campus-wide Sustainability Initiative.
Sustainable Agriculture practices parents adopted:
Not applicable at this time.  
Success stories:
Not applicable at this time.  
Information Products