Progress report for YENC21-166
Project Type:
Youth Educator
Funds awarded in 2021:
$1,478.00
Projected End Date:
01/31/2023
Grant Recipient:
Green Bay East High School
Project Information
Summary: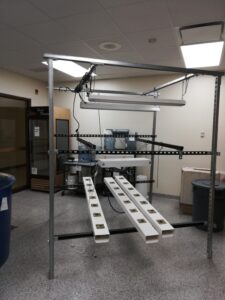 Different that conventional hydroponic and aquaponic systems on the market, we envision an open-faced metal enclosure, with cross-beams on top and in middle of sides (or an indoor pergola of sorts), where two levels of five individual PVC channels are laid to run hydroponic and/or aquaponic growing.  While we have the skeleton of the pergola started, we look to ramp up its use by raising greens for our high school's cafeteria and local food shelves.  This will be made possible by student-led decision making, through inquiry-based experiential learning in Green Bay East's Agriscience classes.
Project Objectives:
Our Hydroponic and Aquaponic Pergola at East High in Green Bay, WI will have three objectives:
Grow & provide locally raised produce during colder months to be given to our school's cafeteria and area food shelves.

Incorporate inquiry-based, experiential learning into the growing process.  Student groups in Agriscience classes will choose their own independent variable changes to test in their own, individual hydroponic channel.

Partner with local aquaponic grower, The Farmory, to be a control group in raising our own set of tilapia alongside our plants.
Educational & Outreach Activities
2
Curricula, factsheets or educational tools
Participation Summary:
Education/outreach description:
For monitoring our hydroponic & aquaponic tank's nutrient levels, a content slide deck was created with a connecting activity.  Linked here: https://bit.ly/3HkSYj0 is that Google Slides deck.
For working with the tilapia, which accompany our Aquaponic Pergola, an inquiry-based lab was created.  Linked here: https://bit.ly/3B0x9mx is that Google Sheet page.