2015 Annual Report for ES13-117
Project Type:
Professional Development Program
Funds awarded in 2013:
$78,128.00
Projected End Date:
12/31/2016
Grant Recipient:
Clemson University
Training in Renewable Energy Systems for Small Farms to Reduce Energy Costs and Improve Profitability
Summary
South Carolina SARE Program stakeholders including farmers have identified a need for training in alternative energy systems that have potential to reduce energy costs and generate value for the farm. The goal of this SARE PDP project is to train agriculture professionals in South Carolina and neighboring states as Energy Educators. In this second project year, specific topics for the farm-energy training were identified based on stakeholder input, a training curriculum was developed, and six (3) full-day training events were conducted to address perceived challenges to adoption of alternative farm energy systems. Participants rated the trainings highly in post-training surveys and indicated that their participation will enable them to effectively assist farmers/clients with adoption of renewable farm energy systems and technology.
Objectives/Performance Targets
Objectives for the second project year were to 1) work with the project team to develop a training curriculum and schedule of training workshops for the year, 2) organize and deliver the training through a series of classes and on-farm experiential learning, and 3) conduct participant surveys to evaluate the second year training.
Accomplishments/Milestones
In 2015 three training events were conducted on the following dates/topics:
May 18: Farm Scale Permaculture Design Workshop – Charleston, SC             
May 28: Oil Seed Crops & On-Farm Processing of Edible and Non-Edible Oils – Clemson, SC
July 8: Make Your Own Biodiesel Production Workshop – Clemson, SC
Training instructors included project team members and other regional experts on farm energy systems (see attached training announcements). A total of 54 participants attended the training events including Extension agents, agricultural NGO and governmental organization representatives, and farmer educators. In addition to classroom instruction, participants gained experience with design and/or operation of different energy systems at the Clemson Organic Farm and collaborating farms in the Lowcountry including:
Assessing farm elements and needs
Creating a farm base map
Understanding how to assess drainage
Using azimuth and elevation angles for determining ideal grow sites
Optimal farm design ideas
Design techniques for farms and home sites
Overview of oil crops best adapted for southeastern climates and oil extraction
Understanding regulatory guidelines for making and selling edible oils
Commercial oil production information
Hands on oil processing using manual and electric oil press models
Understanding biodiesel basics and safety
Performing a Mini-Batch operation of biodiesel
Understanding differences between home and commercial production technologies for biodiesel
Perform post reaction processing and quality control testing on biodiesel Mini-batch
Demonstration of equipment running on biodiesel
Farm Scale Permaculture Design_5_18
Edible Oil Seed Crops_Processing 5_28
Impacts and Contributions/Outcomes
Initial surveys of Extension agents and other stakeholders were used to identify perceived obstacles to implementation of alternative energy systems, and resulted in a series of training events that were developed to address those specific challenges. Widespread promotion of the on-farm energy training resulted in excellent participant turnout with diverse audiences including 1862 and 1890 Extension agriculture and horticulture agents and other agriculture professionals and farmer educators. Results from workshop participant surveys to date indicate that a majority of the participants rated the workshops in the 'excellent' category, and they felt that the knowledge and experience gained has or will enable them to effectively assist farmers/clients with development or adoption of renewable farm energy systems, particularly for permaculture design techniques, on-farm edible oil production and biodiesel production.  Here are examples of survey responses from Extension agents and other workshop participants:
"I was encouraged to press some sunflower oil with the Piteba hand press and test the market for sales. Very favorable customer response at our Saturday tailgate market. This leads to my planting a small crop of sunflowers this year to press and sell oil locally. I think this will lead to a larger cooperative effort with more farms in the future."
"Helps me to provide consumable oils & at the same time hi quality feed for my goats"

"will incorporate principles in upcoming farm buildings placement over next couple of years."

"great ideas for sustainable production of fuel and farm products!"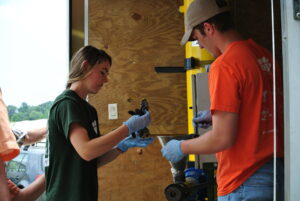 Participants get hands on experience pressing oils from various types of seed during the Oil Seed Crops and Edible Oil Production Workshop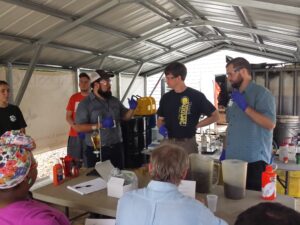 Instructor David Thornton guides workshop participants through the process of making biodiesel from plant based oil at the Biodiesel Production Workshop.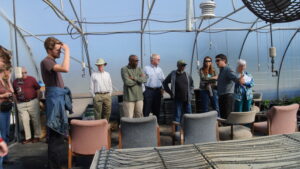 Instructor Shawn Jadrnicek speaks with participants about optimal design during the Farm Scale Permaculture Design Workshop
Collaborators:
Edoe Agbodjan
eagbodjan@scsu.edu
Sr. Extension Director
South Carolina State University
300 College St.
Orangeburg, SC 29117
Office Phone: 8035365798
Steve Moore
smoore24@elon.edu
Lecturer in Env. Studies
Elon University
031 McMichael Science Bldg.,
Elon, NC 27244
Office Phone: 3362786271