2015 Annual Report for FNC14-979
Project Type:
Farmer/Rancher
Funds awarded in 2014:
$7,354.00
Projected End Date:
12/31/2015
Evaluation of Oilseed Radish Biomass Management As A Control Strategy For Pests In No-Till Corn
Summary
Fieldwork for his project was initiated in 2015 and will continue in 2016 as described including outreach.
Objectives/Performance Targets
Project Questions:
Can manipulated (chopped) radish cover crop residues suppress slug and nematode populations and their damage to the subsequent corn crop?
Does manipulation (chopping) of the radish cover crop reduce its ability to protect the soil overwinter (does it reduce the conservation performance of the cover crop?)?
Accomplishments/Milestones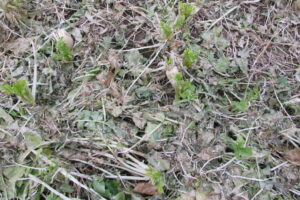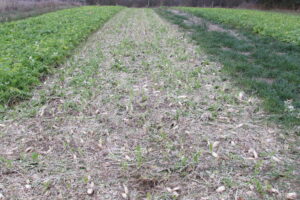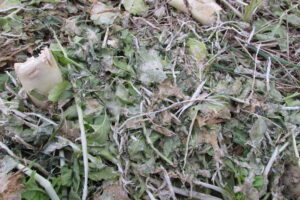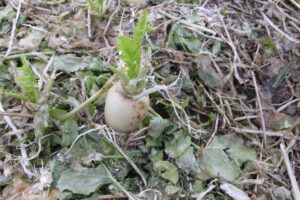 2015 represents the first field season of this project. Radishes were no-till planted August 24 following wheat harvest (7/31) and application of glyphosate (8/19) to control volunteer wheat. Treatments include 1. No radish fallow (control); 2. Radish, unmanaged; and 3. Radish, managed. Radish treatments were planted at 8 lb./acre and allowed to grow until November 4 at which time plots were sampled for biomass yield (tops and roots) and treatment 3 mowed just above the crowns using a flail mower. Samples for routine fertility, radish biomass and nematodes were collected and archived for later analysis. Winter wheat for the 2016 trial was planted October 16th.
In 2016 we will repeat this process as well as take corn and pest measurements. Weekly measurements of soil residue cover will begin April 1, corn planted (target date: May 1) and nematode sampling and slug monitoring initiated. Plots will be monitored throughout the growing season and corn harvested for grain using a plot combine at maturity.
Planning for a field day in mid-September has been initiated and SARE will be notified with details once the program is firmed-up. We will plant additional demonstration plots so participants can see the results of managing radishes with a flail mower.
The attached photos show the treatments side by side and a close-up view of managed radish residues.
Impacts and Contributions/Outcomes
Can't be measured at this stage of the project.