Project Overview
FNC16-1045
Project Type:
Farmer/Rancher
Funds awarded in 2016:
$7,477.00
Projected End Date:
01/30/2018
Grant Recipient:
Don's Prawns & More
Annual Reports
Practices
Animal Production:

general animal production

Education and Training:

extension, youth education

Energy:

energy conservation/efficiency, energy use

Farm Business Management:

budgets/cost and returns

Sustainable Communities:

local and regional food systems, sustainability measures
Summary:
To ascertain the viability and cost savings of using a low- consumption-energy device compared to a commercial device to aerate aquaculture (freshwater prawns) ponds.
Think of an aquaculture pond as a giant fish tank. In fish tanks there is usually a stone at the bottom of the tank that emits little micro bubbles of air produced from an external air pump. The ponds must also have enough oxygen in order for the prawns to survive. As fish increase in size (in this case freshwater prawns) the quantity of oxygen in the water decreases. The larger they grow the more oxygen they use. External measures such as aerators are used to increase oxygen levels.
Introduction:
In our operation we use the Aire-02 from Aeration Industries. See aireo2.com for description. These commercial duty aerators are heavy duty and inject micro bubbles into the water, which dissolves oxygen into the water, which in turn, increases the oxygen levels.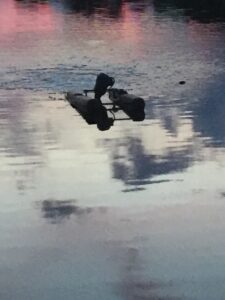 These entry-level aerators have a MSRP of $ 1,200.00.
A 2 HP at 220 volts motor powers them. This device is designed to increase oxygen levels, also known as dissolved oxygen (DO), but in turn increases the electric usage considerably. During the summer months our electric bill goes from $90.00 a month to $400.00 a month.
Project objectives:
Our proposal will determine if a low cost unit which consumes considerably less electricity, can handle the oxygen needs of one of our ponds throughout the entire season.
We can build an aeration system that uses off-the-shelf components. Based on input information from the air pump manufacturer, our energy cost should be $120.00 a month or a 70% savings from the current operation.
We believe the Aero-Tube aeration hose we will use has significantly higher oxygen transfer rates, which increases higher dissolved oxygen (DO) levels over the standard air stones.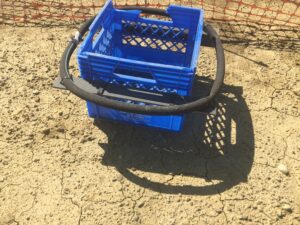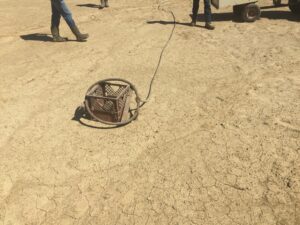 But more importantly, it will consume LESS electricity. Therefore saving us money and putting less of a burden on the generating plant.