2016 Annual Report for FNC16-1054
Project Type:
Farmer/Rancher
Funds awarded in 2016:
$7,500.00
Projected End Date:
07/30/2018
Grant Recipient:
Southwest Honey Co.
Benefiting the Symbiotic Relationship Between Farmers, Ranchers and Honeybees through Consumer Education with an Emphasis on Beekeeping and Pollinators
Summary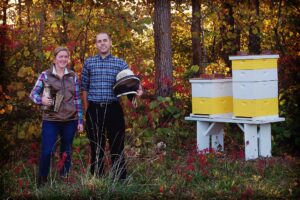 Benefiting the Symbiotic Relationship Between Farmers, Ranchers and Honeybees through Consumer Education with an Emphasis on Beekeeping and Pollinators
Focusing on the project, Benefiting the Symbiotic Relationship Between Farmers, Ranchers and Honeybees through Consumer Education with an Emphasis on Beekeeping and Pollinators, Southwest Honey Co. spent much of 2016 working towards educating the Northeast Indiana community about the plight of the honey bees. This was accomplished through the extensive and fun-filled hands on educational programs for children, adults, and seniors ('Explore the Honey Bee', 'Bees and Brew', and 'Bees and Tea'). Programs focused on helping our community to become aware of the importance of honey bees, the struggles they face and what they can do to help. Through these programs and Southwest Honey Co.'s efforts in the community, the organization was able to help people make connections between the foods they eat and the honey bees who impact the growing process. These programs not only were designed to benefit those who attended, but also their families, neighbors and friends whom they passed information along to. 
Objectives/Performance Targets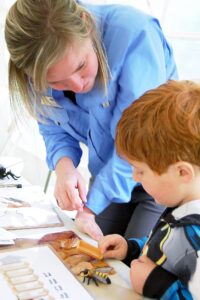 Firstly, to provide the community with outreach and hands-on educational programs reaching children and adults that focus on how the honey bees fit into the ecosystem and drastically impact agriculture and food sources. This educational program focuses on building awareness and appreciation for the honey bees and the importance of buying locally and protecting pollinators.
Secondly, to survey the adults participating in the programs in order to evaluate and gather data on consumer habits and changes in conservation minded thinking before and after participation in the programs.
Accomplishments/Milestones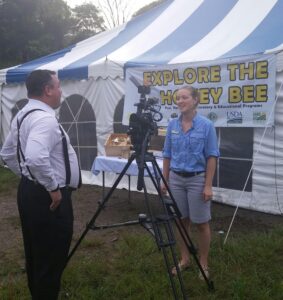 With the honey bees at the forefront of this project, educating the community in order to encourage changes in lifestyle and buying habits is the best way to bring about changes that will positively impact the honey bees and local agriculture.
Educational Programs
386 children were participations (accompanied by parents and teachers) of the 'Explore the Honey Bee Program.' These included groups such as Girl Scouts, local library summer programs, 4H camps, home school groups, public and private school classrooms, daycares, church groups and many more.
Over 200 adults and seniors through the 'Bees & Brew' (21+) program and the 'Bees & Tea' (senior) program.
Programs are highly praised by educators who attended and they continue to seek future educational opportunities with Southwest Honey Co.
Media (Documented: http://southwesthoney.com/category/in-the-news/)
Over 15 feature articles in local and statewide media via newspapers, magazines, news broadcasts, and local radio shows. This was in addition to the countless mentions and 'photo & captions' from the program and outreach events.
A feature article in each of the two national beekeeping trade publications highlighting the 'Explore the Honey Bee' program for children and families.
Community Outreach
Representatives from Southwest Honey Co. has been asked to speak at countless events in the Fort Wayne area including: Earth Day at Eagle Marsh/Little River Wetlands, Science Central, the Monarch Festival, Arbor Day, and many others.
Southwest Honey Co. was asked to participate in the first Organic Farm Tour at Wood Farms, sponsored by the Ohio Ecological Food and Farm Association. This farm is one of the many natural locations where our apiaries are located.
Lead educator, Megan Ryan, received the Light of Christ Award for her work with the 'Explore the Honey Bee' program and Southwest Honey Co.'s mission for helping the environment and honey bees.
Southwest Honey Co. has actively cultivated relationships with 'like minded' conservation and farming organizations in an effort to further promote the program's goals and initiatives to create a larger amount of awareness.
Impacts and Contributions/Outcomes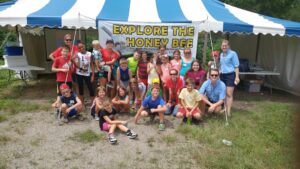 Almost 600 children and adults were exposed to and enriched with knowledge regarding their ecosystem and how it connects to honey bees and the food they eat on a daily basis. The impact these programs have had on our community (those purchasing Southwest Honey Co. local honey, those attending our educational programs, and those attending community events where we have been guest speakers) is not yet quantifiable since the survey process is not complete, but preliminary results of the study are looking promising .
Initial surveys indicate that most adults made commitments to change aspects of their daily life that positively impact conservation and honey bees as well as their consumer habits. In the early summer months of 2017 follow up surveys will be sent to all participants, data will then be compared to find out if actual changes have been implemented.
This education and awareness campaign/ program has been widely accepted and celebrated by the news media, beekeeping community, families and schools. Southwest Honey Co. expects great results from the final 2016 surveys and is excited to continue with its initiatives in 2017 and beyond.