Project Overview
FW17-048
Project Type:
Farmer/Rancher
Funds awarded in 2017:
$20,000.00
Projected End Date:
10/31/2019
Grant Recipient:
Chelsie Largent
Commodities
Agronomic:

barley

Animals:

bovine

Animal Products:

meat
Practices
Animal Production:

feed/forage, feed management, rangeland/pasture management

Education and Training:

demonstration, farmer to farmer, on-farm/ranch research, youth education

Energy:

energy conservation/efficiency

Farm Business Management:

farmers' markets/farm stands

Production Systems:

hydroponics

Sustainable Communities:

sustainability measures, urban agriculture
Summary: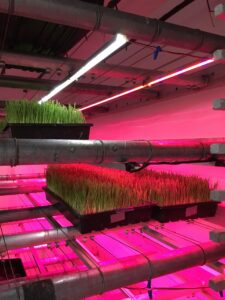 My project is a small scale alternative feed system, or growing Fodder.  We first found the system we wanted to put together, purchased the equipment in California, and brought it all back to Camp Verde, Az. Assembling the unit was a challenge, but were able to overcome most of the obstacles.  Our aim is to grow 9″ fodder on an 8 day growing cycle.  Once we get all the kinks out in the growing process we aim to compare the benefits on 2 two sets of black Angus cattle.  In my original proposal, we intended to feed two sets of 4 steers.  Upon completion of the unit and observing how the steers LOVE eating the fodder, we decided to build a separate pens for housing the steers.  By doing this, we can regulate the amount consumed daily by each steer.
In addition to feed regulation, we are limited in space available to house our alternative feed system steers and the traditionally fed group, so we are going to change the number of steers being fed from 2 groups of 4 steers to 2 groups of 2 steers; ensuring that the group being fed primarily fodder are segregated from those being traditionally fed by grass hay and wet brewer's grain.  This will help regulate the amount of fodder being consumed by each steer and aid in overall management of the control group.
Project objectives:
We did modify our plan from the original proposal.  We intended to build our own system from the ground up, but upon intense research and investigation, met Russ Horton from Fodder Nation.  He has been building and designing Fodder systems for the last few years and is light years ahead of all other systems currently on the market; buying the parts and system components from him ended up saving us $3000 dollars!
No need to reinvent the wheel right?
So we traveled to California and bought the exterior box, trays, racks, and control system from him.  We then set up the majority of the system here at our ranch in Camp Verde.  Trenched power and water to it and have just recently been able to start growing our own Fodder.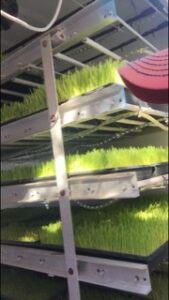 It has come to our attention that we will need to separate the control group of 2 steers from those being traditionally fed, so we designed and are in the process of construction a pen that will not only give the steers adequate space for growth and exercise, but will also aid in the regulation of how much fodder is being consumed by the control group.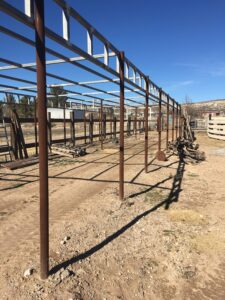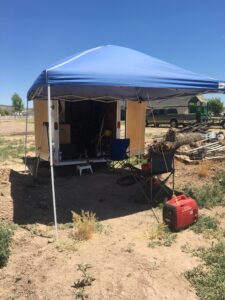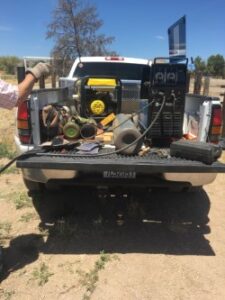 3D043CDA-072A-426E-991C-71E571A80E67