Project Overview
ONC16-017
Project Type:
Partnership
Funds awarded in 2016:
$29,951.00
Projected End Date:
02/28/2019
Grant Recipient:
Savanna Institute
Annual Reports
Information Products
Commodities
Agronomic:

grass (misc. perennial), hay

Fruits:

apples, apricots, berries (brambles), berries (other), cherries, peaches, pears, plums

Nuts:

chestnuts, hazelnuts, pecans

Additional Plants:

native plants, trees

Animals:

bovine, poultry, sheep, swine
Practices
Animal Production:

feed/forage, grazing management, grazing - multispecies, grazing - rotational, housing

Crop Production:

windbreaks

Education and Training:

demonstration, farmer to farmer, mentoring, networking, on-farm/ranch research, participatory research

Farm Business Management:

agricultural finance, budgets/cost and returns, new enterprise development

Natural Resources/Environment:

afforestation, biodiversity, hedges - woody

Pest Management:

competition, cultural control, field monitoring/scouting, prevention

Production Systems:

integrated crop and livestock systems, organic agriculture, permaculture
Abstract:
Silvopasture – the integration of livestock, forage, and trees – can generate multiple high-value products with minimal off-farm inputs while enhancing ecological functions. Silvopasture remains largely untested in the Midwest US. To fill knowledge gaps faced by farmers in this region, we tested techniques of integrating livestock with seedling trees in pastures. Our trials on four farms in Wisconsin, Illinois, and Indiana including various types of livestock compared efficacy of different techniques for mitigating livestock and wildlife damage to trees, as well as potential competition from nearby herbaceous vegetation. We also conducted semi-structured exit interviews with participating farmers to document their qualitative assessment of strategies to establish and manage trees planted in pastures.
Effective methods for protecting seedling trees in silvopasture varied based livestock species as well as some environmental factors. Little to no protection was needed for pastured poultry, especially chickens. Wire cages most effectively prevented damage from larger livestock, but this method also was the most expensive and may be cost-prohibitive when trying to protect many trees. For large-scale silvopasture establishment, a combination of electric fencing with tree tubes works well for protecting the trees from damage while allowing livestock grazing to help manage competing vegetation. Tubes, alone, can be effective at protecting tree seedlings from sheep, provided that stakes are sufficiently sturdy.
Farmer-researchers reported general satisfaction with their silvopasture establishment. They have maintained their trial areas and in all cases either adopted more effective techniques learned in the course of the project and/or expanded silvopasture acreage.  Outreach efforts made information gained through the research available in a several ways: field days at participating farms; conference presentations and webinars by farmers and ag professional; public release of recorded interviews between beginning silvopasturists and experienced practitioners; and improving network connectivity and availability of educational resources on the web. A manuscript of the research is also in preparation for a peer-reviewed scientific journal in order to share our findings with academic audiences.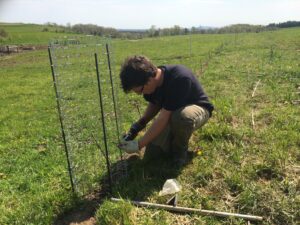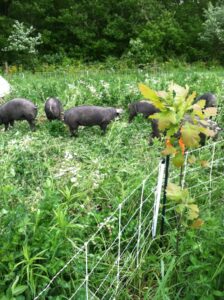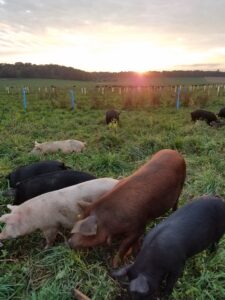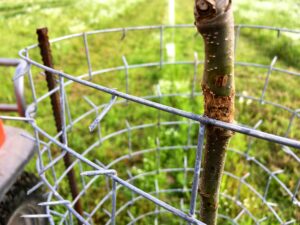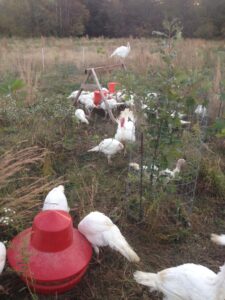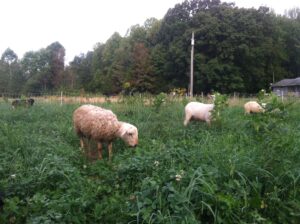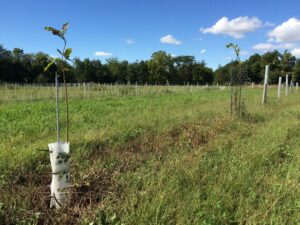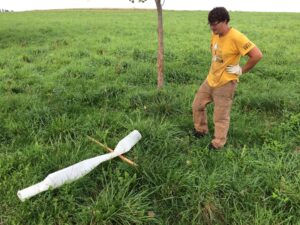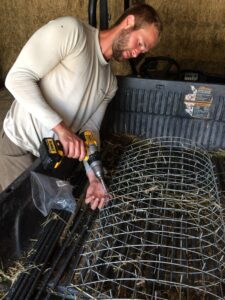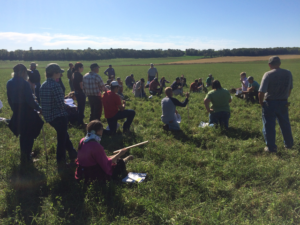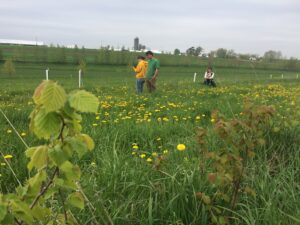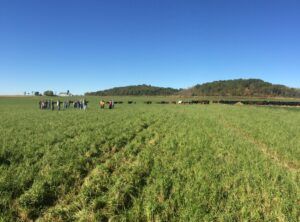 Single-strand electric fencing protects newly planted tree seedlings at Driftless Pastures, WI.
 
Rodent nesting in tree tubes was sometimes a problem at Seven Sisters Farm, IL.
        
Silvopasture for horses and sheep with nut, apple, and pine canopy trees at Badgersett Research Farm, MN.
  
Hog silvopasture with apple trees at Hoch Orchard, MN.
Project objectives:
Perform replicated trials of fencing and tree protection strategies in seedling-stage silvopastures on four farms, each integrating different species of livestock
Track costs and required labor of establishing and managing seedling-stage silvopastures
Record interviews and publish podcasts of conversations between beginning graziers and experienced silvopastoralists about best practices in establishing and managing silvopastures.
Develop an online silvopasture hub for knowledge exchange within a map-based network of perennial agriculture practitioners, researchers, and educators
Share research results via silvopasture hub, field days, conference presentation, and a bulletin
Provide on-farm demonstration of effective silvopasture establishment techniques to field day attendees.