Final report for FNC19-1162
Project Type:
Farmer/Rancher
Funds awarded in 2019:
$25,736.00
Projected End Date:
08/28/2021
Grant Recipient:
Good life Growing
Project Information
Description of operation:
We operate in a 25,000 sq ft facility, with roughly a 2,000 sq ft section utilized specifically for the purpose of this SARE Project. We have 4 specific grow racks that utilize aquaponics to grow lettuce, leafy greens, and herbs using Goldfish biowaste and a Nitrosamonas Bio-Filter (hydroton).
This facility has been operational as of January 2019. Prior to this endeavor we farmed on roughly 5 acres of urban gardenspace using sustainable soil practices (raised beds using organically sourced soil), hydroponics, and aquaponics (in greenhouses).
Summary:
With increased population, climate change, and a globally stressed food system there is a need for innovative vertical indoor farming in both rural and urban communities. Our current agriculture system is heavily focused on commodity crops, leaving very limited options for nutritious food sources; especially in inner city communities suffering in the post industrial wake of blight and vacancy.
The problem is that the indoor farming industry is still in its infancy. The majority of indoor farming technology and equipment is overpriced, and return on investment is not immediate.
Inputs such as growing equipment and supplies, fertilizer, HVAC, synthetic lighting, and general overhead are out of the financial reach for most farmers not already familiar with indoor farming.
We propose to create a modular, vertical Aquaponic Growing Rack System that can produce a broad range of vegetables, an edible fish source that doubles as the nutrient supply, and innovative LED lighting technology that is energy efficient while putting out high density lighting capable of replicating the sun.
We intend to prove that formerly vacant property can be converted into thriving, sustainable, food-producing hubs capable of feeding the masses and creating living wage jobs.
In 2020 our ability to complete our grant project was greatly disrupted due to Covid-19, which hit St. Louis, Missouri shortly after we submitted our 1st progress report in February 2020. All of our final objectives to host Field days and take our exploratory trips were made impossible due to shelter in place rules, travel restrictions, and limited gathering mandates.
We were able to host a few tours in the Summer and Spring of 2020, and while they were not the intended tours/Field Days we had planned for much bigger, broader audiences they were very informative for the groups we engaged with. St. Louis was hit hard again in 2021 with the Covid-19 Delta Variant, and limited our efforts to hosting educational career specialist from Hannibal and Vandalia MO.
Project Objectives:
Our major objectives are:
Construct a modular Aquaponic Grow Rack System prototype that is easy to replicate and scale
Measure yields, growth rates, and profitability per square foot utilizing the prototype
Identify input and overhead expenses to operate the system
Test for quality of crops to consist of taste, appearance, and storage
Host 5 public presentations at the "GreenCubator" facility showcasing the prototype
Share findings through our media outlets and a written report to our local USDA representatives
Share findings with the Missouri Department of Agriculture
Cooperators
Research
Materials and methods:
To accomplish this project we will utilize a multi-phase approach in order to quickly and efficiently achieve our goals. We will begin by sectioning off 5,000 sq ft of our 20,000 sq ft warehouse space within the "GreenCubator" specifically for this effort. Upon selection of the prototype test site we will identify needed materials and supplies for the physical rack. Once a Bill of Materials has been solidified we will have raw materials shipped to the facility and begin construction.
Our estimation is that in order to construct the prototype we will need to source either stainless steel or aluminum for the physical frame of the rack; growing medium, substrate, lighting materials, reservoirs, assorted tools, disposables, sensors and actuators, controllers; seeds, seed starting supplies, liquid nutrients; sanitation and safety supplies, and similar items.
For our demonstration and promotion portion of the project we will need digital and print media, as well as travel expenses accounted for. Software will be developed to enable efficient operation and monitoring of the grow racks.
Once the grow rack system and measuring procedures have been established, we will begin our test grow cycle and begin monitoring performance of the prototype. Our goal is to harvest as we would normally do in a commercial setting on a regular basis to measure yields. We will then market our products to a specific audience of chefs we have recruited to help us test for quality of product.
Once our benchmarks for prototyping have been achieved we will compile our data and open up the "GreenCubator" to the public to tour the facility and experience live demonstrations.
We intend to publish research documentation that we will make available to the public and open sourced online. We will promote our efforts online and via Social Media.
Research results and discussion:
See Educational & Outreach Activities. 
Participation Summary
3
Farmers participating in research
Educational & Outreach Activities
3
Curricula, factsheets or educational tools
16
On-farm demonstrations
1
Published press articles, newsletters
6
Webinars / talks / presentations
6
Other educational activities: We hosted 6 intensive, hands-on educational co-horts through referrals from US Dept of Labor, Missouri Foundation for Health, and St. Louis Youthbuild (a registered pre-apprenticeship agency). These activities spanned two 8-hour days of curriculum delivery and hands-on grow system design, building, setup, and operations. All of the people who participated in this program are now actively involved in our paid internship program, with hopes of becoming formal apprentices through our US Dept of Labor "Grow Technician" program.
*In 2020 our ability to complete our grant project was greatly disrupted due to Covid-19, which hit St. Louis Missouri shortly after we submitted our 1st progress report in February 2020. All of our final objectives to host Field days and take our exploratory trips were made impossible due to shelter in place rules, travel restrictions, and limited gathering mandates.
We were able to host a number of small tours in the Summer and Spring of 2020 per Covid-19 restrictions, and while they were not the intended large scale tours/Field Days we had planned for they allowed for us to provide a lot of information to captive audiences. We had hoped to engage with a larger audience in 2021, but St. Louis was hit hard with the Covid-19 Delta variant and limited our capacity to smaller work groups from Hannibal and Vandalia MO (rural areas) who wanted to replicate our model.
Participation Summary:
24
Ag professionals participated
Education/outreach description:
2019 has been an exciting year for us at the "GreenCubator" located in North St. Louis City Missouri. Thanks to funding through the USDA SARE Program we have been open to create a section of the facility to be dedicated to onsite, hands-on, learning and enrichment activities.
We set out to reach a wide variety of individuals ranging from urban farmers to rural producers, from novice horticulturalists to experienced academics; to do so we sought out our network of Community Development Agencies (St. Louis City Development Corporation, Justine Petersen, Missouri Foundation for Health, Missouri Dept. of Agriculture, Missouri Dept of Economics), Universities (University of Missouri, St. Louis University, Washington University), and Social Impact Influencers (Missouri Coalition for the Environment, Danforth Plant Sciences Center, Urban League of St. Louis, St. Louis YouthBuild, St. Louis Post Dispatch, Social Media).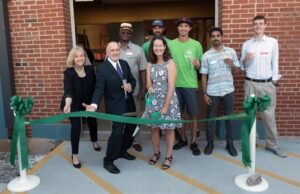 Our approach to reach our target demographics was relatively simple; as an active participant in the University of Missouri Ag-Extensions program, Danforth Plant Sciences Society, and Missouri Coalition for the Environment we would email our primary points of contacts to circulate specific dates and times that we would be hosting field days, educational co-horts, training modules, and open invitations to schedule activities at no cost to the public and in turn mass mailers would be circulated among focused mass emails. This was our primary approach to inform our targeted demographics of our projects, results, and activities.
We also participated in several speaking engagements to promote our efforts at the GreenCubator that resulted in quite a bit of interest from non targeted demographics (politicians, businesses, architectural/engineering professionals, developers, investors, funders, etc). Good Life CEO/Founder was nominated to the City of St. Louis' Vacancy Advisory Board which led to monthly opportunity to promote the program in front of large audiences concerned with vacancy and blight in both urban and rural areas. This created another pipeline of participants and interested groups.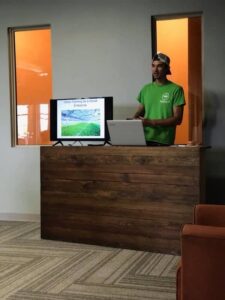 The local media really took interest in this part after we started promoting the efforts on our Social Media Outlets (Facebook and Instagram. We did not use any other social media platforms for this effort). Here is a list of relevant media on the subject:
Through the success of our initial promotional strategy we have since been experiencing a tremendous amount of interest from interested people, small groups, and large groups to take a tour and pick our brain on strategies to copy our system designs and outputs. Additionally, a large volume of requests for tours are from people that just think the overall concept is cool and want to see it in person. This has opened up quite a lot of good dialogue on the possibilities of where food production is heading towards, and the ongoing strategies across the country to better the overall food system from a production, environmental, and sustainability perspective.
We plan to increase our educational efforts and report our results through all of the above methods of outreach and communication. We are actively sending out and receiving emails for our upcoming tours, education cohorts, and open field days. We will continue to use Facebook and Instagram to promote our efforts, and will start to use Twitter more effectively this year. Also, we have a constant stream of media requests that we will continue to participate in, as this project was always designed to be Open Sourced and available for the masses to replicate or expand upon.
Our participants for hands-on educational programming was also a relatively simple process. The US Deptartment of Labor took an early interest in our efforts here in Missouri, and actively publish/promote our Pre-Apprenticeship Program for eager participants wanting to expand their knowledge base in indoor horticulture. Through this, and subsequent promotion from the Missouri Foundation for Health we hosted five intensive cohorts on replicating our Vertical Aquaponics Systems (noted in the "other activities" calculation, accounting for 24 of our "education outreach" participants), including how to source materials and what prices are reasonable to expect.
Through our research we have identified that in our 4'x10'x8' grow rack system, that $10.00 per cubic square foot of produce (salanova lettuce, spinach, premier kale) can be produced monthly in the St. Louis regional market (assuming plant spacing is dense, but not to the point of overcrowding). Volumes varied depending on type of crop, but per month we calculated roughly 1.5lbs of product per cubic square foot was produced. We are working with a 3rd party (Kuna Food Services) to validate the quantities and price points prior to publishing this information per our grant outlines and goals. Once verified, we will document the kit model we created, suggested inputs, and forecasted yields and price points. We will submit this info to the University of Missouri Extensions in Wentzville, Missouri to be published on their outreach outlets available to the public at no cost.
Our technical efforts were focused on identifying farm operation strategies that are proven to work. To do this effectively, we developed, and are further developing, custom software that allows us to gather and store data from our systems. This provides real performance data (yield, energy consumption, germination efficiency, etc.) that allows us to make decisions empirically. This approach is important as we build and operate different iterations of systems because it allows for evaluation based on critical factors; and subsequently will be available to the general public this year (2020) once we've worked out the few remaining bugs.
We also developed cloud connected software (fopd) targeted toward the Raspberry PI single board computer and compatible with various existing grow systems. This software is open source, and due to the low cost of Raspberry PI's is readily accessible to general public. More information about it can be found at
https://github.com/ferguman/fopd/wiki
. 
We also developed a reference design for an inexpensive water monitoring box. Details can be found at 
https://github.com/ferguman/fopd/wiki/Water-Monitor
.  This unit runs the fopd software referenced above and is compatible with the cloud components detailed below.
We developed a cloud api (
https://github.com/ferguman/fopws
) and a web client (
https://github.com/ferguman/fopwc/wiki
) that can serve as reference designs for those wishing to build a cloud capable of monitoring and operating their grow systems. The attached screenshots demonstrate the data charting, crop imaging, and crop data collection operations that the cloud is capable of providing.
Our platform will also strengthen traceability in our operation. This is critical from a safety and compliance standpoint. We want to be able to know what crop was harvested, when it was packaged, what batch is it from and how did we document it. That way, when problems arise, we can pull all the affected product.
Attached to this report are relevant photos, in house developed curriculum, and presentation material.
Learning Outcomes
91
Farmers reported changes in knowledge, attitudes, skills and/or awareness as a result of their participation
Lessons Learned:
We learned that there are many ways to approach indoor vertical farming, and that there are a wide variety of people who have different interests in participating in vertical growing. With that, the common theme for most interested parties is "How do I do this affordably without too much expense, while experiencing high quality yields?".
Our biggest goal was identifying a way to scale in an indoor growing operation that anyone could access; from our past experience we overspent on off-the-shelf, prefabricated hydroponic specific ag equipment. Through this project we were able to identify sources of inexpensive, very similar equipment and supplies. Bulk Ag Supply Stores, Local Pallet Rack Manufacturers, and local Hardware Stores had all of the inputs we needed to achieve the same production as grow systems of similar size and scale that were 300% cheaper; our systems cost around $1,000.00 to produce, where as a 4'x10'x8' system from American Hydroponics or Harvester (two of the most popular suppliers) cost around $3,000.00.
The advantage of implementing our project was identifying the best ways of producing an inexpensive, high performance aquaponic system and being able to share the designs with the general public. As it was not our goal to patent, trademark, or place intellectual property we had no intention of seeking a return on investment needed to produce our system design. There were no loans or investors to pay back, so we could ensure that our focus was placed on showing others how to get into vertical aquaponic farming through an educational approach and share anticipated yields and revenue without any pressure to hold onto "trade secrets".
We would suggest other farmers or ranchers consider what their local demand for produce is. We designed our grow systems to perform well growing lettuce, spinach, and kale as these are high demand products in the St. Louis Metropolitan region, and overall in Missouri. These specialty crops are not grown at large scale volumes due to our state's focus of production being weighted towards cattle ranching, soybeans, corn, and cotton. Other producers from different parts of the US should identify ahead of time what they intend to grow, as that will greatly effect "how" and "why" a system is designed for height and width (i.e, cucumbers or eggplants would need a lot more cubic feet and fewer tiers to grow properly. You would need to know how many cucumbers you would need to sell or eat to realize an economic benefit and timeline).
*In 2020 our ability to complete our grant project was greatly disrupted due to Covid-19, which hit St. Louis Missouri shortly after we submitted our 1st progress report in February 2020. All of our final objectives to host Field days and take our exploratory trips were made impossible due to shelter in place rules, travel restrictions, and limited gathering mandates.
While we were able to host a few small tours in the Summer and Spring of 2020, they were not the intended tours/Field Days we had planned for much bigger, broader audiences. We hope to complete our grant in 2021 once guidelines and restrictions are lifted.
Project Outcomes
103
Farmers changed or adopted a practice
1
Grant received that built upon this project
5
New working collaborations
Success stories:
The biggest success story from this project has been the relationship formed between GreenCubator collaborators and referral sources from STL Youthbuild and Justine Petersens Workforce development programming. While this project was designed for the masses to benefit from across the country, it was a dream come true to see so many economically challenged participants sign up and complete the educational program.
Because of this project, and the ability it gave us to focus on a modular, vertical, easy to replicate "kit" we are able to scale our education efforts on grow system design, build, and operations so that many more residents of North St. Louis City can believe they can participate in agriculture as a way of life. We have employed 12 of the participants who completed affiliated programming full time through this projects results, as well as taken on 5 more interns from St. Louis University who took tours.
This year we plan to expand and scale up our outreach effort and spread the software program throughout regional STEM (STEAM) partners.
Recommendations:
We would recommend that our software and open source kit designs be shared with other producers who would like to give vertical aquaponics a try on a small scale to see if this is something that can be beneficial in their regions.