Progress report for FNC19-1165
Project Type:
Farmer/Rancher
Funds awarded in 2019:
$25,383.00
Projected End Date:
12/28/2021
Grant Recipient:
University of Minnesota Extension
Project Information
Description of operation:
We have an 83 acre beef cattle operation in Pine County. We grow pasture and hay to support 20 stock cows and calves. We have been rotationally grazing cattle since 2008. We have set up 15 paddocks with water access in all paddocks. I manually move the tanks, tubs etc. now which does not let us meet our sustainability goals for the cattle or the humans. We move less frequently or leave back gates open to reduce the physical hassle of moving all the necessary equipment. We have bought extra water tanks but the cost become prohibitive if you want to have multiple of tubs, fly rub, cattle brushes etc.
Summary:
[Images of the completed prototype plus several accessory items.]
Rotational grazing has many environmental and productivity benefits but requires a higher level of management and more time. Moving cattle often can be a hassle to transport water tanks, mineral tubs, fly control rub, fencing, back scratchers, shade, etc. A mobile unit to house this equipment that could be pulled with a 4-wheeler, tractor, or pickup truck would lessen time demands and increase adoption of  true rotational grazing.
There are many benefits ascribed to intensive grazing systems and many how-to references to educate graziers on best practices. Some sources do mention the increased time requirements and increased supply needs for temporary fencing and accessible water. However, I've rarely encountered references to the physical hassle of moving all the associated feedstuffs, supplies, and equipment often needed to support cattle in a real-life cell-grazing situation. I personally dread moving multiple items so much that I've lessened the frequency of my moves to save time and hassle. This is counter-productive. This time crunch is accentuated for any grazier that also works off the farm or has other on-farm demands.
Example of mobile unit concept schematic that we shared with graziers to get feedback in 2019: Grazing Station Drawing
We surveyed grazier needs, conducted focus groups at several Extension field days, designed a prototype, and determined pricing receptiveness. 
A summary of an online survey of  70+ graziers can be found here Mobile Unit Survey 1-21-20. An additional 10 paper copies are also being summarized. 
In 2020 we will created a prototype to test, conduct demonstration days, solicit additional feedback on the prototypes, summarize feedback and testing results and distribute plans and designs and make plans for commercialization if warranted. Due to Covid restrictions all of the activities were postponed till 2021. 
In 2021 a working protype was shown at a field day and discussed. Three grazers participated in testing the prototype on farm. All three expressed interest in purchasing a base unit for $3000 with flexibility to add additional modules as needs arise (bale feeder, creep feeder, back scratcher etc). 
Numerous suggestions were gathered for future enhancement for version 2.0 which is planned for Spring 2022.
Project Objectives:
Determine the features of a mobile unit to support streamlined moves during rotational grazing. Conduct needs survey to prioritize utility needs.
Construct rough prototypes for feasibility testing. Determine customization and sizing needs for operations of different size and objectives.
Determine costing and pricing considerations for adoption by target market(s).
Conduct demonstrations and outreach at field days and with focus groups.
Create final design(s) and determine dissemination strategy - release plans to public, partner with manufacturer to build or other methods.
Final schematic drawings will be completed in 2022.
Example of mobile unit we envisage starting with: Grazing Station Drawing
Cooperators
Research
Materials and methods:
An initial design is attached to illustrate our concept. This may not represent where we end up.
Version-1 SARE-Mobile-Unit-Drawings
Version-2 Mobile Unit Drawing - Farm Chassis and stations v1
Version-3 Will be determined after review of all surveys and focus groups
Version-4 Will be determined after prototype testing in 2021
We will use the conditions existing on the collaborator's farms which are a spectrum of different plant and animal species, farm sizes, equipment sizes, soil types and various grazing practices to represent a fairly broad segment of the intended market. Another large cattle operation (~200 cows) is also interested in the project and may provide another data point to expand the market segments we can address.
We intend to use the feedback from the surveys of graziers to design the original prototype to be built and tested in 2020.
All 2020 interpersonal activities were postponed due to Covid-19 precautions and rescheduled for 2021.
We will use in-field focus groups to do feasibility testing of the first prototype in early summer 2021.n This was done on one farm.
We will use a smaller group of graziers to test the 2nd prototype in August-September 2021. The collaborators will also be measuring move times, horsepower needs, and other operational issues in their own operations to determine final design. A second locations was used in late 2021.
We also held joint field days in 2019 in Wright and Pine counties to discuss the concept and got feedback.
We used field days in September 2020 to gather further customer input and to disseminate the concept. Rescheduled to 2021.
Late 2021 will be used to finalize design, specs, and list of materials and instructions. 
Research results and discussion:
Survey Request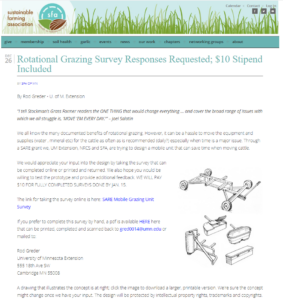 Survey Results Mobile Unit Survey 1-21-20
Participation Summary
80
Farmers participating in research
Educational & Outreach Activities
Participation Summary:
7
Ag professionals participated
Education/outreach description:
We combined discussion of both SARE projects at two field days in 2019.
Field Day at Jerry Ford Farm in Howard Lake, MN on August 21, 2019. SARE grant field day 8-21-19 FINAL
Field Day at Rod Greder Farm in Pine City, MN on August 29, 2019.
In 2020 we were able to get approvals to conduct only 1 field on September 22nd, 2020
Another field day is planned in late July 2021.
Pasture Management Field day 9-22-20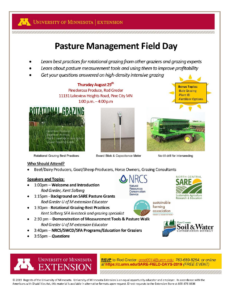 Learning Outcomes
7
Farmers reported changes in knowledge, attitudes, skills and/or awareness as a result of their participation
Lessons Learned:
From the surveys it is clear that there is not one-size-fits-all and that our initial modular approach is still the best way to go. There is also a lot of price sensitivity that we will need to address in any final design. 
I had 7-8 grazers who commented that our design and prototype helped them think about how they could improve their rotational grazing practices with or without using a mobile rotational grazing station.
Project Outcomes
Success stories:
One collaborator expressed interest in making the grazing support stations winter-ready so he could move it between sacrifice paddocks as he bale-grazed. We had not thought of this potential use. This feedback expanded our thoughts to include a attached bale feeder and also a tank heater run by a solar panel.