Progress report for ONC19-066
Project Type:
Partnership
Funds awarded in 2019:
$39,913.00
Projected End Date:
04/30/2022
Grant Recipient:
University of Missouri
Project Information
Summary:
Emerging fruit crops, such as elderberry and aroniaberry, are important value-added crops for small farmers in the rural areas of North Central Region (NCR). Research has proven that developing those native fruit crops as commercial crops will increase incomes and life quality of local farmers, and will also benefit the sustainability of agriculture and ecosystem. However, the low efficiency in harvesting and handling berries (fruits) has been identified as the biggest barrier for the development of elderberry industry according to research funded by SARE. Elderberry farmers in Missouri have developed destemmers to increase the efficiency, but they feel that manual handling (sanitizing and rinsing) needs to be improved to scale up their planting areas. The major goal of this project is to assist local elderberry farmers to develop an automated elderberry handling system that integrates destemming, sanitizing and rinsing procedures to increase the efficiency of fruit handling. The developed system will optimize the destemmer, reduce exposure of farmers to hazard sanitizing solution and their labor intensity, and attract more farmers to grow elderberry and boost the elderberry industry. The project aligns with the priority of NCR-SARE in promoting sustainable agriculture and in improve the life quality of rural communities.
Project Objectives:
The goal is to develop an efficient fruit handling system for elderberries to allow automatically destem, sanitizing and rinsing berries, and potentially for other small fruits and vegetables. The specific objectives include (1) survey and evaluation of the existing technologies used for handling fruits and vegetables; (2) development of a prototype of a handling system for elderberry by adopting and optimizing existing technologies, and (3) evaluation of the developed system in performance and economics. The success of this project will demonstrate and deliver an efficient system for handling elderberries and boost elderberry industry.
Cooperators
(Educator and Researcher)
Research
Materials and methods:
Research goal: To identify the optimal harvest time for higher efficiency of desteming and less loss of berry. 
Objectives: (1) Compare the fruit firmness of different varieties in different maturity stages; (2) Evaluate the efficiency of desteming and amount of berry loss for fruit harvested at different maturity levels; (3) evaluate the impact of the vibration speed and amplitude of a destemmer on work efficiency.
In 2020, due to the COVID, there were not much on-going field research. This will be done in 2021.
Participation Summary
Educational & Outreach Activities
1
Curricula, factsheets or educational tools
1
Webinars / talks / presentations
Participation Summary:
2
Ag professionals participated
Education/outreach description:
The project started from May 2019 and we were focusing on the system development.
Activities in 2019:
(1) Attended the workshop to introduce and kick off the project. There were around 100 farmers and potential farmers from Missouri, neighboring states and Canada, England. The photo below recorded the geographical distribution of participants.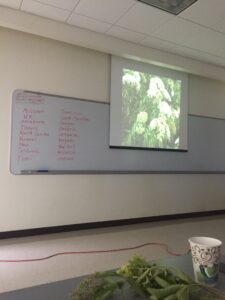 (2) Worked with local farmers and professionals to develop and demonstrate the elderberry processing system.
     a) Elderberry destemer: can upgrade to automation system in future objects.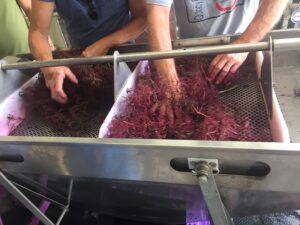 b) Current manual handling (sanitizing and rinsing) elderberries. We will upgrade to automated system in this project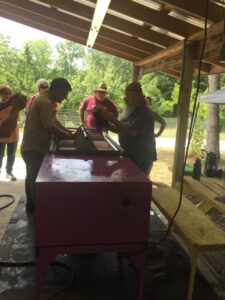 Conveyor belt for the handling system.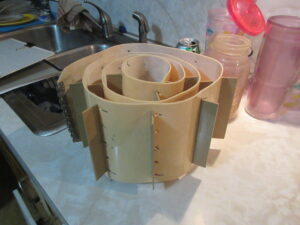 A video clip shows how it works: transmit fruits from one bin to another automatically.
(3) Future plans:
a) Complete the prototype of the elderberry handling system by May 2020;
b) Test in farmers' shop and get ready to be used in summary.
c) Take videos on how to use the machine in July and August and post on Youtube.
d) Publish at least two publications: one extension and one journal.
e) complete report.
Report for 2020:
We planned to complete the elderberry handling system in and spring of 2020 and test it in the summer of 2020. The Covid-19 impacted the progress due to the engineer who was working on this got some health issues. Although the work resumed in the later 2020, some parts were not available due to the restrictions of importing from countries outside US and we had to change our original design. In addition, there were some issues of in the collaboration with collaborators. We expect to address this and figure them out in 2021 summer.
The activities conducted in 2020 include:
 Sample of elder berries were taken for quantifying their firmness, retaining force and quality. 
New design was completed in the late 2020
plans were made for 2021.
One conference abstract was created and will be presented in 2021 ASABE conference. 
fact sheets and papers will be published.
Learning Outcomes
10
Farmers reported changes in knowledge, attitudes, skills and/or awareness as a result of their participation
Key changes:
Food safety and handling

mechanical and automation technologies
Project Outcomes
3
Farmers changed or adopted a practice
5
New working collaborations
Project outcomes:
The project is highly relevant to the NCR SARE's broad-based outcomes and in high potential to benefit regional farmers. We are expecting that the project will contribute to the agricultural sustainability in the following aspects:
(1) Improving the profitability of farmers and associated agricultural businesses. An automation solution will reduce labor intensity and improve elderberry handling ability. Timely processing of harvested fruit will reduce the potential crop losses and allow fruits to be processed in optimal time period that leads to the maximum product value. The adoption of automation solution will ultimately boost the elderberry industry and other native crops in NCR of US and other areas.
(2) Enhancing the quality of life for farmers, communities, and society. Delivery of mechanical and automation solutions will reduce labor intensity and improve the efficiency so that release farmers from long-time and hazard field conditions, such as serious heat and dusty stress, potential injury of hands, etc. to improve their life quality.
(3) Benefit the sustainability of regional agriculture and ecosystem. Adoption of native crops that are part of the ecosystem in regional areas to commercial crops will benefit the regional ecosystem.