Progress report for ONC21-093
Project Type:
Partnership
Funds awarded in 2021:
$39,996.00
Projected End Date:
08/31/2023
Grant Recipient:
Ecdysis Foundation
Project Information
Summary:
Ecdysis Foundation will collaborate with farmers in eastern South Dakota to develop a do-it-yourself guide for repurposing a disc into a low-cost roller-crimper (Figure 1). The cost of this machine will be 30% of a new brand-name crimper. Detailed plans will accompany how-to videos hosted on Ecdysis' YouTube channel and SARE's webpage. We will also conduct cover crop termination trials to test the tool's efficacy on the region's most abundantly planted cover crops.
The latest SARE cover crop survey reports a doubling of cover crop acres over the past 5 years, which has improved soil health on cropland acres. However, farmers regularly rely on disturbances like tillage or herbicides to terminate cover. Roller-crimping is a soil health conscience alternative termination method of popular cover crops, e.g., cereal rye. Insufficient availability of roller-crimpers in many NCR-SARE states coupled with the expense of new machines ($24,500 for a 30 ft crimper) are hurdles preventing the adoption of this soil health practice.
This project advances SARE's mission of transforming agriculture along ecological principles by examining an innovative solution to reduce costs for farmers wanting to adopt roller-crimping, while also providing vital research on the potential for the tool to terminate popular cover crops.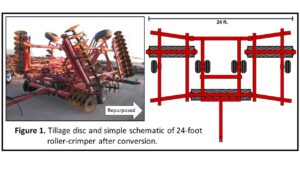 Project Objectives:
Work with local farmers to build a simple, affordable roller-crimper from a recycled disc and salvaged tillage equipment parts.
Record the construction of a roller-crimper, and present the process as a freely available instructional guide and how-to video series.
Establish research and demonstration plots at local farms to study the effectiveness of roller-crimping various cover crops.
Conduct in-person and online outreach and education activities with Ecdysis and community partners, showcasing the roller-crimper for farmers interested in reduced-disturbance cover crop termination.
Cooperators
(Educator and Researcher)
Research
Materials and methods:
This project entails two research projects 1) build an affordable roller-crimper from a recycled disc and salvaged tillage equipment parts (Figure 1) and 2) study the effectiveness of our constructed crimper to terminate various cover crops.
Build an affordable roller-crimper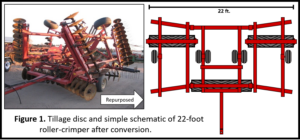 Gather materials
Disc: There are several types of tillage equipment that can be recycled into a roller-crimper, but we found small to mid-size discs to be both affordable and easy to source in the Upper Midwest. For this project, an International 490 (22 ft. wing span) disc was selected as the roller-crimper frame.
Crimper drums: To prevent gaps in cover crop crimping, the crimping drums need to overlap slightly. International 490 22' discs have two 6' wings with a 10' center section. Therefore, we salvaged two 6'8" crimper drums for the wings and on 11' drum for the center. All drums were 16" outside diameter tubes.
Crimper blades and gussets: Steel blades (4" width, 1/4" thickness) were used for crimper blades. Blades affixed to wing drums (n = 88 blades) were cut to 20.75" in length, and blades affixed to center drum (n = 66 blades) were cut to 22.833" in length. Gussets (n = 462) (1.4" x 3", 1/4" thickness) were affixed to the back of crimper blades for support.
Crimper drum caps: Steel plates (n = 12 drum caps, 1.5" thickness) were cut to diameter of crimper drums with 1.75" hole cut into the center to receive factory bearing assembly for attachment of drum to disc frame.
Assembly steps
Remove disc gangs from frame. Save gang assembly for parts or to be sold as salvage to offset some cost of build.
Make any needed repairs to disc frame, remember to check tires and hydraulic lines.
Prepare crimper drums for welding blades. 

Remove rust, paint, or any other foreign material from tube so drum surface is only clean metal.
Mark rows for attachment of crimper blades. First, a chalk line is snapped onto drum surfaces running the length of the drum. Chalk lines (n = 22 rows/drum) are spaced 2.2848" apart to ensure crimper rows are all equidistant apart on 16" outside diameter drums.
Mark attachment points of crimper blades along chalk lines. Crimper blades are arranged in a staggered fashion with 1" overlap between rows (Figure 2).

Weld gussets to crimper blades. Three gussets were welded to back of crimper blade; one in the center and the other two gussets 1" from the blade edge.
Weld blades in premarked slots on crimper drums.
Weld endcaps onto crimper drums.
Attach crimper drums to disc frame.
Test the ability of crimper to terminate a variety of cover crops
It is important to research the roller-crimper on participant farms to demonstrate scalability to other operations in the region. Therefore, studies on the effectiveness of the constructed roller-crimper on cover crop termination and associated ecosystem services will be conducted on cooperating farmer fields.
First, we will test the effectiveness of the roller-crimper in terminating a variety of cover crop species (such as: hairy vetch, oats, field peas, millet, etc.) at different growth stages (May 2022-September 2022). Cooperating farmer fields have a variety of cover crop species planted in their fields. The constructed roller-crimper will be applied to the cover crops in the spring of 2022. Termination of cover crop will be monitored over the summer by measuring regrowth of cover crop vegetation within square meter quadrats (n = 25/field).
Second, we will evaluate how terminating cover crops using a roller-crimper affects weed growth and establishment compared to herbicide terminated cover crops (May 2022-September 2022). Weed growth will be will be assessed within square meter quadrats (n=25/termination treatment/field) in the herbicide terminated and roller-crimper terminated portions of fields. Fields will be the same ones used to assess the effectiveness of the roller-crimper to terminate various cover crops.
Third, we will compare insect diversity and pest suppression in cash crops following common cover crop termination methods (roller-crimping and herbicide) (May 2022-September 2022). Insect diversity and pest suppression will be will be assessed within square meter quadrats (n=25/termination treatment/field) in the herbicide terminated and roller-crimper terminated portions of fields. Fields will be the same ones used to assess the effectiveness of the roller-crimper to terminate various cover crops.
Finally, we will calculate the profitability and crop yield differences between herbicide and roller-crimper cover crop termination (September 2022).
Research results and discussion:
Build an affordable roller-crimper
The roller-crimper is currently under construction. Materials have been sourced, disc gangs have been removed from the disc frame, and crimper blades have been welded to crimper drums. A video outlining our progress can be seen by following this link: https://fb.watch/beqMhOLbxO/
Test the ability of crimper to terminate a variety of cover crops
Testing of the roller-crimper for cover crop termination will begin spring 2022.
Participation Summary
4
Farmers participating in research
Educational & Outreach Activities
Participation Summary:
Education/outreach description:
Education and outreach activities are scheduled to begin late summer 2022. Thus, no educational activities have occurred to date.
Learning Outcomes
3
Farmers reported changes in knowledge, attitudes, skills and/or awareness as a result of their participation
Project Outcomes
4
New working collaborations
Project outcomes:
This project is still on-going as of Dec. 31, 2021, with all of the education and outreach scheduled to occur in the second half of 2022. However, the education and outreach plans for the project are intended to have the following outcomes.
This project will allow farmers to build and use a unique tool, the roller-crimper, by manufacturing it themselves or giving building plans to a local machine shop (the cost of which is included in this proposal; if farmers manufacture the crimper themselves it would be an additional cost savings). As a result of developing accessible roller-crimper plans farmers will begin to consider crimping as a feasible alternative to tillage and herbicides for cover crop termination. In 2022, 500 acres of cereal rye cover crops belonging to farmer partners will be terminated using the new roller-crimper. The number of acres will increase as more farmers use plans and videos from this project to develop their own crimpers. We anticipate 90% of cover crop users will express an increased interest in terminating cover crops by roller-crimper and expect 50% of farmers will show an interest in using plans to build their own roller-crimper. Within 5 years of initiating this project, Ecdysis expects to publish 15 popular press and 1-3 peer reviewed articles detailing research and farmer reactions to using roller-crimpers resulting from this proposal. The roller-crimper will allow Ecdysis to significantly bolster publicly available data on circumstances where crimping is a favorable technique.