Project Overview
ONC21-093
Project Type:
Partnership
Funds awarded in 2021:
$39,996.00
Projected End Date:
08/31/2023
Grant Recipient:
Ecdysis Foundation
Commodities
Agronomic:

annual ryegrass, corn, millet, oats, peas (field, cowpeas), soybeans, vetches
Practices
Crop Production:

cover crops

Production Systems:

agroecosystems
Proposal abstract:
Ecdysis Foundation will collaborate with farmers in eastern South Dakota to develop a do-it-yourself guide for repurposing a disc into a low-cost roller-crimper (Figure 1). The cost of this machine will be 30% of a new brand-name crimper. Detailed plans will accompany how-to videos hosted on Ecdysis' YouTube channel and SARE's webpage. We will also conduct cover crop termination trials to test the tool's efficacy on the region's most abundantly planted cover crops.
The latest SARE cover crop survey reports a doubling of cover crop acres over the past 5 years, which has improved soil health on cropland acres. However, farmers regularly rely on disturbances like tillage or herbicides to terminate cover. Roller-crimping is a soil health conscience alternative termination method of popular cover crops, e.g., cereal rye. Insufficient availability of roller-crimpers in many NCR-SARE states coupled with the expense of new machines ($24,500 for a 30 ft crimper) are hurdles preventing the adoption of this soil health practice.
This project advances SARE's mission of transforming agriculture along ecological principles by examining an innovative solution to reduce costs for farmers wanting to adopt roller-crimping, while also providing vital research on the potential for the tool to terminate popular cover crops.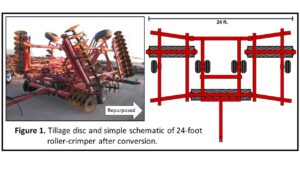 Project objectives from proposal:
Work with local farmers to build a simple, affordable roller-crimper from a recycled disc and salvaged tillage equipment parts.
Record the construction of a roller-crimper, and present the process as a freely available instructional guide and how-to video series.
Establish research and demonstration plots at local farms to study the effectiveness of roller-crimping various cover crops.
Conduct in-person and online outreach and education activities with Ecdysis and community partners, showcasing the roller-crimper for farmers interested in reduced-disturbance cover crop termination.