Progress report for ONE19-351
Project Type:
Partnership
Funds awarded in 2019:
$29,968.00
Projected End Date:
07/31/2022
Grant Recipient:
Cornell University
Project Information
Project Objectives:
The goal of this project is to answer the question, "How do the conditions of postharvest curing and storage impact the levels of infection by Eriophyid mites and Fusarium spp. in garlic grown in the northeast?" We will achieve this goal by addressing the following objectives:
Study and understand the impact of curing temperature and humidity on the postharvest levels of Eriophyid mites and Fusarium spp as well as overall garlic quality.
Study and understand the impact of storage temperature and humidity on the postharvest levels of Eriophyid mites and Fusarium spp as well as overall garlic quality.
Document research findings in grower-focused guidance publications that address both the ideal conditions determined from experimentation and simple, cost-effective systems that can be used to achieve the target conditions.
Share project findings in grower-focused educational events to support learning and adoption of improved practice.
Introduction:
Garlic growers have improved their growing techniques and drying techniques through support from previous research projects funded by SARE and other granting agencies. A remaining challenge for growers is storage of their crop either until planting or for sale at winter markets. Often, garlic that is of poor quality coming out of storage appeared healthy and in good condition after drying. Key storage issues include Fusarium, Botrytis, and the recently identified Eriophyid mite. Losses out of storage can be devastating and sometimes almost the entire crop is lost (grower reports; team farm visits).
New York is the fourth largest producer of garlic in the United States with the highest producing states all on the West Coast.  New York is also the seed source of choice for the Northeast and the Midwest, as New York-grown garlic performs better in these regions than seed produced on the West Coast. Garlic is grown on approximately 400 farms in New York, mostly in small acreages that follow low-input or organic practices and primarily supply niche local markets. The New York garlic industry has expanded tremendously from only 11 acres in 1992 to approximately 300 acres in 2012 (Census of Agriculture), and 10% of all New York vegetable farms report growing garlic, which is more than broccoli, cabbage, lettuce carrots or onions. The value of New York garlic production is not well defined.  However, assuming yields of 10,000 to 16,000 lb per acre and a conservative price of $9.00/lb, the industry is worth between $27 and $43 million annually.
In 2018, the project PI and a garlic grower implemented very different post-harvest practices on garlic from one seed lot grown in the same field prior to planting. Garlic handled by the team was of excellent quality, while the grower's garlic was dehydrated with loose wrapper leaves and had some Fusarium. The practices differed in stem length, curing environment, and storage environment, so it isn't clear which step in the postharvest process made the difference. These findings demonstrate the effects that postharvest practices have on garlic quality warranting further research.
The effects on garlic quality of storage conditions alone or the combined effects of curing and storage post- harvest practices are not well understood. We know through dozens of farm visits where storage is a problem that issues appear to arise unexpectedly, and a grower who has had excellent quality in past years can have a bad year with significant losses despite not making any changes to systems or practice. Because many drying and storage systems are passive, weather and associated temperatures and relative humidity seem to be significant factors. In order to justify improved environmental control systems, we need clear results indicating which environmental conditions lead to predictable success.
Since 2011, the project PI has been leading work on garlic production, with projects addressing garlic bloat nematode (ONE 11-149), post-harvest handling (LNE 12-319), fertility, and most recently Fusarium disease management (LNE 16-353). During the Fusarium project, the garlic team observed that Fusarium diseases of garlic appeared to be part of a complex, often acting as a secondary pathogen following injury by another fungus, environmental stress/damage, or insect/nematode feeding. In 2016, the garlic team identified another pest of garlic that was often associated with Fusarium, the Eriophyid mite, which caused severe clove dehydration in storage and lead to substantial crop losses on several farms. Very little is known about the lifecycle, or how to manage this newly rediscovered pest in New York.
The field-based Fusarium management study has taught us that successful suppression of this disease is based on an integrated approach which minimizes injury, promotes plant health, and avoids environments conducive to disease. There are still unanswered cultural control questions which we will continue to pursue, but post-harvest quality management, particularly in storage, is now the most significant issue still facing the garlic industry.
Basic guidance related to postharvest handling of garlic indicates a field drying step just following lifting is helpful to minimize mechanical harvest and handling damage.  After this step, a more complete curing step is suggested, but often with very little guidance about the conditions to follow (Gross, 2014). Some producers follow the guidance for onions (80 F, 70-80%RH, with air flow to ventilate), but variably so. Often, the level of effort is low and the level of control is also.
More recent research points to the benefit of a high temperature curing step (Abd-el Rahman, 2009). This approach utilizes heated air and improved RH control to expedite the curing process and improve the quality of the cured leaf laminate (Eshel et al, 2014).  The impact of these processes on diseases and pests which proliferate in long term storage is not well described.  Currently some growers in the northeast are using high tunnels to increase heat and decrease relative humidity during drying based on positive research results (Stewart 2013), but this passive system may still be contributing to long term storage issues. Ventilation is typically focused on mixing the air in the space, not always providing adequate air exchange with outside air, and almost never provides air flow through the curing bed of product. It is likely that there are microclimates of high temperature and high humidity in the areas closest to the curing bulbs and the impact of this deviation in environmental condition is not clear.  Additionally, this step is usually carried out in spaces with large diurnal swings in temperature and humidity which may also have a role in the quality of the resulting bulbs.
The project co-PI from UVM Extension, Chris Callahan, has also been focused on postharvest handling of various crops of economic significance to the region.  In an earlier SARE grant (ONE13-176) he formalized a curriculum around storage for farmers and processors.  This work helped to translate existing evidence-based knowledge from larger volume production regions into practitioner-focused workshop events and associated resources to improve long-term storage conditions of various crops including garlic. This work highlighted the need for focused work on curing and precooling which materialized as a later SARE project (LNE16-347).
Post-harvest management of Fusarium disease has been extensively studied in grain crops, with work in wheat and corn demonstrating methods to eliminate Fusarium in storage. A study in field corn eliminated Fusarium from seed through sealed storage at both 86°F and 10% seed moisture for 10 months and at 77°F with 14% seed moisture for 6 months (Kabeer et al, 2007). 77° F is considered within the range of optimal short-term storage for garlic; what is not clear is how this affects Fusarium in higher moisture garlic seed.
Eriophyid mites, specifically Acerius tulipae, has been identified as a world-wide pest of garlic and has been specifically studied in other production regions. Work conducted in south-western France on growth rates on green garlic leaves indicates that the optimum temperature for development is 25°C and 100% relative humidity. At these conditions, mites develop from egg to egg in about 20 days. As relative humidity drops below 75% and temperatures rise above 30° C, egg mortality increases. 45° C for just one hour leads to complete egg mortality, and temperatures below 6° C pause development (Courtin et al, 2000). This work needs to be replicated on storage garlic.
CITATION LIST
Abd-el Rahman, M. M., & Ebeaid, M. T. (2009). Some Factors Affecting Artificial Curing of Onion Bulbs and its Effects on the Storability. Misr J. Ag. Eng - Process Engineering, 26(2), 905–921.
Courten, O; Flauvel, G; and Leclant, F. Temperature and relative humidity effects on egg and nymphal development of Aceria tulipae (K.) (Acari : Eriophyidae) on garlic leaves (Allium sativum L.). Ann. appl. Biol. (2000), 137:207—211
Eshel, D., Teper-Bamnolker, P., Vinokur, Y., Saad, I., Zutahy, Y., & Rodov, V. (2014). Fast curing: A method to improve postharvest quality of onions in hot climate harvest. Postharvest Biology and Technology, 88, 34–39. https://doi.org/10.1016/j.postharvbio.2013.09.002
Gross, K. (2014). USDA Handbook 66: The Commercial Storage of Fruits, Vegetables, and Florist and Nursery Stocks. Retrieved from https://www.ars.usda.gov/ARSUserFiles/oc/np/CommercialStorage/CommercialStorage.pdf
Kabeer, F; Hill, M.J.; and Hampton, J.G. Effect of maize seed storage conditions on the survival of Fusarium spp. Seed Science and Technology Vol 25, p. 329-332. 1997.
Mann, L. (1952). Anatomy of the Garlic Bulb and Factors Affecting Bulb Development. Hilgardia - A Journal of Agricultural Science Published by the California Agricultural Experiment Station, 21(8), 195–231.
Stewart, C. (2013) Garlic post-harvest trial results. New England Fruit and Vegetable Conference Compendium, p. 122-124. https://rvpadmin.cce.cornell.edu/uploads/doc_773.pdf
Stewart, C and Hay, F.S. (2017) Eriophyid mite: Micro-scourge of garlic. Produce Pages, Vol 3 issue 4, 12-14. https://rvpadmin.cce.cornell.edu/uploads/doc_774.pdf
Cooperators
(Educator and Researcher)

(Educator and Researcher)
Research
Materials and methods:
TEST A
Year one: Collection of post-harvest curing condition information at up to 25 farms
Purpose: Understand the in-situ curing conditions at various farms with various physical setups and controls.
Hypothesis: Postharvest curing conditions at farms are varied due to the physical arrangement and controls used.
Protocol: Garlic of one seed origin is grown in one location and then harvested, topped, bagged, graded to ensure uniform distribution, and immediately distributed in mesh onion bags to up to 25 farms across New York with a variety of drying and storage conditions, and due to geographic range, a variety of weather conditions. Growers self-report curing and storage conditions through a brief survey, and collect dates garlic is moved to different environments. Photos are encouraged. Data loggers (Omega OM-92) are placed with garlic, and log temperature and relative humidity in proximity to the survey bulbs during the curing and storage steps.  Site visits are conducted to capture setup and to take calibrating measures of temperature (calibrated Delta-Trak digital thermometer), relative humidity (Weksler sling psychrometer) and air speed (hot wire anemometer). Bulbs are collected in late September and rated for Fusarium severity (% clove infestation from representative sample) and eriophyid mite severity (% coverage from representative sample). Healthy garlic not destroyed by sampling is re-planted for year two study.
Results: Results from years one and two are currently being analyzed by Hoepting and will be included in the final report.
TEST B
Year one: Assessment of stem cutting effects on long-term storage
Hypothesis: cutting the stem does not affect the storage life of garlic
Protocol: One partner farm houses a sample of garlic with tops left on and one with tops left off in a traditional tunnel drying system. Garlic is trimmed to 1.5 inches when dry and moved into storage at 65 to 75 degrees and 75% relative humidity. In late September it receives Fusarium and mite rating, as well as weight loss from drying to September. Garlic is assessed again monthly until February. Data are analyzed with a paired T-test.
Results: this work was moved to year two of the project due to Covid restrictions and final data will be collected in February, 2022. Data will then be analyzed and included in the final report.
TEST C
Year one: Post-harvest curing condition trials
Purpose: Understand the impact of curing air temperature and relative humidity on bulb quality and prevalence of postharvest pest and disease.
Hypothesis: Curing of garlic using two different air temperatures and relative humidities will result in statistically significant differences in the quality of cured garlic and in the prevalence of Eriophyid mites and Fusarium spp.
Protocol: Garlic of single production origin will be held at one of four curing conditions for at least 10 days. Weekly samples will be taken to be measured for weight (and weight loss from start), neck firmness (measured with penetrometer), cross sectional clove / leaf laminate morphology (digital photography and measurement), microscopy (digital imaging), and water activity for a given sample volume and location during curing, and bi-weekly samples will be taken during storage. Visual appearance, weight loss (~10-11% target), and neck firmness (quantitative penetrometer measure to be determined based on tactile experience) will be used to assess completion of curing.  Both mite and fusarium populations will be measured at the start of the curing process and at the end of curing / start of storage, and then at the end of storage. Multiple two-way analyses of variance will be used to test for the significance of impact on quality characteristics by curing and storage conditions.
Curing Conditions:
T1 = 80 °F            RH1 = 90% RH
T2 = 80 °F            RH2 = 70% RH
T3 = 105 °F          RH3 = 90% RH
T4 = 105 °F          RH4 = 70% RH
Storage Conditions:
T5 = 32 °F            RH5 = 70% RH
T6 = 32 °F            RH6 = 90% RH
T7 = 60 °F            RH7 = 70% RH
T8 = 60 °F            RH8 = 90% RH
TEST D
Year two: Post-harvest assessment, part two
Hypothesis: adjusted based on important lessons learned from year one survey
Potential protocol (Pending year one findings): Based on year one protocol with adjustments as indicated by learning.
TEST E
Year two: Assessment of stem cutting effects on long-term storage
Identical to year one protocol
Research results and discussion:
Preliminary results:
Test A: results from year one (2019) are attached to the report. Results from year two (2020) are still being analyzed. Sample size will be somewhat smaller in year one due to travel restrictions posed by Covid-19. The vast majority of test sites will be in 1-2 hours driving distance of the Western NY Co-PI, Christine Hoepting. Copy of Post harvest garlic study year one Hoepting
Test B: The grower cooperator inadvertently mowed all garlic in the research plot, resulting in this test not being able to be carried out. Garlic was still able to be used for test C.
Test C: Garlic produced by PI Stewart was harvested and a randomized sample was extracted and sorted into three primary sub-samples; (1) medium to large bulb size, trimmed to 2-3" stalk, (2) small to medium bulb size, trimmed to 2-3" stalk, and (3) mixed bulb sizes, trimmed to 6-7" stalk. The overall sample size was 553 bulbs weighing 41.9 kg (76 g/bulb mean average including stems)
Figure 1 (below) - Primary sub-samples developed from one single harvest sample of a source garlic population. From left to right: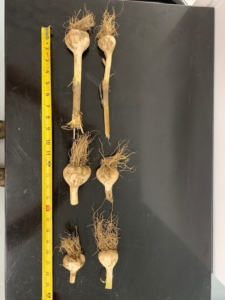 mixed bulb sizes with 6-7" stalk, medium to large bulb size with 2-3" stalk, and small to medium bulb size with 2-3" stalk.
These three primary sub-samples were further divided into four roughly equal secondary sub-samples to allow for application of 4 curing treatments as follows:
Curing Trials

Treatment C1

Cool and Humid

Treatment C2

Cool and Dry

Treatment C3

Warm and Humid

Treatment C4

Warm and Dry

80 F / 90 % RH

80 F / 70 %RH

105 F / 90 %RH

105 F / 70 %RH

S1 - Primary Sub-sample 1 - Large, trimmed 2-3"

Sample S1C1

Sample S1C2

Sample S1C3

Sample S1C4

S2 - Primary Sub-sample 2 - Medium, trimmed 2-3"

Sample S2C1

Sample S2C2

Sample S2C3

Sample S2C4

S3 - Primary Sub-sample 3 - Mixed, trimmed 6-7"

Sample S3C1

Sample S3C2

Sample S3C3

Sample S3C4
Secondary sub-samples were weighed and put into curing test chambers held at the curing conditions for each treatment. The secondary sub-samples were weighed daily for the first week and then every two or three days for the next several weeks. Visual and physical inspection of individual bulbs was conducted to determine curing completion.  The qualitative measures of curing completion included: neck stem stiffness, ease of outer leaf delamination (peeling), degree of separation between clove and inner leaf, and feeling for residual moisture where clove tips met the surface of the stem.  Weighing and curing continued until completion of curing was confirmed with visual qualitative measures and also confirmed by noting that the change in mass resulting from drying for a given secondary sub-sample became asymptotic. This was at approximately 25-27% total mass loss from drying for S1 and S2 sub-samples (trimmed to 2-3") and 37-40% total mass loss from drying for S3 sub-samples. The difference between these sub-samples was believed to be associated with the extra mass and leaf material included in S3 resulting from less stem trimming.
The total curing time varied between primary sub-samples and treatments as follows.
S1 - Primary Sample 1

Large, trimmed 2-3"

S2 - Primary Sample 2

Medium, trimmed 2-3"

S3 - Primary Sample 3

 Mixed, trimmed 6-7"

Treatment C1

Cool and Humid

80 F / 90 % RH

454

451

785

Treatment C2

Cool and Dry

80 F / 70 %RH

262

259

452

Treatment C3

Warm and Humid

105 F / 90 %RH

168

165

217

Treatment C4

Warm and Dry

105 F / 70 %RH

140

137

168
The findings from this curing trial to date are:
Garlic trimmed to 2-3" stems cures more quickly than garlic cured with 6-7" stems.
Garlic cured at higher temperature and lower humidity (C4) cures much more quickly than at lower temperature and higher humidity (C1)
In the curing conditions tested, temperature was a more significant influence on curing time than humidity.
At the end of the curing trial, each of the secondary subsamples were further split into four tertiary subsamples for a storage trial which is underway according to the following plan.
| | | | | |
| --- | --- | --- | --- | --- |
| Storage Trials | Chamber 1 | Chamber 2 | Chamber 3 | Chamber 4 |
| | Treatment S1 | Treatment S2 | Treatment S3 | Treatment S4 |
| | 32 F / 70 RH | 32 F / 90 RH | 65 F / 70 RH | 65 F / 90 RH |
| Population 1 - Large, trimmed close | S1/C1, C2, C3, C4 | S1/C1, C2, C3, C4 | S1/C1, C2, C3, C4 | S1/C1, C2, C3, C4 |
| Population 2 - Medium, trimmed close | S2/C1, C2, C3, C4 | S2/C1, C2, C3, C4 | S2/C1, C2, C3, C4 | S2/C1, C2, C3, C4 |
| Population 3 - Mixed longer stem | S3/C1, C2, C3, C4 | S3/C1, C2, C3, C4 | S3/C1, C2, C3, C4 | S3/C1, C2, C3, C4 |
Post-harvest survey results were collected from 10 farms representing 15 different storage conditions as part of the survey. This data has not been analyzed.
The more formal tests could not be completed last year because of the mis-timing of the grant start with the garlic harvest.
This section will be updated with data in year two.
Test D: Completed during 2021 growing season
Test E: Following B, completed during 2022 (with B completed in 2021)
Research conclusions:
Conclusions for the three experiments will be articulated in February, 2022, prior to educational meetings, and will be included in the final report.
Participation Summary
10
Farmers participating in research
Education & Outreach Activities and Participation Summary
1
Curricula, factsheets or educational tools
2
Published press articles, newsletters
2
Webinars / talks / presentations
Participation Summary:
5
Number of agricultural educator or service providers reached through education and outreach activities
Education/outreach description:
All outreach is in progress, scheduled for spring 2022. Numbers listed are estimates, to be replaced by actual numbers in final report.
Garlic school: March 2022. Topics to include: Results of post-harvest survey (Hoepting), Results of controlled atmosphere drying and curing study (Callahan), Fusarium management strategies (Stewart-Courtens). Expecting 60-75 attendees.
Articles: "summary of post-harvest survey for garlic disease and insect management": Hoepting, to be published spring 2022. "Factors affecting post-harvest quality in garlic: a controlled atmosphere study" Stewart-Courtens and Callahan, to be released spring 2022.
Factsheet: "Best practices to reduce diseases and increase storage life of garlic in the northeast" to be published spring 2022
Learning Outcomes
Key areas in which farmers reported changes in knowledge, attitude, skills and/or awareness:
We have not reported any outcomes as of this date.
Project Outcomes
Project outcomes:
This section is not completed yet.