Progress report for WRGR21-009
Project Type:
Research to Grass Roots
Funds awarded in 2021:
$80,000.00
Projected End Date:
08/31/2023
Host Institution Award ID:
G211-22-W8619
Grant Recipients:
Ecostudies Institute; Washington State University Extension; Natural Resources Conservation Service; U.S. Fish and Wildlife Service; Thurston County; Colvin Ranch; Riverbend Ranch; Tracking Y Ranch; Thurston Conservation District
Project Information
Abstract:
The 2018 WSARE project titled "Ecological and economic benefit-cost comparison of grazed and ungrazed prairie land for critical species protection in western Washington" (#SW18-103) identified that conservation rotational grazing practices can be used to establish and maintain native plant and animal communities while supporting agricultural productivity. Through economic analyses and social surveys, the research team also determined what financial or social incentives might be utilized to support conservation actions on working lands. However, to actually build those incentive programs and integrate conservation actions on working lands, a broad education and outreach strategy must be utilized to engage the landowners, producers, funders, regulatory agencies and conservation professionals. We propose constructing a regional grassland grazing association focused on sharing the principles, practices and programs that support sustainable grazing businesses and healthy grasslands. The content will be driven by the needs and interests of the producers and events and resources will be coordinated by an interdisciplinary team including NRCS agricultural professionals, university extension staff, conservation district education specialists, non-profit conservation ecologists, USFWS biologists, and county planners. This team will develop and host online and in-person workshops, webinars and on-site demonstrations on topics of conservation rotational grazing, cost-share and incentive programs and work together to develop innovative marketing approaches for prairie-friendly agricultural products. Utilizing multiple outreach and education venues (synchronous & asynchronous online events, in-person indoor and outdoor events) will allow for the greatest flexibility as we respond to changing COVID-19 guidelines and it will maximize the community reach of these activities.
Project Objectives:
This project aims to share information across agencies, disciplines and cultures, while also strengthening the livestock producer community in southwest Washington. While agriculture-based committees and organizations exist, none are focused on livestock producers, with the specialized needs, challenges and opportunities that exist within that community. Due to the fact that most grazing lands in southwest Washington are located on remnant prairies, these ranchers have the unique challenge of managing a successful business while also protecting endangered species on their property. By creating a venue for information sharing, easy access to cost-share and funding opportunities, and enhanced community support, we hope to generate both business and conservation gains for producers in this region. Our four objectives for this project include:
Connect stakeholders by developing an interdisciplinary, multi-agency, rancher-led grassland grazing association with a minimum of ten participating ranching businesses.
Expand knowledge and skills associated with conservation grazing principles and practices within the agricultural, conservation and regulatory communities, using results from previous WSARE studies, example conservation grazing management plans and a peer-reviewed Conservation Grazing Guide developed in the previous WSARE study.
Increase utilization and knowledge of cost-share and easement opportunities among private landowners and document landowner interest in conservation grazing programs.
Improve marketing and economic opportunities for regional producers engaged in conservation programs through the development of a marketable prairie-friendly agriculture product label.
Introduction:
Farmland and prairies in southwest Washington are threatened, having contracted by over 100,000 acres (65% reduction) and 165,000 acres (>90% reduction), respectively over the past 100 years (USDA-NASS 2017; USDA-NASS 1950). Both contribute ecologically, economically, socially, and culturally to the region. Recent listings of threatened and endangered prairie species have increased tensions, but also inspired partnerships across the farming, conservation, and regulatory communities.
Several recent efforts have identified a striking opportunity to build a coalition for conservation on grazed grassland around a motivated ranching community. A 2018-2020 WSARE evaluation of species protection on working lands, the Thurston County Habitat Conservation Plan (HCP) and the Sentinel Landscape group all suggest large-scale funding and key partnerships are within reach to protect habitat and working lands in southwest Washington.
A 2018 WSARE-funded research project (#SW18-103) identified that specific grazing practices can be used to establish and maintain native plant and animal communities while supporting productivity. Through rotational grazing, spring deferment, and native seeding (termed 'conservation grazing practices', or CGPs), the native species richness on grazed farms increased with no detrimental impacts on forage (Bramwell et al. 2019). Additionally, federally threatened Mazama pocket gopher (Thomomys mazama) occupancy was nearly equivalent between ranches and prairie preserves. Through economic and survey analyses the team also determined financial and social incentives that resonate with ranchers. To build incentive programs and implement conservation actions, a strategic education and outreach strategy must engage landowners, producers, funders, regulators and conservation professionals.
The Thurston County HCP has established prairie landscape conservation goals and a foundation from which they can integrate working lands and prairie preserves into landscape-wide conservation. While the previous WSARE-funded project identified and quantified habitat value of working lands, additional outreach is needed to raise awareness among ranchers of incentive options, disseminate research findings, identify eligible conservation acreages, train technical service providers and regulators regarding conservation grazing, and develop tools to support adoption. These actions will create the framework to successfully incentivize conservation on working lands in the HCP.
In 2012, the Sentinel Landscape Program, a partnership between the Departments of Defense, Interior and Agriculture, identified prairies of southwest Washington as the first Sentinel Landscape in the country. This designation recognized the need to conserve working lands to protect rare species around Joint Base Lewis McChord. This program has developed tools for ranking conservation easements, a strategic plan to implement landscape-wide conservation, and convened partners. This project will connect this program to the ranching community and specific grazing practices for prairie protection.
Utilizing existing local data and knowledge, partnerships, and regulatory infrastructure, we will support development of a rancher-led association and coordinate a strategic conservation grazing education and outreach plan. This team will host farm tours, demonstrations, webinars and workshops to share conservation grazing principles and practices, information about incentive programs and farmer-prioritized marketing strategies for prairie-friendly products. This will support relationships in the grassland grazing community, protect working lands, enhance habitat for endangered species, and generate economic opportunity for producers (Figure 1). 
Cooperators
Education & Outreach Initiatives
Grassland Grazing Association
Objective:
Connect stakeholders by developing a a rancher-led grassland grazing association supported by an interdisciplinary, multi-agency education and outreach team
Description:
In three years of Western SARE-funded prairie grazing research trials, a good degree of
cohesion and interest among Thurston County ranchers was achieved. Ranchercollaborators
on this proposal want to build on this cohesion by forming a grassland grazing
association to holistically support the ecological, economic and social sustainability of
grassland-based livestock enterprises. The rancher-driven association will provide a
platform for networking, on-farm demonstrations, and workshop education and outreach
deliverables focused on CGPs. To ensure relevance and retain the interest of members,
ranchers will 'own' the entity with the administrative, funding, and organizational support
provided by the proposal partners. Conservation grazing topics will be nested within
rancher-identified educational topics to deliberately support the environmental as well as
the social and economic aspects of sustainability. This addresses input from one
of our rancher-collaborators that "if you only talk about butterflies and gophers, you're
going to lose the ranchers' interest pretty quickly." As COVID-19 conditions permit, two inperson
meetings with food, education, socializing, and networking will be held in winter
2021/spring 2022 and winter 2022/spring 2023. These meetings will include presentations
on conservation goals of the grassland grazing association and rancher-selected topics.
Outcomes and impacts:
Project partners organized the inaugural Grassland Grazing Association meeting on October 26, 2021. This meeting was hosted by one of our producer cooperators (Kevin Jensen) at the Riverbend Farm wedding barn. In addition to project partners from Ecostudies Institute, Thurston Conservation District, WSU-Extension, US Fish and Wildlife Service and NRCS, a hand-picked group of ~15 producers from around the region that represented different genders, ages, size of operation and type of operation (cattle, sheep, goats, etc.) were invited to attend. We focused on this small select group to start for both safety (limiting group size for COVID-safety considerations) and effective communication purposes. A total of twelve producers attended, along with ten agency representatives. Participants gathered in the open-air barn for a meal and open discussion before the formal program. After introductions, we introduced the concept of the Grazing Association and then divided into small groups to discuss the following questions:
What do you need to be more successful in managing land, managing livestock, marketing and education/training?
What tools do you need to accomplish these things?
What do you hope to get out of a Grazing Association?
Producers provided thoughtful and actionable answers to these questions, providing extensive material which we will use to plan and organize webinars, workshops and on-farm demonstrations throughout the next two years (educational actions associated with the grant). The planning team summarized the producer input and provided written notes to all attendees so they could provide any additional thoughts or feedback. This group represents the initial membership of the Grazing Association; the next meeting in March will have an open invitation to all regional producers interested in increased training, networking and conservation opportunities for their farms.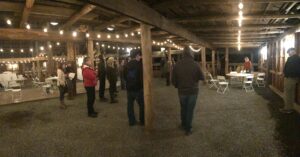 Educational & Outreach Activities
1
Other educational activities
Participation Summary:
3
Ag service providers (other or unspecified)
Education/outreach description:
The inaugural Grassland Grazing Association meeting was held on October 26, 2021.