Project Overview
FNC16-1041
Project Type:
Farmer/Rancher
Funds awarded in 2016:
$7,379.00
Projected End Date:
01/30/2018
Grant Recipient:
New City Urban Farm
Annual Reports
Information Products
Commodities
Vegetables:

asparagus, beans, beets, broccoli, cabbages, carrots, cauliflower, celery, cucurbits, eggplant, garlic, greens (leafy), leeks, onions, parsnips, peas (culinary), peppers, radishes (culinary), rutabagas, tomatoes, turnips, brussel sprouts
Practices
Education and Training:

demonstration, farmer to farmer, youth education

Farm Business Management:

agritourism, new enterprise development, community-supported agriculture, feasibility study, agricultural finance, market study, value added

Sustainable Communities:

community planning, new business opportunities, public participation, urban agriculture
Summary:
The goal of the project was to demonstrate that on site value added production can increase small farm financial viability while also reducing waste by utilizing seconds produce in value added production.
In 2016, we tracked data comparing the production of condiments, soups and wood fired pizzas. We determined that the production of soup has the best margins. Our research determined that we made $32.12 per employee hour while making soup, compared to $22.67 while making pizza, and only $16.87 while making condiments. This number does not include fixed costs associated with the initial cost of a commercial kitchen or its annual maintenance. The number is the result of total revenue, with non-farm ingredient costs deducted, divided by total employee hours.
Our research also evaluated which product best utilized seconds produce. When we produced condiments 97.6% of the total product was from farm seconds, 92.3% of the soups were from seconds, and 76.1% of pizzas were from seconds. Pizza needed the most additional ingredients like dough, cheese and oil.
While the margins were best for soup, and while condiments best used seconds, in 2017 the largest demand at our pop up cafe was for wood fired pizza. In 2017, we piloted seven Thursday afternoon pop up cafes. We sold soup, baked goods, salads and wood fired pizza. We grossed $16,920 in total sales from these seven events. $8,710 of these sales were from pizza compared to only $1,823 from soups. Remaining revenue was from baked goods, salads and drinks. We also saw that the pizza sales brought in new customers that were not currently farm shareholders. Soup did not have enough appeal to bring in new customers.
In conclusion, our research determined that soup and pizza production are excellent ways for small farms to increase revenue at a profitable margin. They also reduce farm waste by converting unusable seconds into a profitable product. Further, our pop up cafe exposed our farm to new customers. However, our research determined that production of condiments was not financially viable. Condiments have a low margin and there is generally a low demand for these products if priced properly for small scale production. Our farm plans to increase pizza and soup production into 2018. We intend to host 15 pizza afternoons at our cafe, and we are also including a soup share as an add on to our vegetable CSA. Customers can pay $150 to receive a weekly soup as part of their 22 week summer CSA. Our winter share has included a soup each week since 2016 and customers deeply appreciate having one meal a week already prepared for them.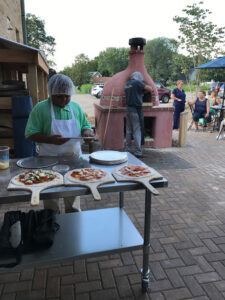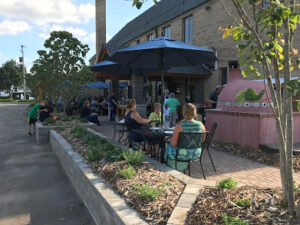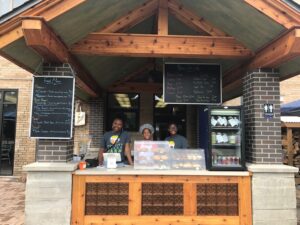 Project objectives:
Environmental benefits:
This project will demonstrate how value added production can make use of seconds and excess produce that would otherwise go to waste. This reduction in food waste has a clear environmental benefit. Further, production of pizza and soup on site means vegetable ingredients will travel 0 miles to production. Soup will also be packaged in reusable glass quart containers that can be returned by CSA customers. To measure this impact New City will record total pounds of unmarketable produce used for soup and pizza production.
Economic benefits:
This project will have two economic benefits. First, it will lead to farmers receiving a higher return for their labor through value added production. New City will measure this by calculating hours spent producing pizza and soup in comparison to revenue received. It will also measure the market value of seconds produce used for pizza and soup production that would have otherwise been lost. This data will help determine which method is more economically effective. The second economic benefit will be an increase in CSA farm share sales because of the expanded CSA experience through soups and pizzas. 
Social benefits:
We expect the pizza nights at the farm will create a community space at the farm. To measure this communal impact we will measure the total number of participants at each pizza night. This project will also impact our 10 youth employees who will be involved throughout the project. These youth will gain marketing skills, data collection skills, learn customer service skills as they sell to customers, and culinary training.