Project Overview
FNC18-1130
Project Type:
Farmer/Rancher
Funds awarded in 2018:
$22,333.00
Projected End Date:
08/28/2020
Grant Recipient:
Inn Serendipity Farm and B&B
Information Products
Commodities
Not commodity specific
Practices
Education and Training:

display, farmer to farmer, focus group, networking, workshop

Farm Business Management:

business planning, farmers' markets/farm stands, new enterprise development, value added

Sustainable Communities:

local and regional food systems, new business opportunities
Summary:
1. Problem addressed and the solution pursued:
Problem:
The good news is that almost every state now has a bakery cottage food law, legislation that allows non-hazardous baked goods to be produced in a home kitchen for direct-to-consumer sale. However, while cottage food offers opportunity for farmers to diversify into value-added products; no resources exist to support farmers in producing baked goods that look professional and utilize ingredients grown on the farm. It's easy to bring chocolate chip cookies to market, but that product doesn't add value to what we farmers are growing.
Additionally, as farmers bring small batches to market, the packaging and product display tends to look more like a "bake sale" with baggies and plastic wrap rather than something one would expect from a real bakery.
Solution:
This project created a toolkit of recipes and resources for farmers to create baked goods in their home kitchen that utilize farm raised ingredients and are displayed in a professional manner, resulting in diversified sales leading to economic vitality. By using produce in baked goods, particularly blemished product, we keep more land in sustainable, ecologically sound production. Additionally, as cottage food products are sold directly to customers, such transactions enhance farmer quality of life by building healthy community connections.
 
2.  The project's research approach, educational approach and farmer learning outcomes:
Research approach: 
Our team took a collaborative, "divide and conquer" approach to this project with each of us taking a different section based on our background, expertise and interest:
Lisa Kivirist: Project coordinator; lead recipe tester
Ashley Wegmueller: Market design development and packaging development
Linda Dee Derrickson: Recipe development (crackers)
Dela Ends: Recipe development (breads & Rolls)
Kalena Riemer: Recipe development (cookies)
Danielle Matson: Recipe development (frostings, muffins) & recipe testing support
Note that for the recipe development and testing side, this project took us all into the area of food science way deeper than any of us had experience in. We really appreciate this opportunity via this Farmer Rancher grant to dig into all of this and have the space and time to develop the recipes.
We were fortunate to develop an ally in our local community college: Blackhawk Technical College in Monroe, WI. The college both allowed us to use their chemistry lab to conduct initial water activity level tests as well as provide food science expertise to answer our many questions and provide guidance. The fact that we could use their lab played a huge role in managing our project budget as we had to test many of the recipes multiple times before achieving the .85 or below water activity level. Only then did we send them to the official, certified lab (Diebel Labs in Madison, WI) for the final test, which increased in price from our original grant estimate from $25 to $35 a test.
Educational approach: 
Our educational approach throughout this project was very collaborative, both within our farmer team and connecting with others. Each workshop, focus group and outreach event we did (See "Educational and Outreach Activities") gave us an opportunity to ask questions, gain feedback and gather insight from the questions farmers were asking to create and refine our materials.The key educational element for this project is the main website: www.cottagefoodhomebakery.com. In the original grant, we had proposed to design and print a traditional paper toolkit, but realized that we simply had too much (good!) content for this to be financially feasible or usable in that form. Additionally, with our team's commitment to sustainability, a website made much more strategic sense than loads of paper products and gave us opportunity to have a much wider project reach.
A key element of the website is an interactive database where you can search for recipes by ingredient. All recipes can be readily printed via a pdf option and the produce and vegetable recipes include the official water activity test results from Diebel Lab. As states already allow breads under their cottage food law as non-hazardous items, tests were not needed for the breads. 
The website also contains information and ideas on packaging and creating an attractive farmer's market display. The website format enabled us to use a lot more color photos than we ever could have in a printed format. We also added a project overview webinar.
Farmer learning outcomes:
Key learnings among our farmer team:
•  We all developed an appreciation for the food science side of producing value-added products.  We learned a lot about how water activity works and how ingredients interact. 
•  Innovation is key!  We started thinking this project would just include recipes but then came up with the idea of add-on sales like offering croutons if you sell salad greens.  We also evolved the "toolkit" concept from a paper printed item to a website, which turned out to be a much stronger format.
•  Collaboration is key!  While it took effort to schedule in-person meetings with all of our busy farm schedules, when we all got together and shared collaboratively, that's what really fueled the creative juice behind this project.
3.  Succinct statement of research conclusions
Key conclusions via the recipe research & development:
• Recipes involving high water content vegetables or fruits are challenging to develop that meet the .85 required non-hazardous water activity level. We spent much more time than we initially planned on testing recipes as most initially came back too high in water activity level.
• Through experimentation, we learned that shredding the item can generally lower the water activity level while also adding to moisture in the end product, which you want. For high-water items like zucchini, both shredding and then sprinkling with salt and letting it sit for an hour drains a lot of the water. We then needed to experiment with the recipe to add back in oil or other ingredients to keep the overall moisture and taste levels up.  While increasing sugar often helped lower the water activity level, this proved to be challenging for our team as inherently we wanted to keep the end product lower in sugar and overall healthier.
Key conclusions via the display and packaging research & development:
• There are a great variety of packaging options made with recycled content and/or are compostable. Ashley Wegmueller compiled a very helpful interactive chart listing specific recommended and tested packaging products.
• Small and cute sells. Taking a dozen zucchini muffins to the farmer's market may seems like a fine idea, but if you add some frosting and package those individually (see photo), it takes on a "present" like feel and would sell at a much higher mark-up and end net profit.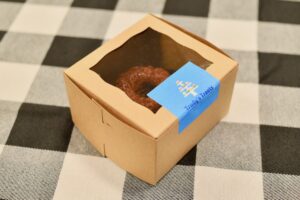 4.  Farmer adoption actions that resulted from the educational program
In all of our multiple outreach events, response to this project and the resources created was very positive from farmers.  The vast majority of the farmers we connected with had not yet started their value-added home bakery business so these resources were helpful to support them in launching successfully.
 
Project objectives:
This project supports farmers diversifying to include small-batch homemade baked goods sales using their farm-raised product through the following, a goal that we collaboratively met with the final end project. While some elements may have adapted (and expanded!) as noted, we are collectively proud of and pleased with how everything came together.
1. Develop a Resource Toolkit
While we met the original goals outlined below, we created this via a Toolkit via a website versus the original proposed printed guide, www.cottagefoodhomebakery.com. This worked much better and gave us more opportunity to include photos and more information. Our recipes also included various bread that both use herbs and other farm-raised ingredients and that could be add-on sales to other items you are bringing to market (i.e., croutons if you sell salad greens).
As of 3/23/20, our website received over 1,000 hits thus meeting our project outreach goal. We expect this to definitely increase in the months ahead. We also made sure the website has strong SEO with key search words to be readily found.
• 30 non-hazardous recipes using farm produce
• 4 Non-hazardous frosting recipes
• Packaging & display ideas
2. Create & host multiple trainings
Our webinar came out as planned; however, originally, we were planning on doing just two farmer workshops and ended up doing five (see Educational and Outreach Activities). We were able to piggy-back on existing events such as the MOSES Conference which allowed us to do targeted outreach at venues were farmers were already gathering. Thanks to NCR-SARE for additional travel funding to attend the National Women in Sustainable Agriculture Conference as part of the Farmer Forum and present on this project.
• Created a project webinar (for Midwest & national access)
• Hosted five farmer workshops
3. Share findings via outreach
In addition to outreach via various sustainable agriculture organizational networks interested in and supportive of the project, we were able to earn a variety of media helping promote the event (see Educational and Outreach Activities for full media list).
• Outreach via partner groups farmer team is involved with, including MOSES, Renewing the Countryside, Farmers Union, Illinois Stewardship Alliance, Minnesota Farmers Market, etc.
• Garnered strong media interest with multiple articles about this project.