Progress report for ONE21-402
Project Type:
Partnership
Funds awarded in 2021:
$29,939.00
Projected End Date:
09/30/2023
Grant Recipient:
Rich Earth Institute
Project Information
Project Objectives:
Project Objectives:
This project is assessing whether bio-acidification of dairy manure, digestate, and urine substrates is a potentially feasible method for reducing ammonia emissions on Northeast farms. If successful, the method could generate increased farm revenue through whey or short paper fiber disposal fees, as well as reduced fertilizer purchases and/or higher yields from retained N in each substrate. 
We are addressing the following questions: 
Lab research questions:
Does the addition of whey and/or paper fibers induce fermentation in liquid dairy manure, digestate, and/or human urine?

What pH changes are achieved by different volume ratios?
Is there any benefit from adding starter cultures?
How long do the pH changes of different mixtures last at different temperatures? 

Does bio-acidification reduce ammonia volatilization when manure, digestate, or urine are applied to soil? 
 Farmer research questions:
What challenges do farmers have managing ammonia loss from manure? How feasible would bio-acidification be on farms with liquid manure? 

We will interview 10-15 farmers managing liquid manure to understand their concerns around manure N content and loss, and manure storage / management capacity
Using lab trial results, we will conduct a detailed analysis with two farmer-partners of whether and how bio-acidification could be added to their operations, and additional research needs.
Introduction:
Ammonia volatilization from manure is a significant source of environmental N pollution and an economic loss for farms. UVM Extension Nutrient Management Specialist Laura Johnson has found that farmers in the Northeast are concerned with ammonia loss, both from the perspective of neighborly relationships (i.e. reducing odor), and reducing fertilizer costs (PC, 10/14/20). According to the Vermont Agency of Agriculture, this is a key issue for the farmers they work with because fertilizer is one of their biggest farm expenses (PC, 10/19/20). A common issue noted in previous farmer interviews conducted by Rich Earth was expressed by long-time Vermont dairy farmer Peter Miller, whose several hundred cows do not produce sufficient manure to fertilize his 700 acres (Noe-Hays, 2020). Retaining the N in that manure could significantly reduce his overall costs. 
In Europe, acidification of liquid manure is used to reduce ammonia emissions; however, this requires hazardous concentrated inorganic acids, limiting wider-scale adoption. An alternative is to acidify slurry using fermentation by adding high-carbon waste material to liquid manure stores. In addition to reducing N pollution and purchased inputs, this may indirectly help reduce P overapplication and runoff, if manure is used to meet crop N demand. These benefits could potentially be achieved for lower cost than other ammonia retention methods like injection equipment, tank covers, or biochar. Additionally, with adequate pH reduction, bio-acidification likely prevents methane generation in slurry stores, reducing greenhouse gas impact. This method could benefit any farmer using liquid manure, digestate, and/or urine fertilizers. 
Using data from USDA (2020) and EPA (2020), we estimate that there are approximately 8,000 liquid dairy and swine manure storage facilities in the Northeast (including tanks, lagoons, and pits). These are primarily located in New York and Pennsylvania, with several hundred in Vermont.
Whey and short paper fibers are two waste products that are produced in large quantities in the Northeast and present disposal challenges to the dairy and paper industries. In New York alone, "over 1.2 billion pounds of whey are produced annually" and "[f]inding economical, environmentally protective means to manage the whey is crucial to the viability of the industry and is needed to support the expansion of yogurt manufacturing in the State" (Ketterings et al, 2018). 
Both paper fibers and whey are currently applied directly to farmland in the Northeast region. Adding these substrates to manure stores before land application could be a relatively simple way to reduce manure NH3 and methane emissions. In cases where whey is already added to manure stores, benefits could be realized with an even smaller change in current practices. 
Cooperators
Research
Materials and methods:
Lab Research: Materials and Treatments  
Substrates
Three substrates were chosen based on their availability in the Northeast region: 1) liquid dairy manure, 2) digestate from an on-farm anaerobic digester, and 3) source-separated, pasteurized human urine (Table 1). Liquid dairy manure was chosen due to the prevalence of dairy in the region. Digestate and urine are not as common, but are becoming more so. Urine is already in use and in demand among farmers in the Brattleboro area, and may be a valuable source of nitrogen-fertilizer in the heavily populated Northeast region in the future. Both digestate and urine have a higher pH and ammonia content than typical manures, meaning they have a high potential for ammonia loss. For this experiment, liquid manure was procured from Corse Farm Dairy in Whitingham, VT, digestate from Westminster Farms in Westminster, VT, and urine from the Rich Earth Institute in Brattleboro, VT. 
Additives
Sweet whey, acid whey, and short paper fibers were selected as regionally-available additives that support microbial populations in substrates (Table 1). Sweet whey is produced from cheesemaking and has a pH of 5.6 or greater. Acid whey has a lower pH (around 4.1) and is a co-product of Greek-style yogurt, cottage and cream cheese production. Although there are some re-use markets, both wheys present disposal challenges. For example, the Grafton cheese making plant in Brattleboro, VT pays 5 cents per gallon to dispose of sweet whey (Grafton Cheese, personal communication). Acid whey used in this experiment was sourced from Commonwealth Dairy in Brattleboro, VT, and sweet whey from the Grafton Cheese Company in Brattleboro, VT.
Prado et al. (2020) tested bio-acidification of liquid dairy manure using cheesemaking whey (whey pH 4.8), at manure:whey ratios from 5:1 to 2:1. They found that a 2:1 manure:whey ratio was needed to temporarily acidify below pH 5, with a net reduction in NH4 emissions. We propose to test a range of substrate:whey ratios, up to 1:1. Whey has approximately 5-6% dry matter content, most of which is lactose (Ketterings et al. 2017, Lievore et al. 2015), so a 1:1 mixture would produce a sugar concentration approaching 3%.  
Short paper fibers are a paper manufacturing byproduct and are produced in large quantities in the Northeast region. Paper fibers used in this study were sourced from the Soundview paper mill in Putney, VT, which generates 90-120 tons per day (PC, Adams, 10/9/2020). Finding a way to incorporate this material would add organic matter to fields while being valuable to the paper industry. Because of its low nutrient content, SPF could be safely added to manure stores on farms with excess P accumulation in soil. 
Subair (1995) tested bio-acidification using short paper fibers, adding 2.5% and 5% paper fiber to liquid hog manure by wet weight. At these addition rates, the final pH was reduced from 7.2 to 6.5 after 56 days, and a minor reduction in ammonia volatilization was observed. Our experiment uses higher proportions of paper fiber, and mixes paper fiber and whey to test the synergistic effects of a more labile and more recalcitrant material mixture. 
We tested the above additives both separately and in combination. Other bio-acidification studies have shown that mixing labile and recalcitrant substrates can have a synergistic effect (Subair, 1995, Nykänen et al., 2010), and this may reduce the overall substrate volume needed. In one study, a half-maltose half-flour treatment had the same results as the all-maltose treatment, but greater effect than all-wheat (Nykänen et al., 2010). One possible explanation for this is that acid generated by the labile materials speeds hydrolysis of the more recalcitrant materials; acidification with sulfuric acid has been shown to increase hydrolysis (Hjorth et al., 2013). To test for such a synergy that would achieve acidification effects using less total additive volume, we mixed whey and paper fibers and compared acidification effects to those of whey or paper fibers alone.
Starter Culture
Starter culture was added to substrate-additive mixtures to test whether it enhances fermentation. To make the starter culture, sauerkraut liquid (75mL), silage tea (75mL), and one probiotic pill (Figure 1) were combined and mixed using a magnetic stirrer. To make the silage tea component, silage (74g) was added to distilled water (290g), blended with an immersion blender, and steeped for 5 hours.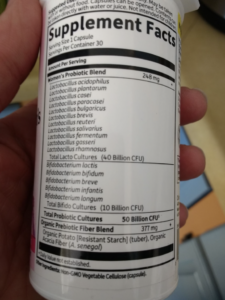 Table 1: Nutrient composition of substrates and additives, analysis provided by the Analytical Laboratory at the University of Maine
Lab Research: Procedures
Pre-trial: Test a wide range of substrate:additive mixtures to identify best "recipe" for each substrate/additive combination
Pre-trial Methods: 
Mixtures were prepared at different substrate:additive ratios in a single 50 mL plastic centrifuge tube per treatment, for a total of 204 samples representing 204 treatments. The original plan included a 1:1 ratio of paper fibers with each substrate, but this treatment was eliminated since the mixture would be too thick for farmers to pump. 
In addition to the tubes listed in Table 2, a control tube was prepared for each substrate (liquid manure, digestate, and urine).
For each of the ratios listed in Table 2, one sample tube was prepared with culture and one without culture. All measurements of substrate and additive were made on a mass basis.
| | | |
| --- | --- | --- |
| Substrate | Additive | Ratios |
| Liquid Manure | Sweet Whey | 8:1, 4:1, 2:1, 1.5:1, 1:1 |
| Liquid Manure | Acid Whey | 8:1, 4:1, 2:1, 1.5:1, 1:1 |
| Liquid Manure | Paper Fibers | 40:1, 20:1, 10:1, 4:1, 2:1 |
| Liquid Manure | Sweet Whey-paper mix (25:75) | 20:1, 10:1, 4:1, 2:1, 1.5:1, 1:1 |
| Liquid Manure | Sweet Whey-paper mix (50:50) | 20:1, 10:1, 4:1, 2:1, 1.5:1, 1:1 |
| Liquid Manure | Sweet Whey-paper mix (75:25) | 20:1, 10:1, 4:1, 2:1, 1.5:1, 1:1 |
| Digestate | Sweet Whey | 8:1, 4:1, 2:1, 1.5:1, 1:1 |
| Digestate | Acid Whey | 8:1, 4:1, 2:1, 1.5:1, 1:1 |
| Digestate | Paper Fibers | 40:1, 20:1, 10:1, 4:1, 2:1 |
| Digestate | Sweet Whey-paper mix (25:75) | 20:1, 10:1, 4:1, 2:1, 1.5:1, 1:1 |
| Digestate | Sweet Whey-paper mix (50:50) | 20:1, 10:1, 4:1, 2:1, 1.5:1, 1:1 |
| Digestate | Sweet Whey-paper mix (75:25) | 20:1, 10:1, 4:1, 2:1, 1.5:1, 1:1 |
| Urine | Sweet Whey | 8:1, 4:1, 2:1, 1.5:1, 1:1 |
| Urine | Acid Whey | 8:1, 4:1, 2:1, 1.5:1, 1:1 |
| Urine | Paper Fibers | 40:1, 20:1, 10:1, 4:1, 2:1 |
| Urine | Sweet Whey-paper mix (25:75) | 20:1, 10:1, 4:1, 2:1, 1.5:1, 1:1 |
| Urine | Sweet Whey-paper mix (50:50) | 20:1, 10:1, 4:1, 2:1, 1.5:1, 1:1 |
| Urine | Sweet Whey-paper mix (75:25) | 20:1, 10:1, 4:1, 2:1, 1.5:1, 1:1 |
Table 2: Pretrial recipes
All sample tubes and tubes containing pH calibration solution were stored at 24°C for the duration of the pre-trial (70 days).  
pH was measured for all tubes at time 0, 7 days, 14 days, 21 days, 35 days, and 70 days. Samples showing the most pH change after 21 days were tested after 29 days (urine), 30 days (digestate), and 31 days (liquid manure). Urine tubes were also tested after 49 days.
Treatments for further investigation in the full trial were selected by choosing treatments from across the continuum of pre-trial ratios, selecting ratios that resulted in substantially larger pH drop than the next-highest substrate:additive treatment. In other words, we selected treatments where an incremental increase of additive resulted in a substantial incremental decrease in pH.
pH Full Trial Methods: 
Using the effective recipes identified in the pre-trial, 6 tubes for each substrate/additive(s) combination were prepared. To observe the effect on bio-acidification of different storage temperatures, three replicates of each sample were stored in a cold environment at 4°C and the other three in a warm environment at 24°C. Three control tubes of each substrate and of each additive were also stored at the above temperatures. pH calibration solutions were stored at their respective temperatures (24°C for calibration of the warm tubes and 4°C for calibration of the cold tubes). 
| | | |
| --- | --- | --- |
| Substrate | Additive | Ratios |
| Liquid Manure | Sweet Whey | 16:1, 8:1, 2:1 |
| Liquid Manure | Acid Whey | 16:1, 8:1, 2:1 |
| Liquid Manure | Paper Fibers | 40:1, 10:1 |
| Digestate | Sweet Whey | 2:1 |
| Digestate | Acid Whey | 4:1, 2:1 |
| Digestate | Paper Fibers | 10:1 |
| Urine | Sweet Whey | 16:1, 8:1, 2:1, 1:1 |
| Urine | Acid Whey | 16:1, 8:1, 1.5:1, 1:1 |
| Urine | Sweet Whey-paper mix (25:75)  | 4:1, 2:1 |
| Urine | Sweet Whey-paper mix (50:50)  | 4:1, 2:1 |
| Urine | Sweet Whey-paper mix (75:25)  | 4:1, 2:1 |
| Urine | Sweet Whey and Culture | 16:1, 8:1, 2:1, 1:1 |
| Urine | Acid Whey and Culture | 16:1, 8:1, 1.5:1, 1:1 |
| Urine | Sweet Whey-paper mix (25:75) and Culture | 4:1, 2:1 |
| Urine | Sweet Whey-paper mix (50:50) and Culture | 4:1, 2:1 |
| Urine | Sweet Whey-paper mix (75:25) and Culture | 4:1, 2:1 |
Table 3: Full Trial Recipes
The pH was measured for all tubes at days 0, 7, 14, 28, 42, 56, and 77. The 4°C samples were tested again at 98 days, but the thermostat maintaining the temperatures of the 24°C samples failed after 77 days so those samples were not tested at the 98 day mark.
Analysis has not yet been performed.
Test ammonia volatilization following simulated surface application
To simulate ammonia lost during field application of acidified substrates, we will test rates of ammonia volatilization from the 15 best recipes identified in the full trial. 5mL of acidified slurry mixture will be placed in a 100mL beaker in an airtight jar, and each recipe will be replicated three times for a total of 45 jars. Separate containers with 2mL of NaOH and 2mL boric acid will also be placed in each jar to absorb CO2 and NH3, respectively. The boric acid trap will be changed and titrated on days 0, 1, 2, 4, 6, 12, and 20 to measure ammonia caught. 
Data analysis
We will test data for homogeneity of variance and normality; non-normal data will be transformed and reanalyzed for normality. Data will then be analyzed for significant differences using a one-way analysis of variance (ANOVA) and a post hoc test, with significance determined at p<0.05. We will use R and RStudio to do the analyses. 
On farm feasibility evaluation and wider farmer engagement
Farmer Interviews: For initial input on the research design, we will re-engage several of the livestock farmers we interviewed in 2018 (SARE ONE 18-318) to ask follow-up questions concerning their N loss challenges; their interest and motivation for increasing N content of manures; and the potential economic benefits of reducing N-losses through this approach. We will also seek input on the time and labor costs potentially involved in adding inputs to current manure storage, and cost estimates for acquiring additional storage capacity if needed. We will also engage several additional farmers who use liquid manure and have manure storage facilities on their farms. We anticipate a total of 10 - 15 farmers will be contacted.
Farmer-partner feasibility study: Our two farmer partners have been closely involved with the project. We conducted site visits with each to review and document their current manure collection, storage, and field application systems, and how they currently manage N volatilization. We plan to share results from the lab trials and evaluate with them whether and how whey or paper fibers could be used on their farms. Specifically, we will strategize about how we could potentially implement a bio-acidification strategy with existing practices and equipment and/or determine what additional equipment/infrastructure would be needed. We will evaluate the potential costs and financial benefits from implementation. If the results are promising, they will help plan and design follow-up field trials for a subsequent research proposal.  
Research results and discussion:
Lab Pre-Trials
Results from the pre-trial revealed that wheys and paper fibers are both effective at lowering pH of all substrates tested (Figure 1). Acid whey lowered pH to a larger degree than sweet whey in digestate at all ratios except the maximum (1:1), and it lowered pH more effectively in urine at all ratios except the minimum (8:1) and maximum (2:1) ratios. Both wheys reduced pH by similar amounts in liquid manure. The greatest pH reduction in substrates occurred when acid additives were added in equal parts; all whey additives added at a proportion of 1:1 reduced digestate pH to ≤4.16, liquid manure to ≤3.85, and urine pH ≤5.28.
Paper fibers did not affect the pH of substrates as strongly as whey additives at the ratios tested. The greatest pH reduction from paper fibers occurred when paper fibers were added to substrates in equal parts, resulting in pH reductions in digestate to ≤5.69, reductions in liquid manure to ≤5.71, and reductions in urine to ≤6.07.
The addition of culture did not affect the pH of digestate or liquid manure, yet culture additions in urine reduced pH relative to uncultured sweet whey and paper fiber additives. Cultured sweet whey showed greater pH reductions in urine than uncultured sweet whey at all dosing levels, and cultured paper fibers showed greater pH reductions in urine than uncultured paper fibers at all dosing levels except the minimum (1:40) and maximum (2:1) ratios. This difference was especially apparent at low ratios of paper fiber additives, where cultured fiber additions lowered urine pH relative to uncultured fiber additions by 0.79 at a ratio of 20:1, 1.12 at a ratio of 10:1, and 1.46 at a ratio of 4:1.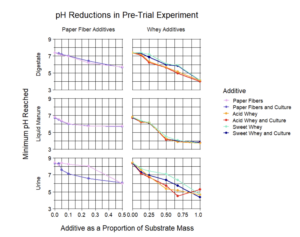 Full Trials
Data has been collected but analysis has not yet been conducted.
Partner site visit preliminary observations: 
Corse Farm
We conducted a site visit  with Leon Corse on August 16th, 2022.  This dairy farm currently has 90-100 cows. It is a no-till operation, and has not been plowed in 35 years. Row crops are not grown. The Corse Farm has a large manure storage tank with a capacity of 600,000 gallons, built 31 years ago, which was half-full at the time of our visit. The storage tank receives not only manure from the cows, but wastewater from the milking facility, including detergents and other acids used for cleaning. (The wastewater first goes to a septic tank and then is pumped to the manure storage tank.)  A crust forms in the manure storage tank on top of the material stored here, which may limit ammonia losses. The tank normally has the capacity for seven months of storage. 
There is an agitation system, connected to a tractor, with an articulated manure pump, that operates during the time when the manure will be spread. (Manure is usually spread three times a year, April, June and October, and requires one week each time. They hope to eliminate the June spreading soon.) The system both agitates the stored material and pumps the liquid manure into the spreader. 
Because the tank is usually full in the spring, it would be difficult to add any additional material such as whey or paper fibers at that time of the year. Corse notes that on most dairy farms, capacity in the spring will be a challenge for adding anything that takes very much volume. Fall applications would be more feasible, although there would have to be a significant benefit, because the time, labor, and expense of operating the tractor and running the agitation system is considerable. If whey was to be added, Corse suggests the whey could be parked in a tractor-trailer on the farm and be gradually added, mixing with the liquid manure going into the storage tank. Potentially whey could be added to the septic tank, but the tank would have to be modified to accept it. However, as 600 gallons a day of wastewater is produced, and the septic tank is only 1000 gallons, this would require more frequent pumping, incurring additional expense. 
With regard to ammonia losses through volatilization, Corse believes that his system does not result in significant losses during application. This may be due to the low percent solids in the liquid manure, so that when the liquid manure is applied, it quickly soaks into the ground. Because the farm is no-till, there is also deeply rooted sod, which may also play a role in the quick uptake of the nutrients applied. There is also high organic matter in the farm's soil, which likely aids nutrient retention.
On the Corse farm, there would need to be careful consideration of costs versus benefits. We currently believe that there is not much of a need for acidification of this system because the percent solids level in the manure holding tank is very low, due to the addition of wash water. Dissolved ammonia is quickly carried down into the soil by the infiltrating water, rather than remaining on the surface in a slurry. This is in line with UVM guidance that there is  less ammonia volatilization as solids content goes down. 
We will share our lab results with Leon Corse, and the final report will include his additional thoughts concerning the cost/benefits of bio-acidification strategies.
Elm Lea Farm, Putney School
We conducted a site visit with Pete Stickney on October 6th, 2022. The Elm Lea farm has approximately 25 cows, and grows forage hay for them. No synthetic fertilizer is currently used. The cows produce approximately 1250 pounds of milk per day.  Cheese is also made on the farm on a small scale, but the intention is to increase the cheese operation, making a young jack cheddar. 
There is a plastic lined 180,000 gallon lagoon which collects all the rain that falls in the portion of the barnyard that contains the solid manure pile, and all the leachate from the solid manure pile, as well as the milk room wash water, which includes cleaning components such as liquid soap, acid sanitizers, and chlorine bleach. Some 250 gallons of milkroom wash water is produced daily and added to the lagoon. The barnyard solids are stored separately and turned with an excavator periodically. Food waste from the dining hall is also intended to be added to this composting system.  Elm Lea farm does not make a slurry as they currently do not have the equipment to manage this. As cheese-making is ramped up, whey is also planned to be added to the lagoon. There is an additional fire pond that holds a million gallons of water. The lagoon system was built 18 years ago. The plastic lining has a 20 year life, so the intention is to build another larger concrete-lined tank, holding 500,000 gallons, shortly.  
The material in the lagoon is sprayed on the hay and pasture in the spring, using an overhead sprayer. While the manure is important, Stickney feels the liquid (water) component of the lagoon is as or more important to hay/pasture health, particularly in a drought year as was the case in 2022. The intended addition of whey, however, will also add valuable nutrients. Unlike Corse farm, there is no crusted layer on top of the lagoon, as very little solids are added to the system.
At Elm Lea Farm, they already intend to add to whey to their manure holding pit, simply as a way to manage the "waste" whey. This will be the simplest way of incorporating whey into a manure storage system. However, the whey can also play a role in acidification.  This synergy of having a cheese making operation on farm has the added value of reducing nitrogen losses from the lagoon, as well as during the spray application.  In other words, this model has the benefit of increased nitrogen retention by making cheese on the farm, which could potentially be a selling point for this farmstead cheese. 
It would not be feasible or desirable to add paper fibers to this system, as there is no agitation system, and these would likely collect at the bottom of the lagoon and could clog the irrigation system. 
With regard to adding whey-derived biostimulants to irrigation liquid, Stickney is interested in this, particularly as an educational project with the Putney School students, doing a longitudinal study. However, it would be best to add the biostimulant to the system during irrigation, but not added directly to the lagoon, so as to conduct an experiment comparing the added biostimulant to control. It would make sense to do this during applications of urine which Stickney would like to expand if sufficient urine is available. Stickney is also interested in the possibility of adding urine to the lagoon as a way to increase the nitrogen content of the system. He does not think this would result in excess nitrogen application, but would require adding material to his piping system to get the liquid to more distant fields.
We will share our lab results with Pete Stickney, and the final report will include his additional thoughts concerning the cost/benefits of his intended added whey system. He will be starting that system this winter, so may be able to supply nutrient analysis based on the new system to be included in the final report. It may also be possible to measure differences in ammonia losses during application, after whey has been added. Stickney would also be interested in measuring the levels of chemical components of milk room wash water in the lagoon. With regard to soil health, he is also interested in measuring changes in microbial communities from fields treated with different fertilizers. 
Farmer Interviews
We have not yet conducted the farmer interviews for this project. We intend to conduct them in January and February 2023.
Research conclusions:
This project is in preliminary stages and there are no conclusions yet to report.
Participation Summary
Education & Outreach Activities and Participation Summary
Participation Summary:
Education/outreach description:
Webinar: Near the conclusion of the project we will host one participatory webinar to share results from the lab trials and farmer-partner assessment of the bio-acidifcation concept. The event will involve a panel with our farmer-partners and collaborators, as well as Rich Earth researchers. In addition to presenting our results, we will invite participants to offer feedback and highlight any concerns or additional research needs to include in followup research. 
We are excited about the webinar format because it enables participation from a much wider geographic area than our past field day events. Since there isn't a field component of this trial for participants to view in person, it seems like a good opportunity to share information with and get feedback from a wider group than we could with an in-person event. 
We hope to engage farmers and service providers from throughout the Northeast region. Outreach for the event will be conducted via our collaborators as well as other Northeast farmer and agricultural educator networks.
Our intention is for this project to provide the groundwork for a larger study, including field trials, perhaps to be funded through the SARE Novel Approaches program. For this reason, the somewhat limited outreach planned for this Partnership grant will be followed with a more robust outreach to a larger farmer and academic audience once we have done more comprehensive additional tests of this method and field trials at farm scale.
In addition to the webinar, we will share our findings with an academic audience by submitting our results for publication to journals such as the Journal of Environmental Quality or Agrosystems, Geoscience and Environment.
Learning Outcomes
Key areas in which farmers reported changes in knowledge, attitude, skills and/or awareness:
This project is in preliminary stages and there are no learning outcomes yet to report.
Project Outcomes
Project outcomes:
This project is in preliminary stages and there are no project outcomes yet to report.
Assessment of Project Approach and Areas of Further Study:
This project is in preliminary stages and cannot yet undergo a project assessment.