Project Overview
LNC15-373
Project Type:
Research and Education
Funds awarded in 2015:
$196,145.00
Projected End Date:
02/28/2019
Grant Recipient:
Dakota College at Bottineau ECH
Annual Reports
Information Products
Commodities
Vegetables:

beans, beets, broccoli, brussel sprouts, cabbages, carrots, cauliflower, cucurbits, garlic, greens (leafy), greens (lettuces), onions, peas (culinary), peppers, sweet corn, tomatoes
Practices
Crop Production:

high tunnels or hoop houses, multiple cropping, varieties and cultivars

Education and Training:

demonstration, extension, farmer to farmer, on-farm/ranch research, participatory research

Farm Business Management:

agricultural finance, budgets/cost and returns, business planning, farmers' markets/farm stands
Abstract:
North Dakota's growers face unique obstacles to successfully meeting the increased demand for fresh, local produce. While growing vegetables and fruit for farmers markets, direct farm sales and CSAs is challenging everywhere, North Dakota's small-scale growers must deal with a colder climate and shorter growing season, sparser population, and a less established support network of fresh market vegetable growers than in other states.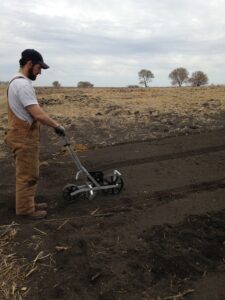 ECH client farmers have consistently reported that a challenge they face in establishing their CSA farms and farmers market businesses is a lack of access to data.  Market and production data can help the farmers plan for the next growing season and their farms' future. While planning tools and data are available for other crops and other regions, no data and few tools are available for farmers market and direct sales growers in North Dakota.
Small-scale vegetable and fruit growers in North Dakota need farm planning data tailored to the region's extreme climate and sparse population. The Entrepreneurial Center for Horticulture, an advisory board of farmers and industry professionals, and a team of partner farmers identified data types most relevant to farm planning in the region and collected that data over a three year period, creating data sets and data collection tools for Northern Plains sustainable vegetable and fruit growers to use in farm business planning.
Over a three-year period data was collected monthly and aggregated data shared online twice a year.  By the project's end, a Northern Plains Specialty Crop Data Toolkit was published online as www.ndsmallfarms.com  including all aggregated data collected.  The Data Toolkit will be a resource Northern Plains specialty crop growers will use in farm business planning for increased social, environmental, and economic sustainability.
At the end of project year one, the data sets were not complete enough to give a usable picture of sales or production.  Due to the vast differences in the producer/farmers locations, market channels, production methods, and infrastructure, it was difficult to appropriately compare them one to another. At this time the advisory board felt that case studies of each producer/farmer would be helpful for both new or expanding producers but also for resource professionals assisting with business planning.  Case studies of the farmer/producers in the program who were willing to share their information in such a public way were developed.  These case studies can be used by new farmers as examples of similar business models and guide decision making for future growth. Case studies can be reviewed at: ndsmallfarms - resources for educators. 
At projects' end, the data collected indicated all farmer producers saw an incremental increase in net revenue per acre with a likelihood of $20,000 per acre in revenue from production.  While some farmers had high tunnels and could possibly have had early season sales, a lack of market channels kept farmers from pushing production into early season unless they served CSA clients.  Early planting dates did lead to early harvests, but without open and active farmers markets product could not be sold.  Most farmers markets in North Dakota do not begin sales until July.  Sales prices for product correlate to net revenue and overall participating producer/farm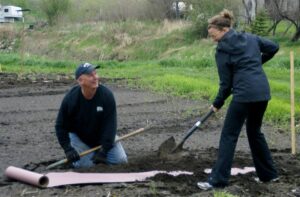 ers seem to be charging according to production cost sufficiently to make a profit.  dcb_sare_specialty_crop_sales_data-2016_2018
You can also view the spreadsheet at www.ndsmallfarms.com
The data sets are being used by the ECH as they work with new and beginning producer/farmers in business and production planning.  New farmers are using the information to plan income, planting dates, cash flow, and yields.
Project objectives:
1.     Selection of at least five data types which farmers will collect
2.     Selection of the best collection and reporting tools for those five data types
3.     Monthly data collection reports from 10 partner farmers submitted to ECH staff
4.     Two data reports per year posted to the ECH website, showing aggregated farmer data on at least five types of data.
5.     Collection of all data over a three year period.
6.     Publish the data sets and case studies online and summary reports and media releases regarding the availability of the data in print for use by producer/farmers and resource professionals while planning for starting or expanding vegetable production operations in North Dakota.