Project Overview
SW21-929
Project Type:
Research and Education
Funds awarded in 2021:
$349,898.00
Projected End Date:
08/31/2024
Host Institution Award ID:
N/A MSU Internal
Grant Recipients:
Montana State University; Salish and Kootenai College
Information Products
(Conference/Presentation Material)
(Article/Newsletter/Blog)
(Article/Newsletter/Blog)
(Conference/Presentation Material)
(Conference/Presentation Material)
Commodities
Not commodity specific
Practices
Education and Training:

participatory research, workshop

Farm Business Management:

value added
Proposal abstract:
Native Americans have a 50% higher obesity rate than non-Hispanic whites and are three times as likely to die from diabetes than the national average. Such a high prevalence of chronic illness is contributed by the disrupted food heritage and by the highly processed non-Native foods of the Commodity Food Programs. In the last decade, Tribal nations have initiated food sovereignty revolutions by reconnecting to Native food systems that value the health of both the land and people. Under the Food Safety Modernization Act, food science becomes a crucial tool to prove the safety of Native foods. Unfortunately, Native food systems are yet to receive sufficient support from today's food science societies.
On the other hand, Tribal producers are economically disadvantaged in the competitive agri-business industry due to limited processing infrastructure and business assistance on the Reservations. The Tribal members' spiritual dilemma between value-added endeavors and profiting from ancestral foods also creates a barrier to embrace a value-added economy.  
Working with the Confederated Salish and Kootenai Tribes (CSKT), this project aims to establish a culturally-sensitive, value-added Native food initiative by integrating Indigenous wisdom with current practices in food science research, instruction, and outreach. First, an annual Native food assessment will be conducted using surveys and focus group interviews to gather Tribal members' interests and challenges in value-added Native foods. Second, value-added bison products will be developed based on traditional Indigenous food processing knowledge and evaluated for safety and quality. Scale-up trials will be accompanied by assessments in food safety, marketability, and nutrition. Third, economic and ecological models will be built based on the developed bison products for ranch-to-campus operations. Forth, Salish Kootenai College business students and Montana State University Food Product Development Lab students will collaborate to innovate business ideas for value-added Native foods with food sovereignty and ecological purposes.
The project result will be disseminated to the CSKT community via a Native Food Day event with progress presentations, workshops, and focus groups. The economic impact of the project will be evaluated using an Input-Output Model to estimate economic multipliers associated with changes in existing food systems. The food sovereignty and ecological impact of the project will be assessed using a post-workshop survey, and the overall project benefit will be evaluated by monitoring the annual Native food assessment.
This project will identify the critical components to establish sustainable, Native-owned value-added enterprises to support the 150 CSKT producers. Re-defining value-added using Native sustainability lenses will facilitate the creation of nutritious and culturally-significant Native food products to strengthen the economy, food sovereignty, and ecological resilience of Native communities. The integration of Native values with Western practice in this project can serve as a collaborative model for the food science community to support the Indigenous food sovereignty movement at national and global scales.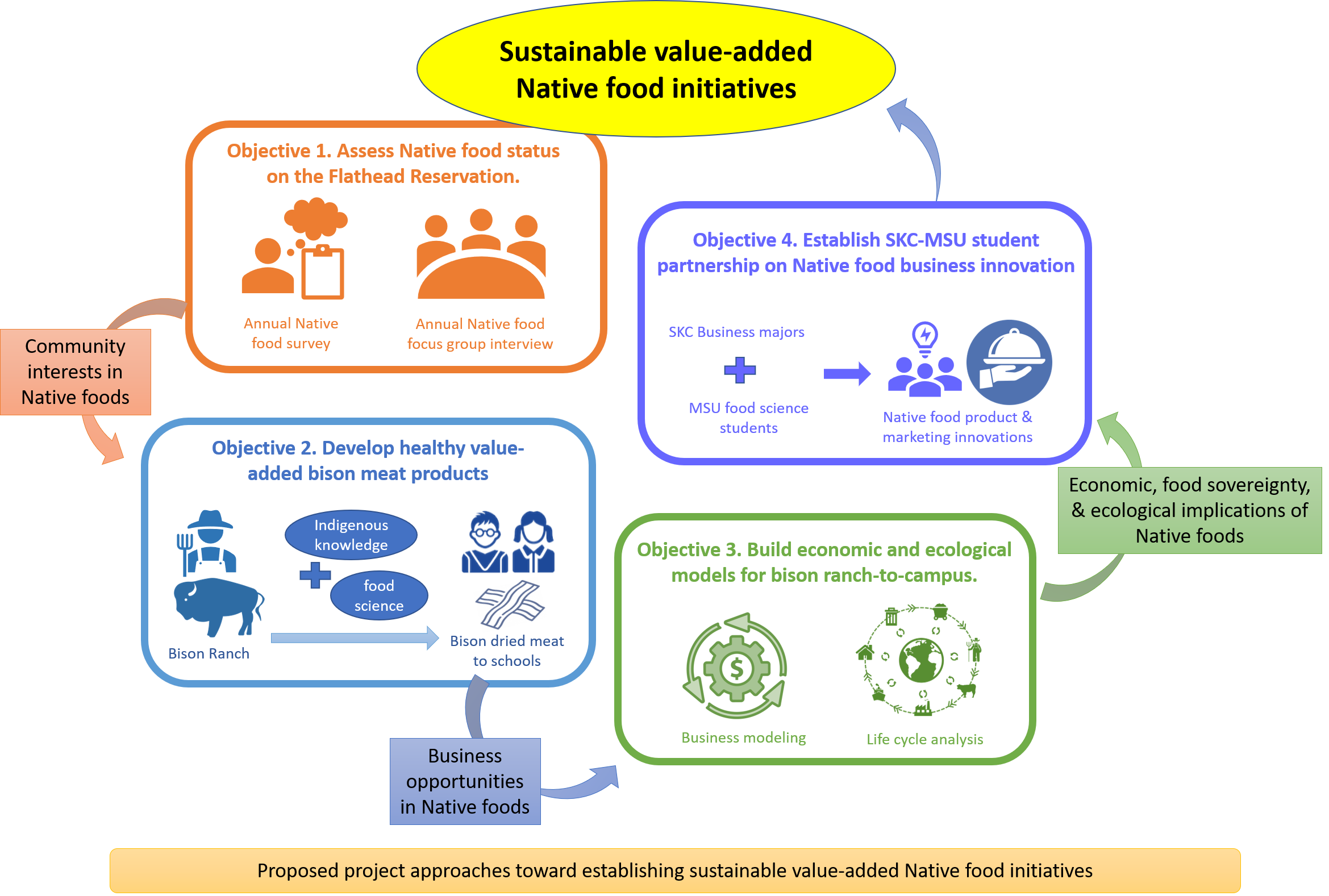 Project objectives from proposal:
Objective 1. Assess Native food status on the Flathead Reservation
Objective 2. Develop healthy value-added bison meat products
Objective 3. Build economic and ecological models for bison ranch-to-campus
Objective 4. Establish SKC-MSU student partnership on Native food business innovation
Objective 5. Share value-added Native food opportunities with the Tribes
Objective 6. Evaluate multidisciplinary sustainability impact of the project